In the spirit of the Hanukkah season, I was inspired to look for some companies that make a lot happen with a little, as the Maccabis did years ago. Additionally, I wanted to make sure that investors weren't expecting any miracles.
Using StockVal, I created a list of stocks with high return on capital [ROC] over the past 5 years and past 1 year with a maximum PE of 15. I also capped total debt to capital at 10%. Here are the results, organized by economic sector and then ranked on PE:
click to enlarge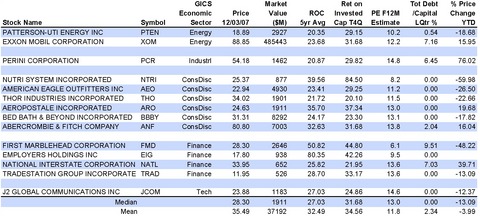 Not only are several economic sectors represented, but there is a broad spectrum of market caps. Not surprisingly, many of the names come from the beaten down Consumer and Financial sectors.
One last check before we decide if these modern-day Maccabis will produce a miracle: Are the soldiers confident? To check, I used Insider Scoop to check recent insider selling. There was buying and no selling at PTEN, AEO, THO, and ARO. There was heavy selling at PCR, ANF, FMD, NATL and JCOM and light selling at XOM, NTRI, BBBY and TRAD.
Disclosure: Author holds no positions in any of the stocks mentioned in this piece.