By Sean Geary
Thailand's central bank opted not to change interest rates this week, in spite of prodding from the government to reduce borrowing costs.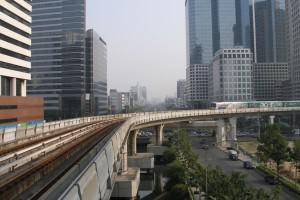 Thai Finance Minister Kittiratt Na-Ranong had previously encouraged the central bank to reduce rates in order to catalyze business expenditure in the wake of last year's devastating floods.
However, the central bank opted not to reduce its benchmark rate over potential inflation concerns, even though April's inflation numbers came in at a two-year low. Because Thailand is a net importer of fuel, persistently high crude prices can stoke inflation. As well, rising wages in Bangkok and other provinces could also increase inflationary pressures.
A more pressing concern for the Thai economy going forward is a decrease in external demand. Thailand is heavily reliant on exports to drive its economy, which account for more than two-thirds of GDP. In March exports decreased for the fourth time in five months; industrial output slipped too.
While growth in the United States and China remains healthy, other large Thai trading partners - namely the euro zone - are struggling. As long as the economies of China and the United States remain robust and Japan stays on course, the Thai economy should not be affected too drastically by Europe's economic calamity.
However, should contagion from the European crisis affect East Asian or American growth, Thailand is unlikely to be spared given that its economy is inextricably linked to global trade.
Traders convinced that global growth concerns are overblown should keep an eye on how THD reacts at 76.21, the ETF's 52-week high. A push through these levels could see THD move significantly higher.