With one month left of 2007, below we highlight the best and worst performing stocks in the Russell 3,000 year to date. If the market makes a year-end rally, expect the best performing names to continue to do well. If we get more declines, expect them to fall the most.
As shown, First Solar Inc. (NASDAQ:FSLR) is in first place, up almost 700% on the year. The solar stock started the year at $29.84 and is currently at $235.24. Why didn't we all just put all of our money into that one?? It will take a big decline from FSLR and big gains in some other names for the stock to not end the year in first place. Behind FSLR is Onyx Pharmaceuticals (NASDAQ:ONXX) at 418%,TBS International (NASDAQ:TBSI) at 390%, CF Industries (NYSE:CF) at 271% and General Moly (NYSEMKT:GMO) at 258%.
There are currently 10 stocks in the Russell 3,000 up more than 200% year to date, and 66 up more than 100%. Other notable stocks on the list of best performers are Intuitive Surgical (NASDAQ:ISRG) up 247%, The Mosaic Co. (NYSE:MOS) up 242%, Sun Power Corp. (NASDAQ:SPWR) up 241%, Blue Coat System (NASDAQ:BCSI) up 193% and Foster Wheeler (FWLT) up 174%.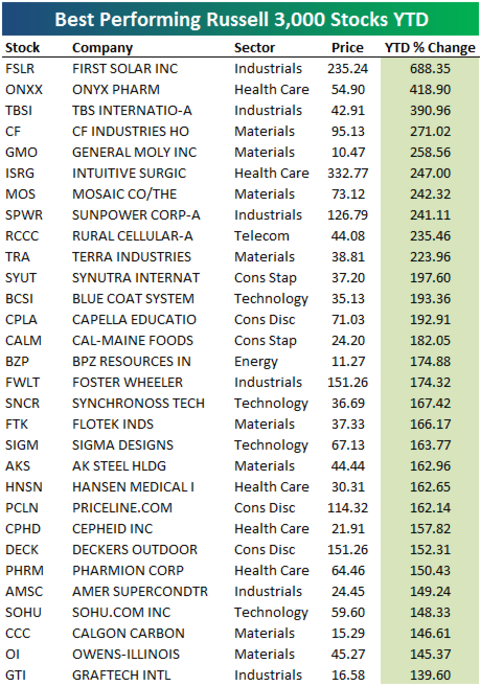 The list of worst performers is filled with Financials and Homebuilder stocks. While the list is ugly, it doesn't include companies that have become worthless, so at least they have something going for them. Novastar Financial (NFI) is down the most at 97%, followed by ACA Capital Holdings (ACA) down 95%, Impac Mortgage Holdings (NYSEMKT:IMH) down 93%, Luminent Mortgage (LUM) down 89% and Standard Pacific (SPF) down 88%.