My stock picking strategy is a combination of high yield stocks for income plus small cap growth stocks for long term appreciation. Lately the income stocks have had their prices pushed down to a point where I believe there is tremendous value.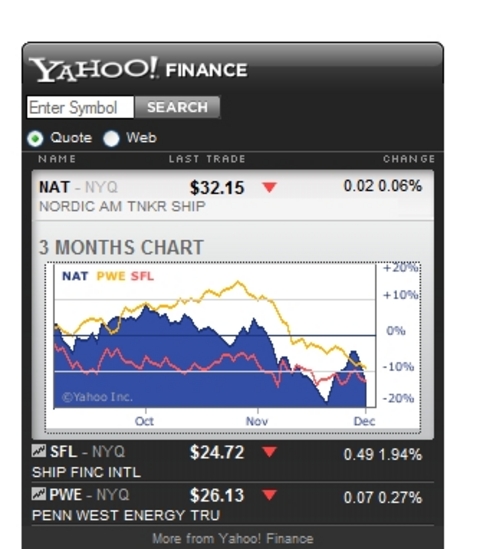 The three stocks charted above are from my 20 Stock Portfolio. They all are down recently (as you can easily see!) but I think their dividends are secure, or may even increase. A little info about each:
Of the two oil tanker stocks here, Ship Finance Ltd (NYSE:SFL) is the steady Eddy. SFL has long term leases on their ships to other companies which which take the risk of changing spot tanker rates. If their leasees are profitable, SFL participates in the profits also. The company is diversifying their fleet, cash and cash flow are growing. The 55 cent dividend is secure and could be raised soon. The stock at today's price provides a handsome 8.4% yield.
The other tanker stock, Nordic American (NYSE:NAT) is the other end, financially speaking, of the tanker companies. NAT has all of their ship on the spot market as the low cost provider. Their fortunes, and dividend, rise and fall with spot tanker rates. For the 3rd quarter the company paid a low $.40 dividend, compared to the typical $1+. Dividends have ranged between $.37 and $1.88 over the last 5 years, with 13 out of 20 quarters greater than $1.00. I believe NAT will yield better than 10% for 2008.
Penn West Energy (PWE) is a Canadian oil and gas trust. The share price has been beaten down on merger costs that have reduced cash flow. This should be temporary and the growth gives the company additional equity that will be beneficial when new Canadian income tax laws go into effect. I have read the distribution is secure until 2011, so at a 15%+ yield I think this stock is a very good value.
If, like me, you like those dividend deposits to your account, these stocks have potential to add 10% in cash flow over the next year. Some appreciation in share price would be a nice bonus if the dividends do prove more enduring than the market currently indicates.
Disclosure: I own shares of SFL and PWE.