Factory order data reported for the month of March this week showed that non-defense aircraft and parts orders declined by 47.6%. While transportation orders generally, and especially aircraft orders, swing widely on a dollar basis due to their high ticket prices, we wondered just how Airbus' A380 issues might be affecting orders of Boeing's 747-8. Have airlines been spooked out of buying the biggest planes due to a perhaps growing public perception that maybe planes should only be so big? Or are airlines perhaps ordering more of Boeing's big boys because of Airbus' A380 issue? Or is Boeing benefiting generally from the PR hit taken by Airbus? We'll work out a route for investors in Boeing and other airplane makers herein.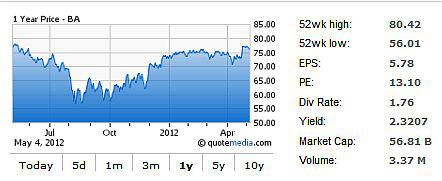 Two recent developments may offer insight for Boeing (NYSE: BA) and EADS (OTC: EADSY.PK) shareholders, depending on the importance of jumbo jet publicity. Boeing just delivered its first 747-8 Intercontinental to Lufthansa (OTCQX:DLAKF). It would seem the elongated and innovative new version of Boeing's iconic jumbo jet has been a hard sell since the company put it up for sale six years ago, with just 36 orders made for its passenger jet model. Lufthansa is thus far showing the most interest, with 20 orders of its own.
Some of the reason for this may be due to the faster speed to market or seat capacity of Airbus' A380, but this only reminds me of the story of the tortoise and the hare, given recent issues. Airbus has garnered 253 orders for its A380 through March 2012, and has already delivered 71 air ships. Boeing has received 36 orders for its passenger carrying 747-8 and 70 for cargo carrying purposes through March 2012. It's only just delivered its first passenger carrier to Lufthansa. However, recent developments might help even the score.
The Boeing aircraft is reportedly heavier than its own weight expectations, though the company expects to get there by 2014 according to this article. That said, the 747-8 still boasts low operating costs and excellent fuel efficiency for its class, and has satisfied Lufthansa. Both the Airbus and Boeing teams point out the metrics that highlight their leadership. Airbus boasts huge seat capacity and comfort per seat, plus the lowest fuel burn per seat, having something to do with the denominator I'm sure; not to knock its use of composite materials and lighter weight as a result. Boeing's super ship boasts a lighter weight per seat, as it also employs composites, and also says it burns less fuel per passenger. Each plane employs existing airport infrastructure. By the time the game is over, performance will determine which plane garners the most market share. However, performance has many metrics, including operating efficiency and final market preference, which will be partly determined by flyers. Of course, the price of flights and global economic health will fog up the results some.
It would seem a safety issue would be difficult to deal with, like for instance cracking in wing structures. That is what has been observed in the A380 iconic jumbo jet of EADS' subsidiary Airbus. However, Airbus reminds that the cracks are not within primary load bearing elements of the wings, and so they continue to fly under close inspection and while modifications are employed. European authorities are now closely monitoring all A380s in operation due to the frequency of the issue.
It would seem only logical to wonder if ordering has been impacted by the very public issue, especially with Boeing's competing product reaching market now. Anecdotally, though important, Qatar Airways' just decided to defer the delivery of its ordered A380 superjumbo jets until after more information is available about the cracking problem and a potential resolution. It would seem likely there would be more of this to come, if not outright cancellations, without a confidence restoring resolution. After all, it is costly for the airlines to remove aircraft from operation that were supposed to be delivered ready to fly.
Airbus is attempting to mitigate the problem through its development of a modification, which should be available by the fourth quarter of 2012, based on the aforementioned Reuters report. The company says it is a cure. But, has the PR damage been done, and will it help or hurt Boeing's orders of its superjumbo? Logically, it should help, but if it simply raises general concern about the world's largest aircraft, then it could affect both companies. Qatar Airways, anyway, is reportedly placing an imminent order with Bombardier (OTC: BDRBF.PK).
Airlines flying the A380 today or with orders placed include (but may not be a complete list) Air Austral, Air France-KLM (OTC: AFLYY.PK), Singapore Airlines (OTC: SINGY.PK), Emirates, Qantas (OTC: QUBSF.PK), Lufthansa, Korean Air, China Southern Airlines (NYSE: ZNH), Asiana Airlines, British Airways, Etihad Airways, Hong Kong Airlines, Kingfisher Airlines, Malaysia Airlines, Qatar Airways, Skymark Airlines, Thai Airways Int'l (OTC: TAWNF.PK), Virgin Atlantic. Boeing's partners in the 747-8 include at least Lufthansa, Korean Air, Arik Air, Cargolux Airlines, Nippon Cargo Airlines, Atlas Air (NASDAQ: AAWW), Dubai Aerospace Enterprise, Volga-Dnepr, Korean Air Cargo, Cathay Pacific (OTC: CPCAY.PK) and GE Capital Aviation (NYSE: GE).
The PR case for Airbus is supported by the fact that no airplane crashed and because it owned up to the issue, though seemingly due to outside pressure. I would say it does have a chance to cure what could have been a broader reaching PR disaster for the company and the stock because of the way things developed. However, if there is any serious risk, the company would be wise to act more aggressively to prevent more serious PR damage. Just refer to Toyota's (NYSE: TM) recent PR history and multiply it by a thousand, because who would fly the planes if passengers wouldn't book them?
At this point, it would seem it doesn't really matter to the U.S.-based airplane maker, with Boeing jumping 5% on its earnings just reported in late April. The company continued a trend of blowing out EPS estimates with a 30% beat in its first quarter of this year. Its full year 2012 EPS consensus estimate has since been hiked up to $4.59, from $4.47 just a week ago.
I would say Boeing's competitor has allowed for an opening in the super jumbo class, so it's hard to argue with enthusiasm for the shares. My greatest concern is really broader reaching and impacts a wide swath of companies including the other airplane makers and flyers. It's a macro concern tied to the recessing eurozone economy, and its reach to emerging markets and the U.S. Add on to that the event risk that seems intensified now around the Iranian issue, and that I'm not a fan of a P/E/G ratio too far above 1.0 in many industries.
Yet, Boeing's valuation is just 13X its 2013 EPS consensus estimate, and growth is estimated at 24% that year, leveling down to 11% over five years. Its defense industry participation mitigates some of the risk I noted above, with a recent F-15 sale to Saudi Arabia worth highlighting. So I would have to hold Boeing shares if I had them and consider buying some if not, especially if I could match it up with a short position that hedges the commercial business risk I see. If, God forbid, an air disaster occurred for its competitor, a long Boeing, short EADS position would fly. However, let's not focus on morbid and probably improbable scenarios. Rather, you might hold Boeing and match it against an airline ETF like the Guggenheim Airline (NYSE: FAA) or the Direxion Airline Shares (NYSE: FLYX). If you don't share my macro view, you might just include Boeing in a diversified portfolio that may not hedge perfectly against beta. Generally speaking, therefore, I would take a flyer in Boeing.
Disclosure: I have no positions in any stocks mentioned, and no plans to initiate any positions within the next 72 hours.