With long term interest rates hovering near all-time lows, we continue to sit atop a massive rally in U.S. Treasuries that saw bond ETFs (like the iShares Barclays 20+ Year Treasury ETF (NYSEARCA:TLT)) return up to 30% in 2011. From a historical standpoint, it seems unlikely that long-term rates will remain this low indefinitely. So is it just a matter of time before they rise back up?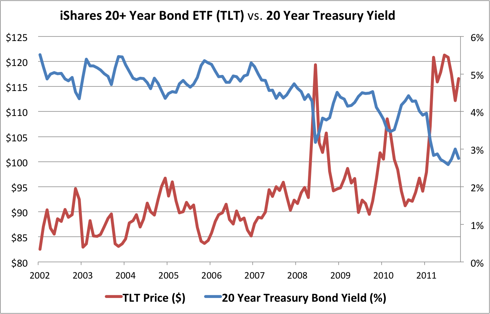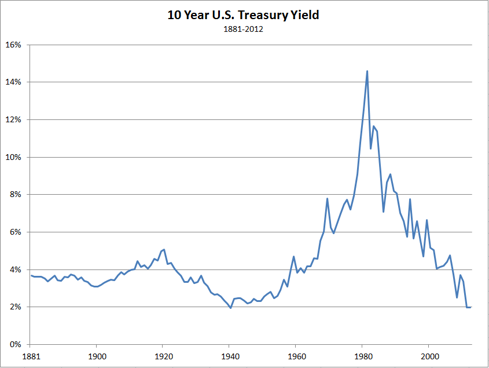 In short, I'd say yes. At only one point in the past 130 years - around the time of World War II - have long term Treasury yields been as low as they are now. Nominal yields on the 10, 20 and 30 Year Treasury bonds are 1.98%, 2.76%, and 3.16% respectively. In real terms, the yield on the 10 Year remains negative. As such, it's easy to say with certainty that "rates will rise in the future;" the real question is when, and by how much. The Financial Forecast Center publishes these forecasts: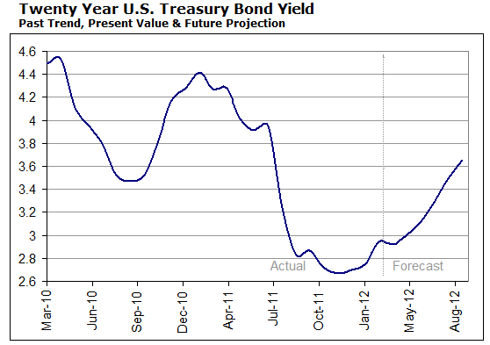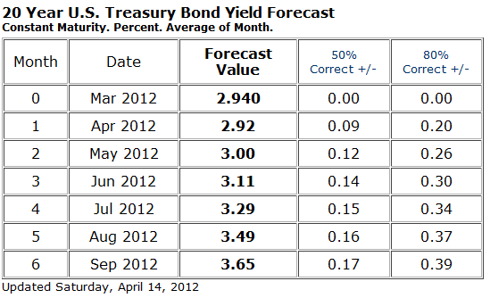 It's important, however, to note that long term interest rates could easily remain at current levels, or fall lower, before they go back up as I expect they will. The Fed has openly expressed a commitment to keeping at least short-term rates near zero through 2014. But other forces, such as investors' expectations and general market sentiment, are at work as well. Comparing the performance of TLT, the iShares Barclays 20+ Year Treasury ETF, with that of the SPDR S&P 500 ETF (NYSEARCA:SPY), the inverse relationship between them during bear markets is quite pronounced, as investors flock to treasuries in fear and push up prices: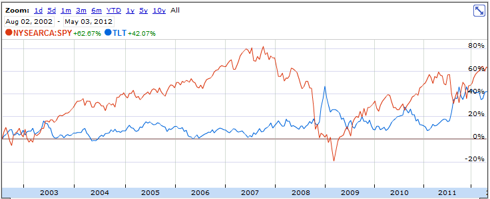 So what's the most efficient investment strategy for capitalizing upon this expected rise in long-term interest rates, granted the possibility of a potential decrease or lack of movement in rates in the meantime? For most investors, purchasing individual bonds is more cumbersome than buying bond-focused exchange traded funds (ETF) or exchange traded notes (ETN) , so we will focus on strategies using the latter. Given the inverse correlation between yields and bond prices, the following strategies would allow us to profit from a rise in long-term yields:
ETF
- Short an ETF like the iShares Barclays 20+ Year Treasury ETF, TLT.
- Buy the ProShares Short 20+ Year Treasury ETF (NYSEARCA:TBF), which is the 1x inverse of TLT.
- Buy the ProShares UltraShort 20+ Year Treasury ETF (NYSEARCA:TBT), which is the 2x inverse of TLT. This would allow us to achieve the nearly the same returns as buying TBF, but using half as much capital.
- Use Options to buy puts on TLT or buy calls on TBT and/or TBF.
ETN
- Buy an ETN like the iPath US Treasury Long Bond Bear ETN (NASDAQ:DLBS).
- Short the iPath US Treasury Long Bond Bull ETN (NASDAQ:DLBL).
To give an idea of how these vehicles perform relative to each other, look at this graph: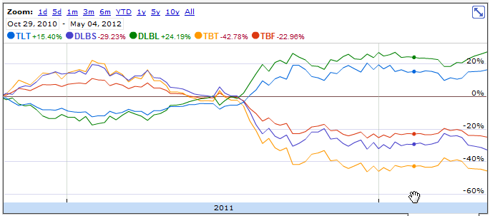 All these strategies would yield a profit in the event of rates rising - but as far as efficiency, using options on the most leveraged vehicle (in this case TBT) would yield the highest potential returns on capital. A long-only call option strategy does, however, involve the risk of losing all your capital; for those who would rather hold the actual ETF or ETN, that would allow you to retain at least a portion of the investment's value in the event rates remaining the same or falling lower. But the way I see it, I want the most bang for my buck, especially when I am confident in the trade. Why spend $1,800 buying 100 shares of TBT when you could buy an $18 January 2014 call option for $330?
So, let's move forward with the TBT call option strategy for capitalizing upon a rise in interest rates. For a trade like this with a long time horizon, we want a distant option expiration - for TBT this is January 18, 2014. Now we need to select a strike price. We are looking for a balance between safety (purchasing deep in-the-money calls means we have a lower break-even price for TBT) and cost (higher strike call options are cheaper). We must also incorporate our expectation for where TBT will reach or end up come January 2014.
The following data points show how TBT's price has moved in relation to the yield of the 20 Year US Treasury bond:
| | | |
| --- | --- | --- |
| Date | 20 year Treasury Rate (%) | TBT Price |
| 2/1/2012 | 2.65% | $18.89 |
| 10/1/2011 | 2.87% | $20.63 |
| 8/1/2011 | 3.24% | $25.45 |
| 10/1/2010 | 3.52% | $30.07 |
| 5/1/2011 | 4.01% | $33.17 |
| 6/1/2008 | 4.74% | $68.57 |
With all these things considered, I'm going with the January 2014 $18 Call option, costing $3.20 per share (or $320 for one contract). Assuming rates on the 20 Year Treasury rise to 3.6% between now and January 2014 - which seems entirely feasible - TBT would likely be around $30. If TBT reaches $30, a holder of the aforementioned call option would see a profit of $880 per contract - more than double the initial investment.
If long term rates rise even further, with yields on the 20 Year rising above 4%, TBT could easily reach $40, which it did in February 2011. In this scenario, each $18 Jan 2014 TBT call option would yield a profit of $1,880 per contract - more than 5x the initial investment.
Assuming we purchase $100,000 worth of these call options, our returns would be as follows:
Start - May 2012
Buy 312 TBT $18 Jan '14 Call Options @ $320/contract
Cost = 312 x $320 = $99,840
End - Jan 2014
TBT @ $20 = $37,440 loss = (-37.5%) total return
TBT @ $30 = $274,560 profit = 167% total return
TBT @ $40 = $586,560 profit = 467% total return
In conclusion, we have a great opportunity to capitalize upon a rise in long-term interest rates over the next few years. The use of options on leveraged ETFs creates the potential for massive returns on investment. Although this is an inherently risky strategy, I would say the reward is commensurate with the risk!
Disclosure: I am long TBT.