Last December, we identified Cott Industries (NYSE:COT) as part of an alternate "Low Income Consumer" strategy. The shares had a good day in the market today, in the face of an overall down market, because of an encouraging earnings report, and it is a good opportunity to revisit the compelling story.
Cott Corporation is North America's largest producer of "store brand" soft drinks, which are a lower-end alternative to the household names with which we are all familiar. The company has a long term relationship with Wal-Mart (NYSE:WMT) and for several years has been the exclusive producer of Great Value brand soft drinks. However, effective January 2012 their exclusivity agreement expired. The company will still retain a big portion of the business, but there will be a phase-in period for alternate suppliers. Last summer, Cott Corporation purchased Cliffstar Corporation, a competitor who was better positioned in the "store brand" fruit juice business.
Here is some key financial data compared to their bigger and more famous rival Coca Cola (NYSE:KO):
| | | |
| --- | --- | --- |
| | COT | KO |
| Market Cap | $664.5M | $174.12B |
| Revenue | $2.32B | $47.16B |
| Op Margin | 4.51% | 23.43% |
| Profit Margin | 1.58% | 18.50% |
| Op Free Cash Flow | $146M | $9.51B |
| Cash/Rev | 6.3% | 5.5% |
| Forward PE | 10.2 | 17.17 |
| Est Rev Growth Next Yr | 2.90% | 4.40% |
Cott's free cash flow as a fraction of their revenues is actually greater than Coca-Cola's. Their obvious problem is that their margins are much smaller. COT's ongoing strategy is twofold: Try to transition into higher margin products, by demarketing some of the bottled soft drink business and increase sales of juices and sports drinks, and to use the free cash flow to buy back shares and make other strategic investments.
The most recent quarterly report suggests that the company is being successful in increasing margins. Here is a summary of some operating margin data:
| | |
| --- | --- |
| Period | Net Income % of Sales |
| FY 2010 | 14.8% |
| FY 2011 | 11.8% |
| Q1 2011 | 13.0% |
| Q4 2011 | 9.4% |
| 1Q2012 | 12.1% |
The headwind that COT faces is that two of their major raw materials are commodity-based. Prices of PET and also corn sweetener are vulnerable to the commodity markets; both are lower than they were a year ago.
Another potential issue is the tendency of COT's high-end competitors to have price promotions during times of economic weakness in order to maintain market share. This reduces the price difference between the company's products and the name brand products, which causes some margin problems for COT.
The share buyback of 5% of the float was announced as part of the most recent earnings announcement, and will have the following effect:
| | |
| --- | --- |
| Current Share Price | 7 |
| Current Shares Outstanding | 94,946,330 |
| Buyback Amount $ | $ 35,000,000 |
| Buyback Amount (Shares) | 5000000 |
| New Shares Outstanding | 89,946,330 |
| Float Fraction | 95% |
| New Stock Price | 7.39 |
The buyback will occur over the next year and have an approximately 40 cents per share positive effect, everything else being equal.
The Long Opportunity
Here is a long range stock chart: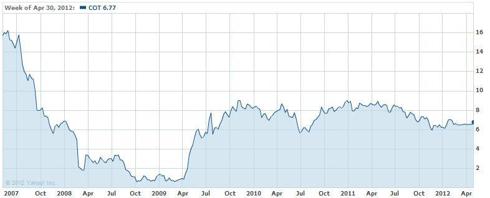 This stock traded at $15 per share before the crash of 2008, and was under $1 at one point. It was about $6.50 when I wrote that article last December. For the better part of 2010 and 2011 it traded between 8 and 9, and it does not take too much imagination to see it getting back to at least that level, particularly if the oil price continues its correction, lowering the PET cost.
The company's business is seasonal, and is higher in the second and third quarters:
| | |
| --- | --- |
| Quarter 2011 | Revenues ($B) |
| Q1 | 534 |
| Q2 | 640 |
| Q3 | 611 |
| Q4 | 549 |
So over the summer, there is probably around $1 of upside. The six analysts covering this stock are estimating a price of $9, per Yahoo Finance. The management is guarded because of the commodity issues. Their Barclay's investment conference presentation suggests that 2013 may be the year that their strategy starts to show up in the numbers.
The world is full of chaos and there are no guarantees on anything, but I still like the idea of supporting a management that is brave enough to walk away from an exclusivity situation to try to get some margin improvement. The potential is a $1-1.50 per share increase on a $7 investment.
We will check back in the fall and see how they are doing.
Disclosure: I have no positions in any stocks mentioned, but may initiate a long position in COT over the next 72 hours.
Additional disclosure: I will put in another limit order at below the market and try to get a good price. I will probably exit in the fall sometime.