The pattern of consensus expectation misses that we anticipated in March continues to develop as expected. On Thursday, the ISM non-manufacturing index for April was reported at 53.5, well below consensus expectations of 56. On Friday, the increase in April nonfarm payrolls was reported at 115,000, well below consensus expectations for an increase of 165,000.
images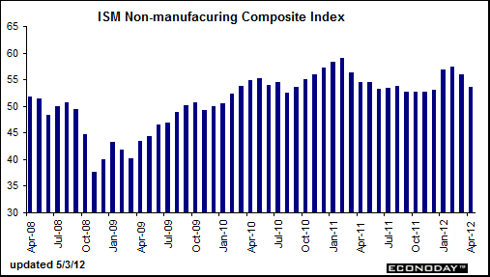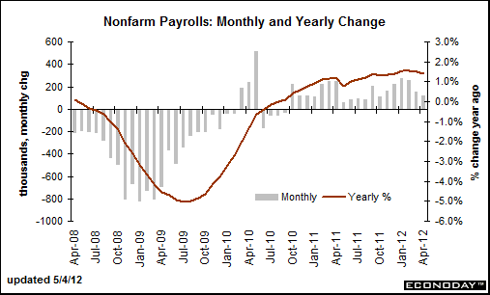 Additionally, even when the data have been stronger than expectations, resultant market behavior has been bearish. For example, earlier this week, the ISM manufacturing index was reported above expectations. After an initial surge during the first two hours of the session, the distribution process began in earnest and the market weakened heading into the close. When the ISM non-manufacturing index and April employment data were subsequently reported well below consensus expectations, the market moved sharply lower, with the losses accelerating into the weekly close.
An old trading adage cautions, "when something is supposed to go up and it does not, it is going down." During the past several weeks, stocks have moved down with more conviction than they have moved up, as evidenced by the recent deterioration in money flow. This type of market behavior is a sign of exhaustion that suggests the rally from October 2011 is losing strength.
Yesterday, a cycle high signal was nearly generated for the stock market, indicating that the Beta High (BH) we had been expecting likely formed on May 1. Today, the S&P 500 index closed sharply lower, generating a cycle high signal and confirming that the beta phase decline is in progress. Additionally, the confirmed formation of the BH has provided another optimal entry point for a potential short swing trade following the cycle high signal on April 23.
Recall that an optimal entry point is defined as providing the maximum amount of potential gain with minimal accompanying risk. If a cyclical high is developing, stocks will move substantially lower during the next several months. However, a quick rebound and move well above the last Alpha High (AH) near 1,419 would invalidate that bearish scenario. Therefore, short swing trades opened at these optimal entry points have a very tight stop level that minimizes any potential losses. The primary key to trading (and investing) success over the long-term is the effective management of risk. As we often advise, focus on managing the losses and the gains will take care of themselves.
From a big picture perspective, the S&P 500 index is exhibiting behavior consistent with the development of a cyclical top and a significant signal with respect to long-term direction could occur sometime during the next few weeks, so it will be important to continue monitoring market behavior closely. We will identify the key developments as they occur in our daily market forecasts and signal notifications available to subscribers.
Disclosure: I have no positions in any stocks mentioned, and no plans to initiate any positions within the next 72 hours.