Believe it or not, based on the top 100 domains (unique visitors) FanFiction.net has the fourth highest average time spent per user. That's right, they beat out Facebook, News Corp.'s (NASDAQ:NWS) MySpace, Google (NASDAQ:GOOG), Yahoo! (YHOO) and MSN. Only three sites rank higher; the almighty time wasting gaming site, Pogo.com (number one), and the two hottest dating sites (so I hear) on the net; manhunt.net and adam4adam.com. Coming in at a close number five is another gaming site, runescape.com and then finally, MySpace.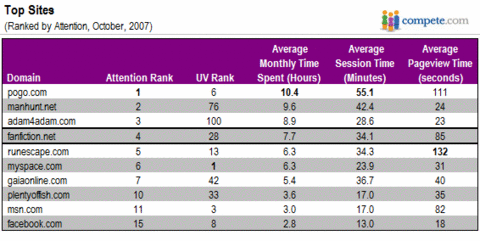 What is FanFiction.net? I had honestly never heard of it until it broke the top 30 for attention recently (now at number 28) and I did a little digging. Founded in 1988 by computer programmer Xing Li, this website allows users to post their fiction on a myriad of topics ranging from anime to movies, and if that's not enough, "Misc." It's not hard to see why people spend so much time on this website, once you read one post about the highly anticipated Edward Scissorhands II (Johnny Depp declined comment) you will be hooked. When I say hooked, I mean it: The average user spends over seven and a half hours on this website a month, and logs in more than 34 times.
Following a decade of "Blockbuster: Part II," we have FanFiction.net - a site that finally allows fanatics of beloved media classes to live out their ultimate fantasy of having Han Solo navigate the Starship Enterprise through the Twilight Zone. That's not to say that there is free reign on this site to post anything your heart desires; on September 12, 2002, all material rated NC-17 was banned from the website. This did not seem to have much effect on traffic to the website as almost 2,000 people posted their opinions on South Park. Although, it may not seem like a big deal to many people, I take comfort in knowing that playing games, looking for love, and stalking your old acquaintances can sometimes be less enticing then letting your true feelings about Dirty Dancing finally come out. Cheers to you, FanFiction.net, your clean site design with only one banner add and unadulterated freedom of expression has catapulted your users into a class almost of their own.