Retirement arrives quicker than anyone can expect. As retirement approaches, all investors have to ask if they have enough saved and will they earn enough money to live on. In this article I will highlight 4 key issues each retiree must personally answer. I offer 3 high quality dividend names and 1 dividend stock to avoid.

1. Determine how much money I will need per month.
Each investor knows exactly what their current income and expenses are. I recommend investors sit down and write down their ongoing expenses and income. One should never buy inferior stocks to reach their financial objectives. Retirees require stocks to be high quality and dependable.
I recommend one stock be sold from every income investor's portfolio. That stock is Citigroup, Inc. (NYSE:C). I remember the good days under Sandy Weill. Times have changed dramatically to the negative.
Citigroup, Inc.
Citgroup has left many investors shocked with the destruction of their capital. I believe the company is on the way to improvement. I can't imagine a scenario where Citigroup should be part of a retiree's portfolio. It's time to sell and take the loss. The stock is currently trading at about a 9x price to earnings multiple.
Dividend
The stock offers a 4 cent a year dividend. This is unacceptable for income investors. I would sell the stock and buy a dividend yielding stock with growth, solid balance sheet, and competent management.
Positive News
The total revenue for the first quarter was $26.4 billion. This was 3.76% below the $27.4 revenues from the first quarter of 2011. The company appears to be making headway in a difficult economy. The bank has almost a zero interest rate to borrow from the Fed Window and lend money to for gross profits.
2. Listen to trustworthy independent advisors.
There are a few people I have learned to trust. One is Martin J. Whitman, who started Third Avenue Funds. He was gracious in all of my contacts with him. I have never been so impressed with a person who I had nothing to offer in return. The second person is Consuela Mack. This amounts to two people, in 30 years of studying the market, in which I would trust my money. Everyone has their own experiences, but the two that have never let me down are the above mentioned folks.
Balance Sheet
Marty Whitman's core emphasis was on finding value and studying the balance sheet. Microsoft Corporation (NASDAQ:MSFT) has the ideal balance sheet for a retiree. The balance sheet provides approximately $60 billion to deal with the changing technology environment.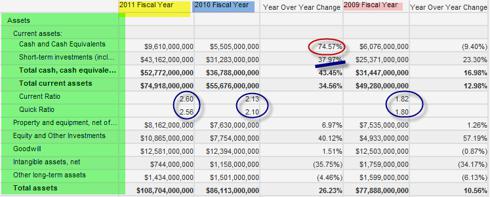 The cash provides a cushion in the event of an economic downturn. Microsoft's dividend history has grown over time. The stock currently yields a 2.5% dividend yield. This is likely to increase over time due to their effective balance sheet management, and increasing cash balance.
I would 100% recommend Microsoft as a portfolio position due to their business model, great brand name, and growth opportunities in the e-book industry and cloud computing. Microsoft has the balance sheet to weather difficult economic time and come out a winner. Levered companies, such as Citigroup, are less likely to come out of the next major economic downturn. I would argue that the 'too big to fail' idea ends at some point.
3. I avoid listening to confusing investment news.
The internet has made information "commoditized" for all investors. Long term investors are best served via investing in quality companies and enjoying the dividends and capital appreciation. Information does have value, but not the "get rich quick" type of investing. Investing is not easy or every investor would sell at the top and buy at the bottom.
The trouble is "commodized" information is worthless. If everyone knows the same information, what is the value of the information? That is the difference between 'buy side' versus 'sell side' stock analysis.
Walmart Stores (NYSE:WMT) has run into a few problems with a bribery scandal in Mexico. Walmart is not going anywhere fast. They deliver the best products for the best prices in a frugal economy. The stock yields 2.70% per year.
Investors should take advantage of the temporary price weakness to add a high quality stock that is growing around the world. Walmart has Federal Bureau of Investigation (FBI) ex-agents on its team and a top attorney team team to address any issues. The media lives on a "if it bleeds, it leads" mentality. This is our opportunity to buy these shares as they are temporary depressed.
4. Establish a game plan.
To be honest, the only game plan is to win. Safety and sound strategies are important and essential. Find out who can provide you returns and yields that meet your goals. This isn't a game or a "he sounds nice" decision. It impacts your life. I recommend researching the two folks I have found to be trustworthy in 30 year of investing: 1) Marty Whitman and 2) Consuela Mack.
As an investor one needs income. Two stocks come to mind. One is for your portfolio management to not be a cookie cutter approach. You are not a cookie cutter. I recommend Baytex Energy (NYSE:BTE). You will find the stock appealing due to its past performance and modus operandi. They hedge, develop, and produce outstanding results. They focus upon oil products and excel at their mission. The below chart highlights how well they have performed: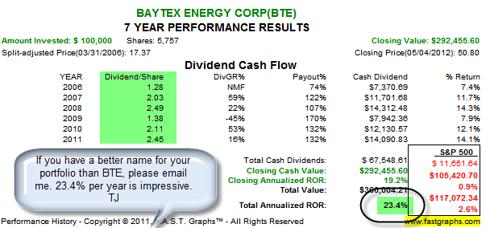 5. Special Situations and Spinoffs
Abbott Laboratories (NYSE:ABT) is spinning into two companies. This will unlock shareholder value. As management teams can focus upon their niche or specialty, then shareholders will win. Abbott is splitting, by December 31st, into two separate companies. One will be a boring pharmaceutical support company. The second company will be focused upon patent based product offerings. Abbott is trading at about 11x times price to earnings. This is a time to scoop up these shares and use patience.
Summary
Retirement requires trust. The individual investor, including myself, must trust the management teams, trust the game plan to achieve financial success, and trust anyone providing financial advice. I recommend a diverse asset class, 100% confidence in the person or firm you are working with. Your financial goals have zero room for under performance. You are in retirement and need the best results you can find.
Expect nothing else.