Disclosure: Author is short FTEK
Fuel Tech (NASDAQ:FTEK) describes itself as provider of air pollution control technologies. The company has two main product lines called Air Pollution Control [APC] and FuelChem. The APC products are designed to reduce emissions from coal energy plants. The FuelChem product is an additive used to improve the efficiency of a coal (or other combustion source) energy plant. More specifically, FuelChem reduces slag (residue) buildup, which lowers the efficiency of the boiler and ultimately causes downtime for maintenance and cleaning.
The APC portion of FTEK is closely linked to the regulatory efforts to reduce emission of Sulfur, Nitrogen, and Mercury. While the APC market opportunity is real both here in the US and in China, the primary focus of investors (particularly institutional investors) has been on the FuelChem portion of the business. Because FuelChem has the promise of recurring revenues at higher margins and lower-perceived competitive threats, the Street recently bid FTEK's stock higher from a low of $20.65 on September 27th to as high as $34.48 on October 18th, giving Fuel Tech a Market Capitalization of nearly $775 million. On November 6th the company reported quarterly sales of $15.5 million and said that the FuelChem business had yet again failed to meet expectations. By the end of the following week, the stock was 22% lower than where it had closed the night of the earnings release.
Fuel Tech has presented its FuelChem business as being a major growth driver for the company in the years to come. To be sure, analysts count on FuelChem's growth to drive margin and EPS expansion in their models. Goldman Sachs' analyst Mike Molnar (similar to other bullish analysts) forecasts the FuelChem business to grow from just under 50% of revenues in 2007 to over 65% of revenues in 2009 on 87% growth in 2008 and 52% growth in 2009. Because the FuelChem business is projected to have substantially higher GMs than the core APC (Air Pollution Control) business, the rapid growth in FuelChem is critical to the EPS growth and margin expansion story. Driven largely by the FuelChem margin expansion, Street consensus forecasts show EPS growing from $0.26 in 2007 to $0.59 and $0.97 in 2008 and 2009, respectively.
On numerous calls, management has indicated that the demand for FuelChem is strong and competition is virtually non-existent. To keep investors up to speed, Fuel Tech has announced each instance a customer has agreed to a demonstration over the past 18 months. The company has also posted a sheet to its website counting the number of FuelChem customers, broken down by plant size. Given the lack of similar competitor announcements and data, some might assume there isn't any real competition. To support this assumption, the Company has made the following 4 claims regarding FuelChem on conference calls and at investor conferences:
1. FuelChem has never lost out in head to head competition
2. FuelChem has only been pulled from a plant once after being installed (that sole case was for a major boiler redesign)
3. FuelChem has a 100% conversion rate of demonstrations to ongoing business
4. The Company has come across no facilities running a competitive solution in anything other than a trial
Given the growth prospects discussed by the street analysts, this story (as presented) sounds pretty good.
In order to get to the truth, we spent the past month interviewing coal plant operators, industry consultants, sell-side analysts, Fuel Tech management and employees, and GE (whose FuelSolv product competes directly against FuelChem). What we found was a much different competitive landscape than Fuel Tech represents. Our analysis did confirm that FuelChem does work and is being used in a number of plants. Slagging is often reduced and plant up-time and efficiency is usually improved.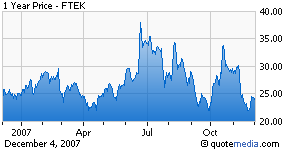 However, what we discovered was a much more competitive marketplace with much greater price sensitivity than we originally thought. We found several coal plants that have not only stopped using FuelChem, but are actually now using competitive solutions. We confirmed 7 Utilities and more than 10 units running GE's FuelSolv solution. Shockingly, some of these units are still included in Fuel Tech's reference sheet for current customers.
Fuel Tech Claim 1—head to head competition
We confirmed two coal plant operators who ran extensive tests comparing solutions from EES, GE and Fuel Tech. Both of these plants chose to go with GE. In one of the plants, Fuel Tech's solution was quoted as being up to 3x as expensive as that of GE and no better in performance. One of the plants ran GE vs FuelChem side by side for a full year—in February of 2007 they switched exclusively to GE and have since been running GE's product throughout the year.
When asked about this plant, management said that this plant was planning to switch back to FuelChem at the end of this year. Contrary to FTEK management's claims otherwise, this plant operator indicated that he is not going to switch back to FTEK and is going to continue using GE next year. In fact, this particular operator heads up an internal committee for his company's evaluation of fuel additives, and has recommended that other plants on the system that are considering using fuel additives should use the GE solution…since that recommendation, GE has apparently received multiple purchase orders from this large energy provider.
Fuel Tech Claim 2—customer loyalty
As far as the claim of never being pulled from a plant after installation, it may be technically correct. As part of its demonstration install, FTEK physically installs 40+ nozzles on the access ports of the boiler. However, given that Fuel Tech doesn't charge for these nozzles and only generates revenue from the sale of its chemical and the service provided, their presence on the boiler after initial demonstration isn't relevant. What is relevant is if the additive is still being used or if it has been replaced by an alternative.
As expected, we were unable to confirm any plant to have physically removed the 40+ nozzles attached to its boiler after Fuel Tech installed them. However, we were able to confirm several facilities that are no longer using the Fuel Chem product or have switched to GE.
Fuel Tech Claim 3—100% customer conversion ratio
This claim is flat out false as we personally confirmed numerous sites that tested the Fuel Chem product and chose to go either with nothing or alternative products
Fuel Tech Claim 4—lack of commercial success for competitors
As discussed earlier, we have confirmed numerous utilities to be using the GE product. We also have confirmed that Florida Power and Light is using the EES additive, as was announced publicly February 26, 2007. Given the extensive experience of Fuel Tech's management and commentary from the utility operators, we consider it highly unlikely that Fuel Tech management is unaware of GE's success to date.
In order to bolster its case and refute negative commentary, Fuel Tech has occasionally arranged calls for investors and analysts with plant operators who are quick to support FuelChem and to dismiss competitive solutions. Most notably, Jimmy Blakely at Western Farmers' Co Op in Oklahoma, has been an outspoken reference customer and is featured on FTEK's website.
It is interesting to note that although Mr. Blakely claims that FTEK is substantially less expensive than the alternatives he has looked at, Mr. Blakely told us that he has never run a competitive solution through his facility. In fact, Mr. Blakely told us that he hasn't even looked at alternative proposals since 2003 (although we have reason to believe he received, but didn't respond to, a proposal from GE in 2005).
Another individual that FTEK has put select analysts and investors in touch with has been John Dau of Detroit Edison's [DTE] Belle River facility. Mr. Dau has also been complimentary of FTEK's solution which has been used in DTE's St. Clair facility. More notably and somewhat controversially, he has refuted the data presented by a colleague (Pamela Dezsi) from the same DTE Belle River Plant that showed impressive results using the competitive GE product called FuelSolv. While Mr. Dau's arguments sound compelling, they don't stand up to the photos and statistics presented by his colleague or the confirming data that we have seen from other GE customers.
While we don't know if it is intentional or not, we found multiple instances where Fuel Tech management and its references were making claims that directly conflicted with data gathered from the very plant operators they were discussing. We don't represent that everything that has been said has been intentionally false, but rather that enough has been contradicted and refuted that we don't place much credibility in the Company's presentations or predictions.
Given that the FuelChem business hasn't grown since the September 2006 quarter (despite announcing 12 demonstration contracts this year) we find it hard to believe the forecasted growth of 87% for this critical segment of Fuel Tech's business. We highly recommend that investors independently talk to multiple plant operators directly—not an easy task unfortunately. In making this effort, investors will learn that most plant operators still consider fuel additives to be "Snake Oil" and won't even consider the products. It will also become apparent that there are numerous alternatives available (changing coal, air flow, and/or boiler design) beyond competitive products.
With FTEK trading at over 40x 2008 consensus EPS, we consider FTEK to be massively overvalued. Current consensus estimates reflect >45% growth in total sales driven largely by expansion in FuelChem revenues in 2008. Based on conversations with plant operators, we aren't convinced the Fuel Chem business will grow at all. GE is winning multiple customers with an equivalent solution that is simpler to install and costs up to 70% less than FuelChem. Thus, we think it's entirely possible for FTEK's FuelChem revenues to be flat or even down in 2008.
Our advice is to do independent analysis with plant managers that are not delivered by a promotional management team and to make your own conclusions as to FuelChem's real growth prospects. The information is out there (although sometimes difficult to gather) and at 40x+ 2008 EPS, investors owe it to themselves to know what they own.
Disclosure: Author is short FTEK