Tidewater Inc. (NYSE:TDW) is an oil service provider that supplies vessels for offshore drilling and mobilizes equipment and service personnel to offshore locations. Tidewater is the largest player in its sector with 582 vessels distributed all around the world; more than 85% of its revenue comes from outside the U.S.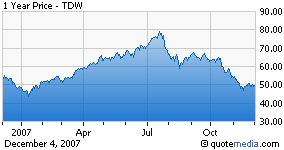 Tidewater is one of those companies that's ignored by the mainstream world due to expectations of a future downturn, high dry docking expenses and vessel utilization concerns. It trades at eight times its trailing twelve-month earnings and one and half times its book value, with uninterrupted dividend payouts since 1992.
With vessel day-rates growing both nationally and internationally, Tidewater is enjoying a nearly 45% operating margin and 30% net income, both of which it can probably maintain in the near future. With a 20% ROE, Tidewater appears to be safe to purchase at this trading price of around $50.
The anticipated cash flow for this year is a little over $9/share dollars, and it will continue this momentum in the near future. Even with the cyclical nature of its business, the cash flow will not go below $5. Assuming conservative growth of 5%-6%, the intrinsic value of the stock is twice more than what it is now.
Another positive: Tidewater's board of directors authorized up to $200 million to repurchase its own shares and still has not spent 70% of the amount as end of last quarter. With a strong Balance sheet, ample cash flow and excellent pricing power due to economies of scale, Tidewater may be great to buy for long-term investors.
Disclosure: Author is long TDW.