With Bernanke and the Fed pumping up the economy with rounds of quantitative easing, it is perfectly rational to worry about inflation. In fact, the way things are going, inflation isn't an 'if', but a 'when'. If you're worried about inflation, it used to be that commodities were the ticket. In theory, Iron stocks like Vale (NYSE:VALE) and steel stocks such as Nucor (NYSE:NUE) or US Steel (NYSE:X) or Arcelor Mittal (NYSE:MT) gained in demand and pricing power as inflationary pressures built up. In theory, Copper would have the extra kicker of peak copper (a time when copper demand kept ascending while supply peaked), thus leading to untold riches for owners of Freeport McMoRan (NYSE:FCX). Construction and transport would lift aluminum and Alcoa (NYSE:AA) to new heights as countries like Brazil tripled their Aluminum consumption in the next 10-15 years.
But many of the same people who are worried about U.S. inflation are also worried about a China Bubble. If an inflation hedge is also impacted by a China bubble, it's a dubious inflation hedge. So how much China dependency are you buying with metals & mining stocks? Unfortunately, this table from KKR Insights is not encouraging. China drives 40% of the demand for steel, copper and aluminum.
Click to enlarge: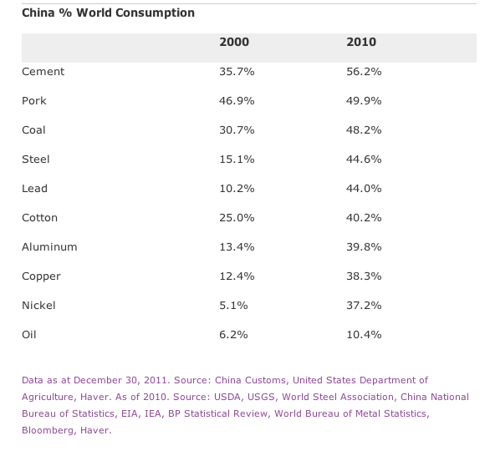 Not surprisingly, the 5 year charts of FCX and VALE mirror the China Index Fund (NYSEARCA:FXI) over a 5-year time frame, as can be seen below. The stock charts don't show as strong a correlation between FXI and steel or aluminum, as both AA and X have actually underperformed FXI!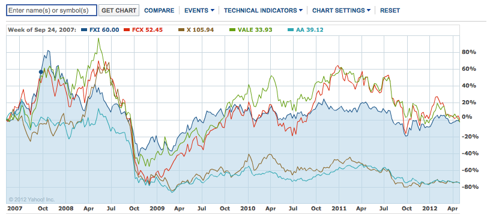 If you want to invest in metals, you have to be a stock picker, perhaps looking at a steel stock like Nucor as a play on U.S. housing, or an aluminum house like Alcoa on fixing past operational miscues, or investing in niche metals with 'special situations'.
Disclosure: I am long NUE.