Apple (NASDAQ:AAPL) started off 2012 with a significant amount of volatility as it surged to $640 only to pinball in the upper $500 range the past few weeks. I have recommended option strategies for Apple since 2010 with notable results (remember past results do not guarantee future results). For reference, please view the first and other articles in the series to fully understand the strategy and its strong potential returns.
I perform a weekly analysis of Apple's stock, options, recent news, and competitive analysis. In essence the investment objective is to capitalize on Apple's volatility by selling out-of-the-money options to generate weekly income without sacrificing long-term returns.

(Source: Yahoo Finance)
A brief recap of this week in Apple, which was down $32.55 (5.4%):
New iPad U.S. Traffic as Percent of Total iPad Traffic: 11.12% (Unchanged)
Microsoft (NASDAQ:MSFT) Makes $300M Investment in Barnes & Noble (BN) Nook (April 30 Associated Press)
China Now Largest Smartphone Market; Growingly Important To Apple (May 2 Canalys)
iPad Continues to Outgrow Tablet Rivals (May 3 IDC)
JP Morgan: Apple TV Doubtful in 2012 (May 3 Apple Insider)
Apple tumbled over five percent to return the stock into correction territory with a decline in excess of ten percent from its high. This was also a bad week for the overall market as the S&P 500 declined two percent; however, Apple's three percent underperformance is significant. It was only a month ago that Apple was trading at $640 and could do no wrong. It is almost as if investors forgot that Apple reported blockbuster earnings less than two weeks ago. Just as fast as Apple climbed $32 points two weeks ago, it lost them this past week.
As you can see from the selection of news above, there were no significant breaking events this week for Apple or its competitors. Samsung announced its hyped Galaxy SIII smartphone which boasts some impressive specifications; however, I believe that consumers will continue to prefer the iPhone for its well-integrated ecosystem. I do expect the new Galaxy to be a top selling Google (NASDAQ:GOOG) Android phone but Apple has distinguished itself so much from competitors that it is very difficult to even make cross platform comparisons. Remember that the New iPhone is on the horizon and should be poised to be a global top seller once again.
The trailing P/E is now back below 14.0 and the forward 2013 P/E is a shade under 10.5 before adjusting for "cash+". This was the type of valuation that Apple was trading at throughout 2011 when its share price was languishing in the 300s. While no one can predict with certainty where Apple's stock price will be in the future, I would take advantage of this precipitous decline to either accumulate shares or sell out-of-the-money calls/puts.
Although I write articles advocating weekly covered calls it is important to take a step back and put Apple's current price in context. After a correction it might be prudent to stay on the sidelines and sacrifice short-term income in favor of long-term gains. If you do not currently have an Apple position you can decrease your breakeven price by starting your position with a covered call.
Below I present three possible scenarios and the potential returns for the Apple options. The first scenario represents a negative outlook for Apple while the final two scenarios are more reasonable. These scenarios are just projections and there is no guarantee that they will come to fruition. Even if you are optimistic it is important to generate both positive and negative circumstances in order to stress your assumptions.
As a general rule, selling calls with higher strike prices has greater potential return but additional risk of loss due to the lower (or lack of) downside protection. For more information on the fundamentals of covered calls, consult Investopedia.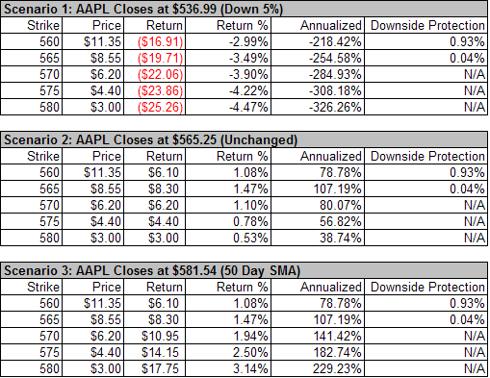 Additionally, if you would like even more information, I have prepared a sensitivity analysis for absolute return and percent returns, respectively. After studying the information above, these two charts make it easy to pick a strike price based on where you believe Apple will close at the end of the week. Estimate where you believe Apple will close and select the strike price with the highest return.

With this information, executing a buy-write on AAPL May 11 (Weekly) 575s is the optimal risk-return strategy. This makes for an excellent trade if you are currently not long Apple; however, if you are a long-term Apple investor I would exercise restraint. If you are uncomfortable with this strategy I suggest a buy-write in the range of 565-585. Even if you are extremely bullish you can still profitably sell covered calls; Apple is volatile enough that you will have opportunities to repurchase on dips.
An alternative approach is to sell out-of-the-money 565 puts and collect the premium without having to purchase the stock outright. Note that if the stock declines to the strike price, you are obligated to buy the stock (or closeout the position). You should always consider the risk factors (particularly with naked calls or puts) raised in this article in light of your personal circumstances (including financial and taxation issues) in consultation with your professional financial adviser.