Research in Motion (RIMM), as anyone who reads the Wall Street Journal (or uses a mobile phone, for that matter) knows, has seen better days. The company has been hit hard by Apple's (NASDAQ:AAPL) entry into the mobile phone market, as well as more competitive offerings from Samsung (OTC:SSNLF), HTC (OTC:HTCXF) and other manufacturers. RIM's stock price is hitting levels last seen in 2004.
The company recently held an event targeted at developers for its new mobile software platform, and while some seemed impressed, the overall reaction was fairly lukewarm. Since then, the company's share price has declined even further.
This brought me to the question: what is RIM's fair value? Although the company has fallen on hard times, it was a pioneer in the mobile phone space. In particular, it would seem the company has a significant amount of intellectual property that could be licensed or sold. Further, while the handset business has declined significantly, it produced over $2.9 billion of cash for the company in its most recent fiscal year. With the stock at 9-year lows, I'm left wondering how much RIM is actually worth, and whether this investment might offer a suitable margin of safety for a value investor.
Liquidation value
RIM has a remarkably clean balance sheet. As of its last fiscal year-end (March 2, 2012), the company has no long-term debt, and cash and investments of over $2 billion ($4.03 per share). Other than its cash, the company essentially carries four items of consequence on its balance sheet: 1) accounts receivable, 2) inventory, 3) PP&E and 4) patents. In order to calculate the liquidation value of these assets, I made estimates of what proportion of the book value I believe the company could secure for each in a liquidation of the company.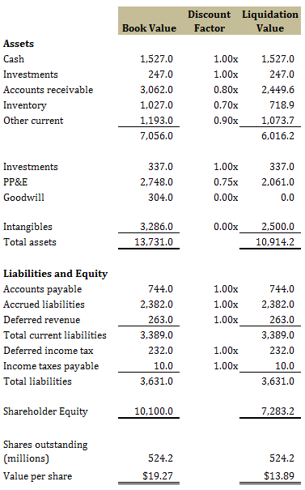 My initial estimate of liquidation value shows that RIM is worth $9.13 per share - nearly a 25% discount to where it closed on Friday, May 4. But this doesn't include a very significant asset - RIM's patent portfolio. Although I wasn't able to find many details surrounding RIM's patent portfolio in their financial disclosure, I found one article that states RIM has a portfolio of 4,266 patents, although it is not clear if that includes the Nortel patents or not. My own search of the U.S. Patent and Trademark office turned up 3,030 patents. Given the recent prices that patents have been trading for (excellent Economist summary here), RIM's portfolio could be worth between $2.15 and $2.95 billion, depending on the value of the Nortel patents it acquired along with Microsoft (NASDAQ:MSFT) and Apple (AAPL) last year. A Jefferies analyst valued the entire portfolio (including RIM's interest in the Nortel portfolio) at $2.5 billion. On a per-share basis, that $2.5 billion valuation would increase RIM's book value by $4.76 to $13.89.
On a liquidation basis, RIM is trading 13.6% below its value.
Cash flow analysis
Although RIM had a terrible year in 2011 (fiscal 2012), it produced over $2.9 billion in cash from its handset sales and enterprise support. That's after paying for parts, after paying for marketing, and after R&D - bottom line, the company's operations produced $5.55 per share in cash. That means that RIM remains a very successful business, despite its woes. While RIM used every dime of that money to purchase the Nortel patents, other businesses and build out network support in 2011, the company has not disclosed any significant investments or purchases yet in 2012 (fiscal 2013).
Further, RIM is showing growth in two notable spaces. Its high-margin software and services segment (26.2% growth in fiscal 2012) has margins in the range of 85% and now makes up 23.8% of revenue. The international handset business also grew by 30% in fiscal 2012, nearly offsetting the losses in its other territories, and now makes up 60% of the company's total handset revenues. Thus the company experienced growth in segments representing 70% of its revenue base last year - this is very different from the story that is being told in the press.
Casting this growth aside, I made the following assumptions in a 10-year discounted cash flow model:
The services business grows by only 3% per year
The handset business shrinks by 50% in fiscal 2013, 10% in 2014 and 2015, and then at 5% annually
Services margins remain steady at approximately 85% of sales
Handset margins decline to 20% of sales
The company continues to make R&D investments at 15% of sales
The company fails to right-size appropriately and slowly increases its SG&A to 40% of sales (vs. 14.1% today)
From year 10 forward the company shows no growth (not even with inflation!)
Using these incredibly aggressive assumptions, the business (irrespective of the cash on the balance sheet) is worth $20.27 today. In my initial liquidation valuation, I valued the company's cash and investments at $4.03 per share, which effectively represent non-operating assets of the company. Adding these together, on a discounted cash flow basis the company appears to be worth somewhere in the neighborhood of $24.30. Friday the stock closed at $12.02.
Conclusion
Under almost any conceivable analysis, RIM is undervalued in the marketplace. Today's price puts effectively no value on the cash flows generated by the business, and assumes that management will run the company into the ground rather than turn around or liquidate the company.
What investors are failing to appreciate is that the strong cash flows generated by RIM's two business lines give management a tremendous amount of room to make mistakes and then turn around the company without damaging the book value of the company at all - if anything, I expect book value to increase over the next 1-2 years. And RIM already trades at a significant discount to its book value.
For investors willing to fight the crowd, RIM offers a very compelling investment opportunity.
Disclosure: I have no positions in any stocks mentioned, but may initiate a long position in RIMM over the next 72 hours.