The E-Mini S&P 500 succumbed to a letdown in the US Unemployment report Friday. The US Unemployment report was expected initially to come in at 170,000 new jobs created in April while the actual reading came in at 115,000. Some of the reaction may have been built in with the ADP private sector report coming in Wednesday at a meager 119,000 new jobs created while forecasts called for 170,000. It is often thought that the ADP private sector report may hint at the upcoming unemployment numbers.
Thursday, the initial claims for unemployment benefits decreased by 27,000 to the seasonally adjusted 365,000 while expectations were for 375,000. The ISM Non-Manufacturing index was down to 53.5 in April while the forecast was for 55.3. The Unemployment rate sits at 8.1% at the moment. The downside to the report was reflected in the market reaction Friday, the upside to the weak job sector is the potential for another round of stimulus or QE3 by the Federal Reserve to keep interest rates low and stimulate growth.
June is the next Federal Open Market Committee meeting where it is feasible that they could potentially introduce another round of easing, or QE3. Operation Twist ends in June and the Fed should have a couple of months data to evaluate the growth and any potential inflation targets. Any thought of easing beyond that point should run too close to the election. Pre-election, the dour economic numbers may not favor the current administration. It is possible that the administration may stand to gain from another round of easing.
Out of the S&P 500 415 companies reporting to date, 67.5% have exceeded expectations. Chevron Corp. (NYSE:CVX) was down 2.1% to $103.72. Exxon Mobil Corp. (NYSE:XOM) was down 1.3% to $84.57. Really, the crude oil had the biggest decline as the energy sector relies on manufacturing growth as without demand, the inventories may build and price is a product of value and necessity. Crude oil Friday closed down $4.05 on the day to $98.49.
Markit's Euro Zone Services PMI was at 46.9 for April, down from the previous months 49.2. Anything below 50 points to contraction. The HSBC China Services Purchasing Managers Index was up to 54.1 in April from 53.3 in March pointed to expansion in Asia. The euro FX has been supported at $1.3000 as of late even in the midst of high non-sustainable yields from auctions in some of the indebted countries. Elections have even come into play as the Euro Zone struggles with recession.
Greece has been approved for another $130 billion euro bailout package to keep them operational until 2014. Greece had to agree to adhere to structural reforms and budget cuts. They do need to refinance $3.2 billion euros of paper in May. Their monthly T-Bill sales have been their major source of funding. They have auctions coming up May 8th and 15th. Greece's national debt has increased to $350 billion euros in 2011, while unemployment remains high. Italy is still working on budget cuts adding $4.2 billion euros worth this year. Italy is to hold auctions May 11th and 14th, with hopes that the higher yields may come down.
Portugal's economy is expected to contract 3.3% this year even with the spending cuts and tax hikes. Spanish banks had billions of euros of losses due to property values coming down in the country. They have worked on restructuring the debt by perhaps transferring the assets to holding companies that would purchase the properties on a voluntary basis. Spain had sold $2.5 billion euros of the three and five year bonds with good demand, but higher yields.
The European Central Bank chief Mario Draghi announced Thursday, after assessing the Euro Zone economy, to maintain the accommodative stance of keeping low interest rates, but giving nothing in terms of any further cheap loans or stimulus. He also buoyed sentiment for the Euro Zone, anticipating that the economy would recover this year possibly.
Iran is still in talks regarding the sanctions imposed on the nation and the potential nuclear research sites that allegedly enrich the uranium to the point of military usage. The negotiations in Bagdad on May 23rd could lead to a removal of the ban. Iran has insisted that the uranium enrichment is solely for peaceful purposes. The US may demand that Iran cease the high enrichment of uranium productivity and close the Fordow facility, but Iranian ambassador to the International Atomic Energy Agency "Ali Asghar Soltanieh" insists that the facility is already under surveillance.
The US fears that the nuclear work in Iran may be with an underlying purpose to build an atomic bomb. The UN Security Council has been demanding resolutions since 2006 for the nuclear activities. July is when the total embargo will be imposed from the Euro Zone. Iran is already dealing with prohibitive sanctions that impede financial transitions globally. China and India are thought to still be doing business with Iran perhaps bartering with gold or using rupees. If the transactions continue, they may also realize the sanctions themselves.
On the stock side: JP Morgan Chase and Co. (NYSE:JPM) was down 3.09 % to $41.68. Citigroup Inc. (NYSE:C) was down 2.99 % to $31.51. Bank of America (NYSE:BAC) was down 3.50 % to $7.72. Alcoa Inc. (NYSE:AA) was down 2.19 % to $9.37. Boeing Co. (NYSE:BA) was down 1.73 % to $75.50. Caterpillar Inc. (NYSE:CAT) was down 2.24 % to $98.42. General Electric Co. (NYSE:GE) was down 1.78 % to $19.26. Halliburton Co. (NYSE:HAL) was down 4.49 % to $32.53. Hewlett Packard Co. (NYSE:HPQ) was down 0.86 % to $24.27. SPDR Select Sector Fund - Financial (NYSEARCA:XLF) was down 1.56 % to $15.10.
E- Mini S&P 500 Chart.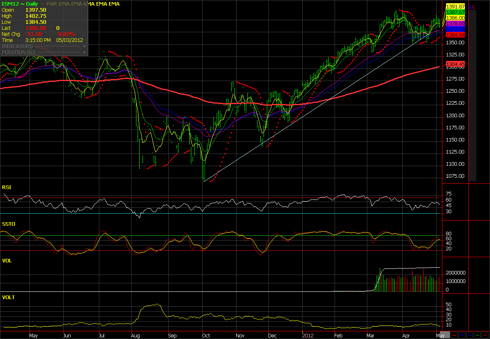 Monday, what to expect: We maintain a bearish bias unless the E-Mini S&P 500 penetrates $1411.75. Monday, we anticipate an inside day. Friday's range was $1389.00 - $1361.50. The market settled at $1362.50. Our comfort zone or point of control for this market is $1376.25. Our anticipated potential range for Monday's trading is $1382.50 - $1362.50. The anticipated correction is upon us.
Disclosure: I have no positions in any stocks mentioned, and no plans to initiate any positions within the next 72 hours.