By Morgan Smith
Ever since the 2008 financial crisis, automotive sales in the USA and Europe have slowed down significantly, with sale growths in China and India also witnessing significant declines this past year, but still optimistic for the future. Since emerging as the world's largest market for automobiles in 2009, the Chinese auto industry is one that all car manufacturers are hurrying to take part in and the 2012 Beijing Auto Show is a great way for foreign car manufacturers to secure a place in the Asian market and pump up their sales. Making an effort to boost sales in China and the rest of Asia will help auto manufacturers trying to recover from losses incurred due to weaker, post-recession American and European markets.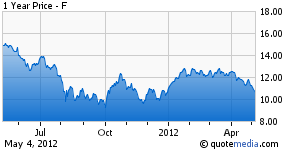 Ford (NYSE:F) is of course present and trying to put its mark in the Chinese market, which General Motors (NYSE:GM) currently dominates. The manufacturer recently announced it will be opening a new production facility in Hangzhou, only two weeks after announcing plans to expand their assembly plant in Chongqing, in Southwest China, which was completed and launched less than six weeks ago. This strategic location will allow Ford to find cheaper labor (as eastern Chinese labor costs are increasing), and have greater access to the country and neighboring countries too-namely India. The new $760 million plant in Changqing will be the manufacturer's biggest international base yet, preceded only by its home base in Detroit, and comes at a time during which Ford plans to more than double its sales in China to over 1.3 million vehicles by 2015.
They are not the only ones to move quickly, with GM's Cadillac and Nissan's (OTCPK:NSANY) Infiniti also jumping on the bandwagon and announcing plans to build their first plants in China. BMW (OTCPK:BAMXF) announced earlier this month that it will be building its second factory in China, along with a new design studio. This does not come as much of a surprise since most German auto manufacturers have been based in China for more than decade now.
Ford, on the other hand, is a little late entering the Chinese market, with China witnessing its slowest period of growth in the industry in over a decade. After years of double digit annual growth, auto sales in China only rose 2.5% in 2010/2011 according to the China Association of Automobile Manufacturers, which was a huge slump from its previous 32% growth rate in 2009/2010 and an impressive 46% growth in 2008 and 2009. However, with the recession affecting Europe and the US and depressing auto-sales worldwide, even single-digit percentage growth in China seems like a lucrative opportunity to investors. And while Ford may be a latecomer to the Chinese market, it has big plans aimed at closing the gap between top rivals in China including General Motors and Volkswagen (OTCPK:VLKAY), both of which managed to sell over 2 million vehicles last year whereas Ford only managed to sell 500,000 units. Increasing-or better put, maximizing-production capacity and initiating a new, aggressive product offensive will help Ford to put its mark in the Chinese market once and for all.
When responding to criticism and concerns that the company is taking a risk in investing in a slowing China, which may be headed to even further decline in the next few years, CEO of Ford Motors China, David Schoch, announced that the company is confident it will be able to grow and profit in China, and that China's auto industry will not see a decline and is only headed for future growth. He announced that Ford is building bases in China because it sees the potential and is in it for the long term. The current auto market in China is expected to grow significantly to almost 30 million units sold by 2030, that's almost double the 18 million units Ford expects to sell in China by the end of 2012.
To meet current demand and offer consumers what they are after, Ford will be focusing on SUVs for the next year through its 3-way joint venture with leading automobile manufacturers Chinese Chang'an Automobile Group and Japanese Mazda (OTCPK:MZDAF). According to Schoch, the company will be offering various types of cars, with plans to make the EcoSport and Kuga in China and import its SUVs. The auto giant plans to introduce at least 15 different types of vehicles to China by 2015, with its main aim to expand its locally built product line which only has three cars and one MPV currently.
Ford has missed out on great opportunities in recent years for not picking up on the SUV trend in China earlier. According to analysts and various auto-trend reports, the SUV is the fastest growing and best-selling automobile in China for the past two years. The China Association of Automobile Manufacturers reported that over 1.6 million SUVs were sold in China last year, up 20% from 2010's figure. Part of that was due to luxury cars from GM and Toyota (NYSE:TM) and high-end Jaguars from Tata (NYSE:TTM), something that SUVs are considered a part of, increasing significantly. According to JD Power & Associates, luxury car sales were up a whopping 21% since last quarter, while the total auto industry only grew 2% in China. All signs are pointing towards strong growth for luxury cars in the future, from 1 million luxury cars sold last year to over 5 million sold annually by 2025.
Where does Ford stand in all of this? Until now, it had only imported one SUV into China -- the Edge -- and as a consequence, missed out on big profits and opportunities. However, the multi-billion auto manufacturer seems to have learned its lesson and is now planning to introduce a wide range of SUVs of every shape and size to the Beijing Auto Show, in a move that will announce its plans on becoming a leading player in this industry.
Not only is Ford working on increasing the variety of products offered through the joint venture with Mazda and CAG, but it has also has a 30% stake in Jiangling, which along with its own product line also manufactures Ford Transit vans. More good news? JMC is currently building a new manufacturing plant in China that is reported to have an impressive 300,000 unit capacity and will be complete and fully operational sometime next year.
But is the future really in gas-guzzling SUVs or is the future in more environmentally friendly, "green" vehicles like the U.S.? Where China is concerned anyway, according to Zhang Xin, a Beijing-based analyst at Guotai Jun'an Securities, "It costs automakers about the same to manufacture an SUV versus hybrid. So, it is not profitable for them to pursue green cars given the market development for SUVs." China wants SUVs and luxury cars, so who are we to argue what its people (all 1.3 billion of them) want?
What does this all mean for Ford's profitability? In the short run, even with the slowdown affecting European and American markets, it is positive. Ford can still create major profitability via China. In the long run, European and American markets will eventually return to their normal levels and that means even greater profitability for the auto giant. However, the Chinese market is not likely to grow forever and at one point or another, car manufacturers will have to offer new incentives for car sales, which may eat into their margins, signifying that they are selling the wrong products or simply selling at the wrong prices. Keeping track of the market and following what consumers want, something that Ford seems to be doing quite well currently, will offer a far more optimistic view for the future of Ford in Asia.
Is now the time to buy into Ford? With income levels rising throughout China, more people will become financially able to purchase a car creating greater demand and more room for car manufacturers to grow and expand. Innovation, its ability to meet SUV/luxury car demand and an aggressive production campaign are all key in seeing this transition go through smoothly. Investors would be well-served to keep an eye on Ford in the next few months to see how effectively the company introduces itself into the Chinese market and whether or not it can really compete with rivals who have already eaten a large piece of pie.
Disclosure: I have no positions in any stocks mentioned, and no plans to initiate any positions within the next 72 hours.