Unenchanted April
After a great January, the last three months have not been kind to clean energy stocks. While my model portfolios are still in positive territory (+5.4% and +0.9% for the unhedged and hedged portfolios, respectively), and are above my clean energy benchmark (The Powershares Wilderhill Clean Energy ETF (NYSE:PBW), -3.4%), they have again fallen behind my broader market index, the Russell 2000 (+7.3%.)
Gone With the Wind
April saw the chances of an extension of the federal Production Tax Credit (NASDAQ:PTC) for wind diminish significantly when Congress failed to attach it to the payroll tax cut extension. In an election year, the chances of a stand-alone PTC extension getting through Congress look slim, despite the massive numbers of layoffs expected in the wind industry without an extension. Even if the PTC is extended next year, the diminished wind industry capacity will be felt for years to come. It's already being felt by wind stocks, and, I believe, other clean energy stocks are reacting in sympathy.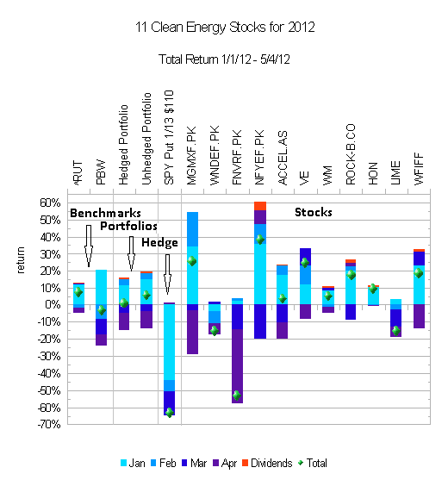 Stock Notes
Clean Energy Developers
The greatest pain was felt among my group of clean energy development companies, most likely because developers are the most direct beneficiaries of clean energy subsidies such as the PTC. Hardest hit was Finavera Wind Energy (FNVRF.PK), which lost 43%. On April 30, Finavera fell over a third, although the CEO confirmed that there had been no change in the company's prospects. Perhaps some large investor feared some bad news would come out in Finavera's annual report on May 1, but I found little of note which had not already been released. It's worth pointing out that Finavera's prospects should not be hurt and might even be helped by a failed PTC extension, since Finavera has no US projects, and the companies projects in Canada might benefit from cheaper wind equipment which might have been used in the United States had the PTC been extended.
Western Wind Energy (OTC:WNDEF) also has little exposure to the lack of a PTC extension, since most of this company's value is in wind projects which were commissioned before the PTC expiration, and a solar project the company is developing in Puerto Rico. Yet Western Wind has also been experiencing a sell-off on no news, although part of this may be due to an unsubstantiated smear campaign on blog comment sections and bulletin boards. One (also unsubstantiated) rumor has it that a group of Toronto hedge funds are trying to force a quick sale far below the company's current valuation, perhaps to Algonquin Power (AQUNF.PK) which made a low-ball offer last October.
Alterra Power (OTCPK:MGMXF) also declined significantly on no news. Alterra also has little exposure to the US wind market, and operates mostly internationally and has more of a focus on run-of-river hydropower and geothermal.
Other News of Note
Bicycle manufacturer Accell Group (OTCPK:ACGPF) announced a successful conclusion to its talks to buy out Raliegh.
Waste Management (NYSE:WM) (along with several competitors) announced disappointing first quarter results. At the time I wrote that the subsequent sell off might lead to another attractive buying opportunity, partly because I liked the reasons earnings fell short. WM has since declined from slightly over $36 to slightly under $34, and I have placed a limit order to add to my position at a little below the current price. If the decline continues, I intend to continue to add to my position. I like WM in the long term for the company's sustainability initiatives and healthy (4.2%) and well-protected dividend.
Last Thursday, Lime Energy (NASDAQ:LIME) announced a contract with Central Hudson (which happens to be my electric utility) to handle the utility's direct install energy efficiency program. I wrote that this validated Lime's strategy, but the stock has yet to get any love from investors as a consequence.
Conclusion
Investor disappointment with the lack of political support of clean energy seems to be translating into a broader disappointment with clean energy stocks in general. Values continue to get better in those clean energy stocks which are not dependent on subsidies. I think cautious buying is in order, but I also think it likely that the political climate for clean energy will continue to worsen this year, so it is probably best to keep the majority of your funds in cash while waiting for more enchanting values to blow our way.
Disclosure: Long WFIFF, LIME, RKWBF, WM, VE, ACCEL, NFYEF, FNVRF, WNDEF, MGMXF, AQUNF, short IWM and SPY.
This article was first published on AltEnergyStocks.com as 'Clean Energy Stocks Gone With the Wind'