By Paul Carton
The latest ChangeWave corporate IT spending survey provides striking evidence of a slowdown in the U.S. economy and the impact the credit crunch is having on businesses.
For the first time in years, our survey shows a weaker IT spending growth rate and poor visibility headed into the 1st Quarter. A total of 1,964 ChangeWave Alliance members involved with IT spending in their company participated in the November 12-23 survey. Just one-in-four respondents (24%) report that their company will increase IT spending for Q1, a figure unchanged from the previous survey, but far below the average 7-point seasonal increase seen in each of the last four years. Another 20% of those surveyed report IT spending will decrease (or there will be no spending at all), which is 3-points worse than previously. To put these findings in context, just look at the red arrow on the following chart.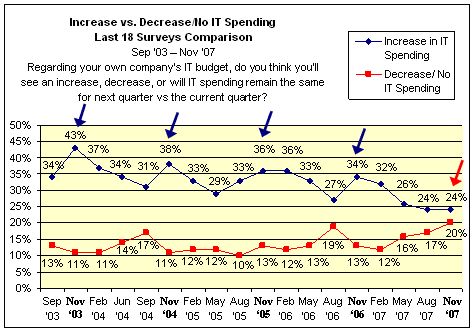 Clearly, projected IT spending growth looks anemic for the coming quarter, particularly when compared to the robust seasonal increases we normally see this time of year. We also asked respondents to rate the current willingness of their company to spend money on IT products and services, and found more clouds on the corporate purchasing horizon. While just over half (52%) say their company is giving a "green light" to IT spending (i.e., spending is normal), this figure is down 5 points from previously and is now at its lowest level in more than three years.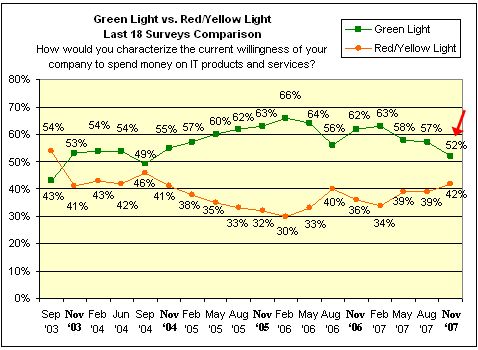 In a further sign of malaise, 42% say their company is either giving a "yellow light" to spending (i.e., spending is downsized, though not completely stopped) or a "red light" (i.e., spending is on hold) - the worst reading in three years.
Other Findings

When respondents were asked if their IT spending was on track thus far in the 4th quarter, a total of 17% said they'd spent "more than planned" - up 1 point from the previous survey. However, another 24% say they've spent "less than planned" - 2 points worse than previously.
Regarding individual IT categories, Storage [Change in Net Difference Score = +4] is showing the greatest corporate buying momentum, while Networking [-3] and Security [-2] are registering the biggest slowdowns.
We also looked at the corporate smart phone market, where we continue to find big winners and losers.
Research in Motion Dominates Smart Phones
Research in Motion's (RIMM) Blackberry (73%; up 2 points) continues to control the lion's share of the corporate smart phone market. In contrast, second place Palm (PALM) - 19%, down 4 points - has fallen yet again to a new low, as has third place Motorola (MOT), 11%, down 1 point.
We note that the Apple (NASDAQ:AAPL) iPhone [5%, up 3 points] is gaining share within the corporate smart phone market, although primarily among small to very small companies. In sum, the current survey results point to a murky corporate IT purchasing environment and an anemic kickoff to the first quarter 2008. Moreover, they graphically show why the Fed has little choice but to cut interest rates further to ease the U.S. credit crunch. Jim Woods co-wrote this article.
---------------------------------------------------------------------------------------------------------
This article summarizes the results of a recent ChangeWave Alliance survey. The Alliance is a research network of 10,000 business, technology and medical professionals who spend their everyday lives working on the front line of technological change. For more info on the ChangeWave Alliance, or if you are interested in joining, please click here.