David Einhorn's recent cameo on Herbalife's (NYSE:HLF) May 1st earnings call and the three basic questions he asked on the call caused some existing investors to panic and dump shares, while others aggressively shorted the stock. Over the next three trading sessions, HLF shares fell 34%.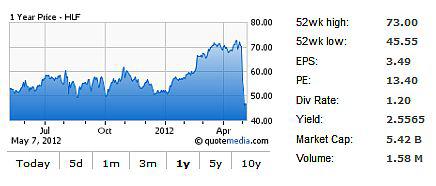 As a sign of EXTREME confidence, on May 3rd Herbalife's board announced the purchase $428M of HLF stock. Note the difference between "announcing a buyback" and "purchased $428M of stock." In the former, the company can elect to actually repurchase the shares or not, whereas in the latter, the company has already committed to buy all $428M of stock. That says quite a lot, but they can do it with confidence because Herbalife is generating over $400M of free cash flow annually. This decisive act is not something a board of Directors with "something to fear" would do. Obviously, the board views the sharp share price drop as temporary and acted to take advantage of the price drop for the benefit of shareholders. If the company repurchases its shares with a $50 average price, the buyback will be approximately 15c accretive on an annualized basis, taking 2013 EPS to approximately $4.30 per share. At $47 per share, Herbalife is currently trading under 11x 2013 EPS.
Investors are laser-focused on the May 16th Ira Sohn conference. David Einhorn is a speaker at the conference. Investors fear Einhorn will present one of his famous slide decks detailing why Herbalife is a terrible company and a massive short.
I see three outcomes for HLF's stock price immediately after Einhorn presents on May 16th. First, Einhorn could detail a short case that convincingly argues the company is a pyramid scheme and a scam and provides very detailed Herbalife-specific smoking guns. In this first case, he could/would likely present evidence that HLF decided to pay convicted felon Barry Minkow (currently back in prison yet again) $300K in 2008 to cease his relentless and orchestrated short attack on the company, rather than spend much more money, time and executive focus fighting him in the California court system. Einhorn could possibly try to argue about the quality of the company's nutritional products (a huge stretch) or the low percentage of Herbalife distributors that make a good full-time living by selling Herbalife products (more likely).
That all said, the SEC conducted a full review of Herbalife and gave the company a clean bill of health in June 2008. Hence, it is unlikely Einhorn will present fatal evidence on Herbalife. However, we must not exclude the possibility of this first option. I assign this first option - the specific and highly damning smoking gun attack - a 10% probability. In the event that Einhorn has compelling Herbalife-specific smoking guns, HLF's stock price would take another leg down.
The second possible outcome of May 16th is that Einhorn presents a more general investment thesis against multi-level marketing (MLM) companies and uses Herbalife as an example. Given Herbalife has been in business for 32 years and will have nearly $4 billion in 2012 revenue with over $400M in 2012 free cash flow, it is hard to argue the company is not successful. Some 80% of Herbalife's revenue comes from international markets. Multi-level marketing is extremely effective in emerging markets where personal touch and relationships are effective at getting customers to try a product. Einhorn is likely to argue that Herbalife is an MLM pyramid scheme and it relies on signing up naive customers as distributors.
Implicit in this argument is the assumption is no one is actually consuming the products. Cutting sharply against this argument is the fact that Herbalife is willing to buy back any unused products within one year. Further, the company has experienced product returns of only 0.4% of total sales in each of the past 2 years. Additionally, Herbalife's sales leader retention rates have actually increased in each of the past 3 years. The 2011 sales leader retention rate is almost 12 percentage points higher (52.0%) than 2009's retention rate (40.3%). If Einhorn's presentation is limited to concerns with the MLM business model in general and provides a few HLF specific concerns, I would expect the market to react with "is that all you have??" The stock would see a quick relief rally and quickly move back to the low/mid $60s.
The third option is that Mr. Einhorn does not mention Herbalife during his May 16th presentation. In this case, HLF should immediately return to its previous post-earnings call level (high $60s) and quite possibly higher given the millions of incremental shares that were shorted AFTER Einhorn's questions on May 1st. Combine a massive relief rally with the accelerated $428M buyback program and frantic short covering, and you could easily see HLF spiking to $80+ in this scenario.
My best guess is that option 2 will occur. Einhorn will likely present a 50+ page slide deck attacking MLM companies and point to some specific examples with Herbalife. The stock price could fall $5+ as soon as it is evident Einhorn is going to discuss Herbalife and then will rocket back when investors realize there are no Herbalife-specific smoking guns.
Disclosure: I am long HLF.