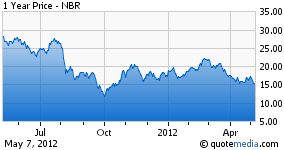 We believe positive changes are underway at Nabors Industries (NYSE:NBR). The company, which currently rates Low but is trending Upward in EnergyPoint's independent oilfield customer satisfaction ratings, seems to be undergoing both a cultural and strategic transformation under the new leadership of Tony Petrello, who recently replaced Gene Isenberg as CEO of the company.
We are not sure if Petrello, who as the company's COO had been viewed by some as in agreement with the strategies and way of doing business pursued by Isenberg, is taking these transformational steps via his own initiative or as a result of specific direction from a seemingly increasingly proactive Nabors board. Either way, if carried out, we believe the changes in progress portend a better future for the company and its clients.
Back to Basics
We particularly view the decision to jettison certain non-core businesses to be a crucial step. The previously announced sale of its E&P investments and JV seems an especially appropriate move, as we believe oilfield suppliers that partake in the E&P side of the business can be viewed, and thus treated, as potential competitors by some clients. Accordingly, it's our feeling that such a quasi-competitor status has impeded Nabors' ability to work with certain E&P companies.
Other areas of rationalization announced on the call include the sale of the company's Gulf of Mexico offshore jackup barge rig business and potentially its international jackup rigs; the already completed sale of its oilfield hauling business in parts of Texas; and the sale of its Canadian aircraft and well-servicing businesses.
Case in Point
Driven by widespread efficiency and productivity gains in recent years, customer satisfaction scores for North American land drilling contractors continue to show noteworthy improvement in EnergyPoint's latest survey results. With total satisfaction ratings for four of the five major drillers we track currently on the rise, adjusted scores for the group are now up 10.1% compared to a year ago.
Recurrent leader Helmerich & Payne (NYSE:HP) is the only domestic land driller that currently enjoys a Very High level of total satisfaction in EnergyPoint's proprietary rating system. And we note that Helmerich & Payne's performance as seen by customers has benefited from a more singular focus on the land drilling activities and investments over the years, especially as compared to more acquisitive and/or transactional competitors like Nabors and Patterson-UTI (NASDAQ:PTEN).
Longer-term Perspective
We were also encouraged to hear Petrello comment on the value of long-term drilling contracts to both Nabors and its customers during the most recent earnings call. As we have pointed out previously, the growing incidence of longer-term contracting in the onshore drilling market, and the greater levels of visibility they provide both suppliers and customers, allows for more confident and consistent investment in the assets, people and operations necessary to improve performance and efficiency on a continuing basis.
It's our opinion many investors will find drillers' gains over time in customer loyalty, market share and margin improvement resulting from long-term contracting will trump any value investors might place on contractors pursing spot-market strategies that offer greater exposure to commodity price spikes but wreck havoc on drillers' execution and performance. We are pretty sure drilling customers are increasingly seeing it this way.
International Markets in the Picture
We note that Nabors continues to believe growth opportunities exist in international markets. To be sure, EnergyPoint's data suggest that North American land drillers can bring much to the table in the international arena, especially when it comes to the development of shale and tight-gas reserves.
Who knows, if international markets in fact become robust and deep enough, we would not be surprised to see the company refocus further by eventually separating itself from other businesses as well, including the pressure pumping operations it purchased from Superior in 2010.
If history is any indication, Nabors' best prospects lie in swapping its Jack-of-all-trades mindset for a greater focus on a smaller, but potentially more powerful, set of core drilling activities.
Disclosure: I have no positions in any stocks mentioned, and no plans to initiate any positions within the next 72 hours.