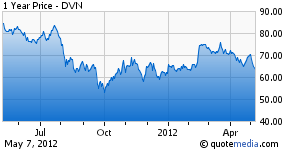 Despite the decades low prices of spot natural gas, companies that have diversified portfolios of oil production and natural gas liquids production have managed to weather the rough waters of energy production. One company that has provided great value to shareholders is Devon Energy (NYSE:DVN). Devon provides 3% of all the natural gas consumed in North America and produces about 600,000 barrels of oil per day. In 2011 the company drilled over 2,000 wells in the U.S. and Canada. Along with exploration, development and production of oil, natural gas and natural gas liquids (NGL), it owns natural gas pipelines, plants and treatment facilities in many of it areas of production.
The NGL value chain is more capital intensive than gas transport by pipeline. Liquefaction facilities, which lower the temperature of the gas to liquid point can cost up to $5 billion. NGL tankers are specialized equipment that offload production from the liquefaction plans cost from $150 to $250 billion each. Terminals that convert the liquid back to gas form cost $500 million to $1.5 billion. All of these facilities have to be in place before the gas can move to market. The cost of these facilities is usually offset by production capacity, cost sharing agreements with other producers and midmarket activities in marketing and selling to distributors. ConocoPhillips (NYSE:COP) is one of the largest natural NGL producers in North America. It markets its refined products to petrochemical companies through its specialized division which sells to a network of distributions who market to commercial and residential consumers.
Wet gas sells at much higher prices than dry gas. Methane prices have gone through the floor so there is increasing interest in the production of natural gas liquids. ONEOK Partners (OKS) has focused on the production of liquids and its performance has improved, largely because of its NGL segment. ONEOK's operating income increased 35% in the first quarter of 2012 as a result of increasing NGL volumes.
Enterprise Products Partners (NYSE:EPD) fourth quarter 2011 results reported a gross operating margins increase of 30% due to record setting gas processing and NGL sales margins. The transmission sector of the NGL sector has seen some activity focused on diversification in order to take advantage of higher margin NGL. Energy Transfer Partners' (NYSE:ETP) acquisition of Sunoco (NYSE:SUN) was undertaken in order to diversify from solely natural gas transportation to natural and liquid natural gas and crude transportation. By purchasing Sunoco, ETP will acquire 5,400 miles of crude and 2,500 miles of refined products pipelines.
The common shares of Devon Energy trade around $68. The shares have a 52-week range of $86.25 and $50.74. The price earnings ratio is 6.02. The earnings per share are $11.31 and the dividend yield is 1.10%. The company has total cash of $7.09 billion and total debt of $9.87 billion. The book value per share is $53.03. The percentage of the float sold short is approximately 1%. The next ex-dividend date is June 28, 2012.
Devon released its first quarter earnings which saw net earnings of $393 million and $0.97 per share compared with net income of $416 million and $0.97 per share from the same period in 2011. The first quarter increase in NGL production marked to sixth consecutive quarter of increase, brought on by a 26% boost in oil production over the same period in the previous year. Sales of oil, natural gas and natural gas liquids increased 3% in the first quarter from the same period in the prior year. Marketing and midstream services operating profit increased 7% from the first quarter 2011.
Devon ramped up activity in the Permian Basin in the first quarter, adding five rigs to bring the total to 21 operating rigs running in that region. Production in the Basin increased 32% over the first quarter 2011. Liquids production of oil and natural gas accounted for 76% of the total daily production in the Permian basin during the first quarter.
Production in the Jackfish properties in the Canadian Oil Sands represented a 55% increase over production from the first quarter of 2011. The Jackfish properties production is 21,000 barrels per day and will continue to increase in the full year 2012. A third Jackfish property is being developed and will produce up to 35,000 barrels per day upon completion. Devon increased its liquids production in Cana-Woodfords 80% on a year over year basis. The company acquired new oil focused opportunities. The company has leased 250,000 new acres in and undisclosed area and expects to target 500,000 total acres in this new region. The company anticipates that declines in natural gas production will cause production to be flat in the second quarter 2012. Third and fourth quarter oil production will increase in spite of plant maintenance in the Canadian Oil Sands.
The company expects oil, and liquid natural gas volume growth to outpace any contraction in natural gas production. Cash flow increased 3% in the first quarter of 2012 compared to the same period of 2011. At the end of the quarter the company had cash of $7.7 billion and debt of $2.5 billion. For a company in the business of exploration, development and production it has a strong balance sheet.
Devon has had success in pioneering oil and gas drilling techniques. It has also utilized information technologies to keep field workers productive, give them remote access to needed corporate data in a timely manner allowing them to maximize their field potential. Devon's aggressive growth strategy through key acquisitions has been part of the success of Devon. The other parts are the properties it operates and its ownership of liquefaction, transmission and refining assets. The balance between oil and gas is critical to its growth. They are approximately 60% natural gas and 40% oil and natural gas liquids (propane, butane). Devon looks to properties that allow it to develop oil and natural gas at the same time. Devon's active exploration program has led to discoveries in the Gulf of Mexico which are some of the largest discoveries in North America.
Chevron (NYSE:CVX) has made the only other large discovery in that region. One quarter of all of Devon's production comes from the Canadian Oil Sands. It also has operations in China, South America and Eastern Europe but concentrates 90% of its production in North America. The company anticipated that technologies would be developed to allow for the development and production to be increased at a cost effective way and banked on North America while competitors concentrated in cheap gas production off soil. The company divested of its activities in West Africa to concentrate on production in North America. Political uncertainty and security concerns outweighed any advantage of being in West Africa.
Devon is continuing to develop properties and will enter into joint ventures and partnerships to accelerate production, mitigate risk and efficiently deploy capital. Devon expects that production of oil and liquid natural gas will grow in the second half of 2012 and will outpace any decline in natural gas production. The company will have 40% of its output in the form of NGLs by the end of 2012. Devon's first quarter earnings were impacted by Canadian crude trading at lower prices than expected as refineries put plants in turnaround. The gap between Canadian crude and West Texas Intermediate crude is rapidly narrowing from $48 per barrel in March to $26 per barrel in May.
A few factors point to some reason for optimism in the natural gas world. Natural gas demand is increasing in markets outside the U.S. Qatar is the world's largest exporter of natural gas and will hit its 2012 annual capacity to fill global demand. Disaster in Japan will decrease that country's reliance on nuclear power and increase its imports.
Korea is also increasing delivery contracts for the next four years as is China. Asian demand for natural gas and NGL is projected to reach 241 million tons in 2020 from 138 million tons in 2010. Natural gas producers anticipate increasing future demand from liquid natural gas exports. Production will likely increase accordingly. The oversupply of U.S. natural gas has seen domestic prices at a 10 year low, forcing some companies to cut back on output. Drillers will not likely increase output until export demands commence and the price increases in concert with this demand.
A company with diversified, well managed, diversified assets will provide great returns to investors over time. Devon's share price is trading in the middle of its 52-week range. At the price of the underlying commodities, Devon's management and assets provide great value and solid upside potential for investors in 2012.
Disclosure: I have no positions in any stocks mentioned, and no plans to initiate any positions within the next 72 hours.