By: Brendan Gilmartin
Cisco Systems (CSCO) is slated to report 3Q 2012 earnings after the close of trading on Wednesday, May 9. The results are typically available at 4:05 p.m. EST and will follow with a conference call at 4:30 p.m. Given its size and influence, Cisco has the potential to impact the broader market gauges, including the index futures and large-scale ETFs.

Outliers & Strategy
In the previous conference call, Cisco targeted Non-GAAP EPS is expected to range from $0.45 to $0.47 per share. The current consensus is $0.47 (Source: Yahoo! Finance).
Cisco previously said it expects 3Q 2012 revenues to increase 5% to 7% year over year. Based on the 3Q 2011 revenue figure of $10.9 bln, the projected range would equate to $11.445 bln to $11.663 bln. The consensus is $11.580 bln.
Sympathy Plays: Juniper Networks (JNPR), F5 Networks (FFIV), Radvision (RVSN), and Cavium (CAVM).
Cisco continues to aggressively repurchase shares. At the end of the 2Q period, Cisco repurchased 26 million shares of common stock under the stock repurchase program. The remaining authorized amount under this program is approximately $8.2 billion.
Cisco is trading at just 14.9x earnings and 2.3x trailing sales, a discount to the 5-year averages of 17.7x and 3.2x respectively.
Recent News
· 05/07: According to a post on StreetInsider.com, Nomura Securities reiterated a Buy rating on Cisco with a price target of $24.00. The firm sees 3Q earnings and revenue estimates slightly above consensus thanks to strength in the enterprise segment. Nomura is also looking for results to benefit from a better product mix and margin improvement in the Asia-Pacific region.
· 05/03: Caris & Co. initiated coverage on Cisco with a Buy rating and a $24 price target, according to a post on Barrons.com. The positive view was based on the assertion that the business is at an inflection point, margins have stabilized, and the shares are inexpensive based on valuation.
· 04/18: Oppenheimer reiterated an Outperform rating on Cisco with a price target of $23, according to StreetInsider.com. The firm noted that Intel and IBM recently pointed to server upgrades which should help support growth in Cisco's switch segment.
· 04/10: Morgan Stanley raised its price target on Cisco Systems from $21 to $23, according to a post on Barrons.com. The positive outlook was based on expectations for a rebound in carrier capital expenditures. The rating is maintained at Overweight.
Technical Review
Cisco shares are trading at the lowest level in close to four months and are down 10.5% from the recent 52-week high of $21.30 on April 2. The shares recently broke a key support near $19.25 - a level going back to early January. The $19.25 level now becomes near-term resistance in the event of an upside earnings surprise, followed by the 20-Day SMA near $19.75, and the $20.25/$20.50 area. Support below $19.25 is at $19.00, followed by $18.50. (Chart courtesy of StockCharts.com)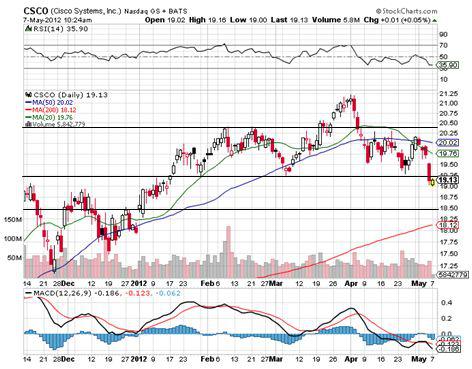 Summary
Cisco shares have come under pressure in recent months, due to softness in Europe and the macro weakness in the Asia Pacific region, along with intensifying competition. But with the shares now trading at less than 10x forward earnings, an improving domestic enterprise backdrop, stabilizing margins, forecasts for increased carrier capital expenditures, and a server refresh cycle, the Street is looking for Non-GAAP EPS and Revenues to come in at or above the high end of the range the company provided back in February. A miss on either could drag shares toward $18.50 support.
DISCLAIMER: By using this report, you acknowledge that Selerity, Inc. is in no way liable for losses or gains arising out of commentary, analysis, and or data in this report. Your investment decisions and recommendations are made entirely at your discretion. Selerity does not own securities in companies that they write about, is not an investment adviser, and the content contained herein is not an endorsement to buy or sell any securities. No content published as part of this report constitutes a recommendation that any particular investment, security, portfolio of securities, transaction or investment strategy is suitable for any specific person.
Disclosure: I have no positions in any stocks mentioned, and no plans to initiate any positions within the next 72 hours.