In our prior article, we discussed Seattle Genetics' (NASDAQ:SGEN) ADC (Antibody-drug conjugate) technology and its lead candidate, SGN-40. SGN-40 is getting a lot of public attention due to the lucrative partnership with Genentech, however, Seattle Genetics is involved in plenty of other development programs, including 4 clinical programs and multiple candidates in preclinical stages. We will begin with the 4 candidates in the clinic and then try to elaborate about some of what we believe to be the most promising pre-clinical candidates.
Clinical Programs
CD30 program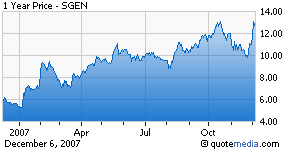 As we previously explained, the market for lymphomas, targeted by Rituxan is huge, and attracts many companies. There are, however, several lymphomas for which Rituxan is not effective since Rituxan's target, the CD20 receptor, is not expressed by these cancers. These conditions, expected to be diagnosed in more than 15,000 Americans in 2007, can be divided into two groups: Hodgkin's lymphoma [HL] and T-cell NHL [T-NHL]. Patients diagnosed with such conditions are treated with similar regimens that are used for NHL, however, Rituxan is omitted because it has no effect. Combining chemotherapy and radiotherapy with antibodies is a well validated concept, since antibodies can increase a regimen's efficacy without substantial side effects. As there are currently no approved antibodies for the treatment of non CD-20 lymphomas, there is a great rational behind developing such antibodies that can be co administered with existing treatments. Although market opportunity for treatments for these "non Rituxan" lymphomas is substantially smaller than the Rituxan opportunity, it is still a viable niche which is poorly addressed by most players in the field. Seattle Genetics' CD30 program is aimed specifically at that niche.
CD30 is a well known marker for Hodgkin's Lymphoma [HL], expressed by certain malignant cells that are present in the patient's lymph nodes. Interestingly, these cells (Reed-Sternberg cells), represent only a small portion of the tumor but are considered to be the driving force in the creation and development of the disease. In addition, CD30's expression in normal tissues is very limited, making it ideal for antibody-based therapy. HL is one of the most curable cancers, as historical data shows that patients have a 75% chance of achieving complete remission with a combination of several chemo drugs. However, up to 40% of patients will relapse, some of which will develop chemo-resistant tumors. The most viable option for patients whose disease has relapsed is bone marrow transplant, an aggressive treatment that is associated with high incidence of mortality and low success rates in this type of patients. Interestingly, CD30 presence has been associated with aggressive disease, making anti-CD30 antibodies a very reasonable path for treating advanced stage patients. The market for HL will never become as gigantic as the NHL market, with "only" 8190 cases of HL and 1,070 HL-related deaths are expected in 2007 in the US.
CD30 is also expressed on 30% of T-NHL, most consistently on a subtype of T-cell lymphoma called anaplastic large cell lymphoma [ALCL]. Many T-NHL lymphomas, in contrast to HL, are characterized by very poor prognosis and new treatments are desperately needed. It is hard to estimate the market opportunity on this front, but it seems like it is in the scale of several thousand cases per year in the US. Seattle Genetics is currently evaluating 2 anti-CD30 platforms: SGN-30, which is a naked antibody and SGN-35 which is an antibody-drug conjugate [ADC].
SGN-30
SGN-30 entered phase I in 2002, for the treatment of HL and ALCL. In addition to a good safety profile, SGN-30 managed to show clinical activity, mainly among ALCL patients. The antibody was advanced to a phase II trial which later turned into 2 phase II trials, one for the evaluation in HL and the other in ALCL. Results from the two phase II trials emphasized the trend that had been observed in the phase I trial, as SGN-30 demonstrated great activity among ALCL patients but very modest activity in HL. Of the 35 evaluable HL patients, there was no objective response (decrease of 30% in the tumor load), whereas, 14 out of 46 evaluable ALCL patients (30%) had a response, three of which were durable complete responses. This is quite impressive considering the poor prognosis of these heavily pretreated patients. Although SGN-30 could not beat HL, Seattle Genetics still had several options at its disposal, including an armed version of SGN-30, in which the antibody is conjugated to a drug payload.
Although it is very important to get data about an antibody as a single agent, the activity it shows in combination with existing treatments is where most of the potential lies. A typical strategy with antibodies for cancer includes initial evaluation as a single agent in patients who have no other alternatives, followed by multiple trials in combination with existing treatments and/or in early stage patients, who have better prognosis. Ideally, any drug company would like to see its drug being administered as early and in as many combinations as possible, in order to achieve maximal market share. This is indeed the case with SGN-30, which is currently being evaluated in 3 phase II combination trials.
The first study was initiated in 2006 and is evaluating SGN-30 in combination with chemotherapy for the treatment of recurrent HL. This is a relatively large, comparative trial aimed at discovering whether SGN-30 can enhance chemo's efficacy. The second study, also initiated in 2006, is evaluating SGN-30 in combination with chemotherapy among ALCL patients. A third study of SGN-30 combined with chemotherapy is recruiting pediatric ALCL patients. These trials are financed by the NCI, which enables Seattle Genetics allocating resources to other clinical programs. Despite the promising clinical activity among ALCL patients, the addressable market for ALCL is rather limited, making its clinical development attractive but not too exciting. Obviously, as long as someone else is paying the bills, Seattle Genetics will be more than happy to see SGN-30 advance towards commercial availability, but unless there are stellar results from the HL combination trial, we expect SGN-30 to remain on the backburner, as far as Seattle Genetics is concerned. The real star in the company's CD30 program is SGN-35.
SGN-35
SGN-35, which is Seattle Genetics' lead ADC, is comprised of SGN-30 and Seattle Genetics' highly toxic chemo drug – MMAE. SGN-35 is, in fact, the company's flagship ADC candidate, since it was its first wholly owned ADC to utilize the company's new ADC technology, including its peptide-based linker and auristatin-based drug. Having both a naked antibody and an ADC based on the same antibody simultaneously in the clinic is quite unusual, but more than anything, this situation is fascinating because it can clearly exhibit the advantages ADCs have over naked antibodies. In that sense, SGN-35 is similar to Genentech's Herceptin-DM1, which is currently being developed with Immunogen (NASDAQ:IMGN). Herceptin-DM1 served as a validation for Immunogen's ADC technology since it showed very encouraging results among breast cancer patients, who do not respond to naked Herceptin. Hence, if Seattle Genetics can show that SGN-35 succeeds where SGN-30 fails (hint- Hodgkin's Lymphoma), without causing substantial side-effects, it should be a very strong proof-of-concept.
The company launched a phase I clinical trial in November 2006 in patients with relapsed or refractory CD30-positive hematologic malignancies, mainly HL. Phase I trials are typically dose-escalating studies, where the first set of patients receives a very low dose of the drug and if there are no severe side-effects, the next set receives a higher dose and so on, until a maximum tolerated dose [MTD] is reached. This study evaluated SGN-35 as a single agent, administered every three weeks, in 23 evaluable patients, 21 of which had HL. Of note, these patients had received a median of 4 prior therapies, including bone marrow transplant, but their disease eventually relapsed, making them a very challenging patient population
The company sounded very upbeat about preliminary results and intended to present data from this trial this month at the 2007 American Society of Hematology [ASH] meeting, but for some reason, the company's abstract was rejected by the organizing committee. The company therefore decided to present the data last month in a conference focused on HL in Germany, and indeed, results were very encouraging. First, no maximum tolerated dose [MTD] was reached, or in other words, the company can increase the dose administered to newly accrued patients until MTD is reached. Overall, there were 4 partial responses, 3 of which among HL patients, which leads to an objective response rate of 14% among HL patients. This number will hopefully improve going forward, as higher doses are evaluated.
When analyzing small dose escalating trials, the first thing to look for is a correlation between dose and clinical response. Although the number of patients in each cohort is generally too small to be regarded as conclusive evidence, higher doses resulting in better clinical response is always a great sign. In the case of SGN-35, there was a fluctuated yet obvious dose dependent response, as 12 out of the 13 patients who received the 4 higher doses (0.6, 0.8, 1.2, 1.8 mg/kg), saw their tumor shrink (either stable disease or partial reponse). This is in contrast to 4 out of 10 patients in the 3 lower doses (0.1, 0.2, 0.4 mg/kg).
The comparison to SGN-30 (the naked antibody) is very impressive. SGN-30 was evaluated in 38 HL patients, 15 of whom received a weekly dose of 6 mg/kg for six consecutive weeks and 23 patients received a dose of 12 mg/kg. The recent SGN-35 trial included administration every 3 weeks, so just in order to compare the two, we'll define the SGN-30 doses as 18mg/kg or 36mg/kg per 3 weeks. These doses are substantially higher than the 0.6-1.8 mg/kg per 3 weeks of SGN-35. Of the evaluable 35 patients who received the naked antibody [SGN-30], 9 had stable disease, whereas of the 13 patients who received the 4 higher doses of the ADC [SGN-35], 12 had stable disease or better. Although the two drugs were not directly compared in the same trial, the similar patient population combined with the striking dose differences leads to the inevitable conclusion that arming SGN-30 did result in a substantial enhancement of the therapeutic effect. All that is left to do now is to wait for an update from the ongoing SGN-35 trial. Judging by the high linker stability of SGN-35, and the limited expression of CD30 on normal tissues, substantially higher doses may be reached before hitting MTD.
CR011-vcMMAE – partnership with Curagen
CR011-vcMMAE is an ADC currently being developed by Curagen (CRGN), based on Seattle Genetics' ADC technology. The ADC comprises of an antibody against GPNMB, a protein on the surface of melanoma cells linked to a drug payload. Both the drug and the linker in this case are identical to those used by Seattle Genetics in SGN-35. The story behind this agent demonstrates the need of ADC technology and the high value it has in today's drug development market. It also demonstrates that going after one of the most challenging indication with a relatively new platform, may not be the best way to validate it.
Curagen discovered GPNMB, after thoroughly scanning and analyzing multiple melanoma samples. Despite the large amount of known cancer related targets, it is very hard to discover such targets, let alone specific targets that are expressed exclusively on cancer cells. The company then generated an antibody [CR011] against GPNMB, which did a great job binding a broad range of melanoma cells in a very specific manner, but it had one flaw: It didn't have any anti-tumor effect. This frustrating situation is the perfect opportunity for ADCs, since arming antibodies can theoretically transform any antibody into a very potent agent, regardless of the activity the antibody has by itself.
Curagen decided to arm its antibody with Seattle Genetics' technology, which turned the "worthless" antibody into a very strong and specific drug against melanoma cells. After encouraging pre-clinical data, Curagen initiated a phase I dose-escalating trial in June of 2006, exactly two years after the official partnership with Seattle Genetics had been announced.
CR011-vcMMAE was evaluated in advanced stage metastatic melanoma patients who failed no more than 1 chemotherapy treatment. Preliminary results were published in October. Of the 23 evaluable patients, none had a partial response (30% reduction in tumor size) but six had stable disease, with four of the six demonstrating tumor shrinkage of up to 20%. In addition, there was a clear dose-dependent response, as all 5 patients who received the 2 highest doses, achieved stable disease. This is in contrast to one stable disease among the remaining 18 patients. Curagen is still enrolling patients for the dose escalation trial and expects to initiate a phase II trial immediately upon reaching MTD.
CR011-vcMMAE is the only candidate in Seattle Genetics' clinical pipeline that targets a solid cancer, as all the other 4 candidates target blood-borne cancers. We believe that one of the greatest advantages of ADC technologies, such as that of Seattle Genetics, is their enabling of the development of effective treatments for solid tumors such as breast, lung and prostate cancers. This kind of cancer is responsible for the vast majority of cancer-related deaths, but is still poorly addressed by approved antibodies such as Herceptin and Erbitux. Nevertheless, metastatic melanoma specifically might not be the ideal place to start the evaluation of any ADC platform. While early stage melanoma can be cured by resection, advanced stage melanoma is considered one of the deadliest and most chemo-resistant cancers, with median survival of less than a year. This is due to the small number of available treatments for advanced stage melanoma, the best of which have a short-lived 10-20% response rate. In addition, no significant advances in the treatment of metastatic melanoma have occurred over the past 30 years.
While assessing its new ADC platform, Seattle Genetics must pick its fights carefully. On the one hand, in order to validate the new platform, it should fill a true unmet medical need and succeed where other drugs fail. On the other hand, with all the uncertainty involved in drug development, the bar mustn't be set too high. In general, we believe that while most antibody companies spend too much time and money on blood cancers just to play it safe, going after a tough condition such as melanoma is admirable. However, in this case, we believe Curagen picked the wrong fight for Seattle Genetics' novel ADC technology. It's not like CR011-vc-MMAE is doomed to fail, especially in light of the clear clinical activity, it is simply facing a very challenging task.
Looking at the bright side, although no objective response was achieved, MTD hasn't been reached, which implies that there is still a chance to see a partial response in patients who receive higher doses. Even if CR011-vcMMAE does not show an objective response in metastatic melanoma, the minor responses seen in the trial are a great indication for the technology's prospects in more manageable solid cancers. In addition, the ADC might be evaluated with other treatments, such as dacarbazine, which is the standard of choice for metastatic melanoma, or perhaps even with other experimental drugs such as Medarex's (MEDX) immunostimulatory antibody, MDX-010, which is currently in phase III trial for the treatment of melanoma.
Curagen decided to license Seattle Genetics's ADC technology for an additional antibody, CR014, which is currently in preclinical development. CR014-vcMMAE targets TIM-1, a protein expressed on the surface of ovarian and renal cancer cells.
SGN-33
SGN-33 is a naked antibody that targets the CD33 antigen, a highly expressed protein on a number of blood cancers, such as AML (Acute myeloid leukemia) and MDS (myelodysplastic syndrome). Seattle Genetics licensed SGN-33 from PDL BioPharma in 2005, and promoted it into the clinic in November of that year. At the time of licensing, the company talked about developing anti-CD33 ADCs but it seems like it chose to focus on SGN-33 for now.
AML is a common type of blood cancer, with around 13,000 new cases and 9000 deaths expected to occur during 2007 in the US. Chemotherapy has demonstrated good activity among young patients with early stage disease, however, the prognosis of elderly patients, especially relapsed patients is very poor. One of the biggest challenges in elderly patients, which are accounted for over 60% of AML cases, is their inability to tolerate aggressive treatments such as chemo and stem cell transplant. As a result, there is a need for treatments with lower toxicities, such as antibody based treatments. An example for such agent is Mylotarg, which is an ADC directed against CD33, and as such, represents SGN-33's main competitor.
MDS is a disease which includes a variety of conditions that are characterized by
certain while blood cells that multiply in the bone marrow, and eventually may develop into AML. The incidence and prevalence of MDS is difficult to determine, with estimates ranging from 7000 to 15000 cases per year. There are several chemotherapy regimens for the treatment of MDS, however, bone marrow transplant has the best chances to cure the disease. Since many patients are not eligible for these treatments, there is a great unmet clinical need to develop new therapies that would delay disease progression and improve patients' quality of life.
There are currently 2 clinical trials for the evaluation of SGN-33 as a single agent and in combination in patients with relapsed AML and MDS or elderly patient who cannot receive aggressive chemotherapy. Results from the phase I dose escalation study, will be presented next week at ASH. These results include 4 complete responses among the 18 AML patients and 6 stable diseases out of 10 MDS patients. Due to these encouraging results, Seattle Genetics decided to enroll 50 additional patients in order to better assess SGN-33's activity as a single agent. In parallel, last month the company initiated a phase II trial for the evaluation of SGN-33 in combination with low doses of ara-c among older AML patients for whom aggressive chemotherapy is not indicated. This trial, expected to enroll around 220 patients, will have 2 cohorts: One cohort will receive ara-c while the other will receive ara-c and SGN-33. The primary endpoint of this study will be overall survival, as the company stated it hopes to show a 6-month statistically significant difference between the two arms. The company is expected to launch a third clinical trial for assessing the combination of SGN-33 and Revlimid for patients with high-risk MDS. This initiative is based mainly on Revlimid's ability to increase antibodies' anti-tumor effect.
Preclinical Programs
CD70 program
CD70 is a receptor expressed on many types of blood cancers as well as the majority of renal cancer cases. The expression profile of this target is highly restricted to cancer cells, which, combined with its ability to internalize antibodies, makes it a desirable target for ADCs. Seattle Genetics is evaluating a naked antibody as well as an ADC that target CD70, both candidates are based on the same antibody, which was licensed from CLB-Research and Development. The naked antibody, SGN-70, is evaluated for certain blood cancers and is expected to enter phase I during 2008. Another possible use for SGN-70 is for autoimmune diseases, as it is expressed on white blood cells that are involved in the disease, but not on "resting" cells.
SGN-75 is an ADC based on SGN-70, which is currently evaluated pre-clinically for Renal cell carcinoma. This disease, although not as common as prostate and lung cancers, represents a large market opportunity with over 43,000 new cases and almost 13,000 deaths expected in 2007 in the US alone. Although surgical resection of the kidney has high chances to prevent the disease from spreading, nearly one third of patients are diagnosed at advanced stage, where the cancer has spread to additional organs. In addition, more than 30% of patients who undergo resection will eventually develop metastatic disease, for which very few therapeutic options exist. SGN-75 is expected to enter the clinic only in 2009.
CD19 program
CD 19, which is expressed mainly on NHL and several leukemias, is one of the hottest targets in the ADC market. Two such candidates are currently in the clinic: Sanofi's SAR3419 based on Immunogen's technology, and Micromet's (NASDAQ:MITI) & MedImmune's MT103, which has demonstrated surprisingly impressive results. Additional companies that are evaluating anti-CD19 ADCs pre-clinically are Genentech, which has chosen the same non cleavable linker used in its Herceptin-DM1, courtesy of Immunogen, and Medarex (MEDX). Seattle Genetics uses a non cleavable linker for its anti-CD19 ADC as well, unlike the peptide-based linker used in most of its ADCs. Another interesting factor is the slightly modified chemo drug the company uses, MMAF. This drug proved to be more potent in several preclinical platforms, probably due to its inability to diffuse or to be secreted out of the cell, upon ADC internalization. MMAF is likely to be used by the company in some of its future clinical programs.
Multiple undisclosed candidates – Partnership with Genentech
As the prominent antibody company in the industry, Genentech is Seattle Genetics' most important partner. Although the two companies are not involved in any clinical stage ADC program, it seems like there is plenty of activity going on behind the scenes. Genentech, which has openly expressed its enthusiasm regarding ADCs, is currently evaluating more than 20 ADC compounds. The number of projects in which Seattle Genetics is involved is unknown, but Genentech has published several scientific articles that describe ADCs powered by Seattle Genetics' technology, including an anti-CD79 ADC targeted at NHL and anti-MUC16 ADC targeted at ovarian cancer. Interestingly, according to published scientific articles and the Herceptin-DM1 clinical program, Genentech's scientists seem to prefer noncleavable linkers, rather than the cleavable linkers, commonly used by Seattle Genetics and Immunogen.
EphA2 ADC - partnership with MedImmune
The partnership with MedImmune, which dates back to 2005, is probably Seattle Genetics' second most important partnership. On the scientific side, now that MedImmune has been merged with Cambridge Antibody Technology [CAT] to form AstraZeneca's (NYSE:AZN) biologics division, Seattle Genetics has a real antibody powerhouse on its side. On the financial side, Seattle Genetics could benefit from another pharma giant on its partner list, equipped with the 8th largest R&D budget in the industry and consequently the ability to support multiple clinical programs simultaneously. Looking at Immunogen's partnership with Sanofi-Aventis, which has thus far led to 3 clinical programs, is making us hope that AstraZeneca will be to Seattle Genetics, what Sanofi is to Immunogen.
The cooperation with MedImmune originally revolved around one target – EphA2. This intriguing target is highly expressed in numerous solid cancers including breast, prostate and colorectal, which makes the potential opportunity immense. In addition, there is a growing body of scientific evidence that expression of EphA2 is associated with aggressiveness and poor survival, which makes its targeting very reasonable in advanced stages of the disease. The specific targeting of EphA2 looks particularly promising since MedImmune's scientists discovered that there are several regions within EphA2 which become exposed and consequently accessible for antibodies only on cancer cells.
MedImmune views Epha2 as a very important target. In fact, it has such high hopes for it, that there it is currently evaluating multiple approaches to targeting this promising antigen. One of these approaches is Micromet's Bite (stands for: Bi-Specific T cell Engager) platform, which is being co-developed with Medimmune for several targets, one of which is EphA2. The Bite Platform, a very interesting technology (that deserves an article of its own being so different from other antibody-based platforms) consists of two small antibodies that link between a tumor and specific immune cells in order to manipulate them to attack the tumor. It has demonstrated very impressive potency in mice, and even more impressive results among heavily pre-treated NHL patients, mainly due to the very low doses that showed a clinical effect. The Bite platform hasn't been evaluated in solid tumors yet, but clinical trials are expected to be announced in the future, one of them is for a Bite agent that targets Epha2. Due to its unique characteristics that present both advantages and disadvantages, it is very hard to predict Bite's efficacy in these settings. Although some consider Bite an immunotoxin, it differs from immunoconjugates in that it does not contain any drug or toxin payload, so it is reasonable to expect that MedImmune will explore it in parallel to Seattle Genetics' platform. Although Bite is not necessarily a direct competitor, I bet the folks at Seattle Genetics are following that program closely. Nevertheless, MedImmune seems pretty happy with Seattle Genetics' platforms, as it has recently licensed Seattle Genetics' ADC technology for a second undisclosed target.
Seattle Genetics has partnered with numerous other companies including Bayer, PDL, Celera and Agensys, which was recently acquired by Astellas Pharma, Japan's second- largest drugmaker. Even though success rates in oncology are quite modest, we believe Seattle Genetics' broad pipeline preclinical pipeline poises the company for an exciting decade and hopefully several clinically approved products.
Disclosure: Author is long SGEN and IMGN.