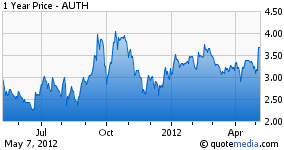 Last month, I wrote an article (here) that AuthenTec Inc. (NASDAQ:AUTH) was ready to be an investment on mobile security. Today, I'm back to confirm that AUTH is ready to secure your wallet.
Last week, the company held its quarterly call (here) (a must listen). The company's conservative CEO, Larry Ciaccia (he under-promises and over-delivers), spoke of the huge market opportunities available to AUTH, and then he commented on the concrete wins in all business areas for this diverse play on mobile devices. The listeners of the call didn't take long to put their funds to work as the stock rose 15% on what was a punishing day for the markets.
On the surface, the company's numbers weren't head turning, but listening to the call; I realized that the assumptions I made last month are proving to be correct. The company posted $17.5 million and earnings per share (EPS) of $0.01 vs. Street estimates of $17.3 million and $0.00 per share. They guided the outlook to $18.8 million and $0.01 EPS in line with street estimates. Personally, I think the outlook will prove to be conservative. After listening to the CEO's past comments (here) and the plethora of pipeline wins, I challenge anyone that has played any of the top 10 mobile plays Cirrus Logic Inc, (NASDAQ:CRUS), TriQuint Semiconductor Inc (TQNT), OmniVision Technologies (NASDAQ:OVTI), SanDisk Corp (SNDK), Zagg Inc (NASDAQ:ZAGG), Skyworks Solutions Inc (NASDAQ:SWKS), Spreadtrum Communications (NASDAQ:SPRD), Apple Inc (NASDAQ:AAPL), Motorola Mobility Holdings Inc (NYSE:MMI), and Nuance Communications Inc (NASDAQ:NUAN) over the past 10 years to listen to last week's call and tell me that this company doesn't sound poised to make great strides. Here are some highlights from the call, but again I urge you listen for yourself to get the true spirit of the CEO's confidence in his current business and future prospects:
The company generated $2.3 million in cash flow, the best cash flow quarter in many years even though it's their weakest (seasonal) quarter during the year.
The company signed a Tier One handset OEM outside of Japan and the U.S. to use its next generation biometric sensor in an enterprise smart phone to be deployed in the second half of 2012. The phone will also use AuthenTec's ID management software application.
Sensor business will grow significantly in 2012 and 2013 as smart phone wins become orders.
Strong sensor traction in Japan (the leader in mobile financial transactions), more new smart phone platforms than ever before in the company's history.
Expanding its footprint into the U.S. for NFC based smart phones, POS terminals and other products through carriers and OEMs. The company is active and engaged with many different players in the space. It's an evolving ecosystem and could take time, but the company's value added products puts them in a strong position.
Ultrabook and tablets are proving to be a significant market for sensor business.
Q1's embedded business built a solid pipeline, it exited the quarter with the highest backlog ever.
Digital Rights Management (DRM) business is gaining recognition from the HBOGo win this time last year. Companies big and small are using and testing their DRM applications; specifically a number of large players are signing up or looking into the application. I would add this is a positive surprise.
DRM signed a record number of licenses in the quarter including those with a major networking company in Europe, a major worldwide content provider, a major carrier in Korea and one of the largest content distributors in Japan.
Virtual Private Network (VPN) business signed a top three handset OEM, a major wireless carrier and another handset OEM in the quarter.
As you see, AUTH is gaining momentum signing a year's worth of deals in just one quarter. The stage has been set by Authentec's management; now it's going to be time for large funds to digest this information and decide when to start buying into this well diversified mobile security company.
It should be noted that AuthenTec's institutional ownership was only 26.3% as of December 31, 2011. Compared to many of the top ten mobile plays AuthenTec has a lot of room to grow its institutional base and it is busy doing this as it presents at (here) Jeffries 2012 Global Technology, Media and Telecom Conference today and tomorrow through Thursday it will be participating in the (here) International CTIA Wireless 2012 conference. I wouldn't rule out the company doing a dog and pony show with current analyst coverage or with new analyst coverage. Let's compare with some recent winners and their institutional ownership: (here): CRUS 71%, TQNT 71%, OVTI 78%, SNDK 84%, SWKS 83%, SPRD 49%, AAPL 68%, MMI 78%, NUAN 91%, CEVA 106%.
I believe that after the series of wins this past quarter and the additional wins we will see in the next three quarters AuthenTec will be prepared to deliver 30% growth which will wake up the top institutional players. What do you think will happen to AuthenTec if the institutional ownership rises to the level of some comparables above? I think AuthenTec will be able to touch my target of $8 per share by September/October this year and $10-$12 by January 2012.
I want all investors to pay attention to the long term chart ...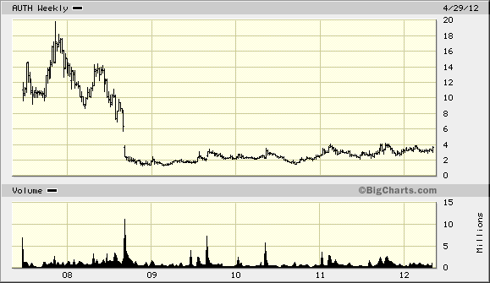 (5 year) ... and short term chart ... :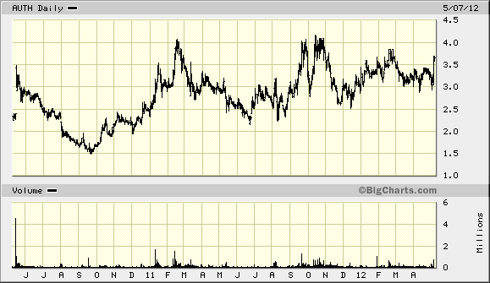 (2 year)
... to see why AuthenTec could get that momentum sometime this year. The company traded at a $300 million valuation at its highs ($18 per share) vs. $175 million ($3.70) today. The company has defined their market opportunity over the past 18 months by entering new businesses and markets with exciting new products and systems. These new defined markets open massive markets to AuthenTec and these opportunities aren't pie in the sky anymore, they're now tangible and the company's products can now be cross sold to each new account they solidify - a huge positive.
I see more institutions doing deep channel checks on AUTH in the months ahead and I'm placing my bet that AUTH will land the Samsung's and Apple's of the world in the next 6-12 months as biometric security, VPN security and NFC become ramping businesses in the mobile world. I believe the four-year basing pattern in AuthenTec's chart will be solid footing for the shares to take off and double in the next 3-4 months as the company should deliver outstanding growth after years of proving themselves in Japan, the world's leader in mobile payments and security.
A close above $4.15 per share on very large volume will authenticate the diverse business model AuthenTec has on the mobile sector. I will add more shares on any dips as this conference call allows investors that take the time to profit.
Disclosure: I am long AUTH.