The "green initiative," as it's come to be known, is a concept that is far from new. Yet a new trending reality in light of rising oil prices and increased awareness to the effects of global warming have many industry titans taking a look at their sustainability practices. For these corporate giants, the concept of going green does not merely get justified on the basis of altruistic means alone. While motivated by the increased benefits of the a more socially-responsible brand, more and more companies are beginning to reap the monetary benefits of pursuing a green strategy. Surprisingly, many of these companies are beginning to find increased opportunities in their environmental pursuits in what often began as an attempt to save on costs. The following companies offer a small sample of those pursuing to make their green by "going green."
Dow Chemicals (NYSE:DOW). The conglomerate stands as one of the largest manufacturers and suppliers of chemical products in the world. Conducting $60 billion in revenues annually, Dow has been increasingly making green investments for decades in recognition of a need to preserve on the costs of doing business. In their energy investments alone since the 1990s, Dow calculated that it saved $9 billion in reduced energy costs for the expense of a mere $2 billion for those investments. Yet the company is among the unique few who are beginning to see the hidden advantages of going beyond mere cost savings in the shifting business model towards a green economy.
Most recently, Dow partnered with Solazyme (SZYM) in an agreement to purchase millions of gallons of tailored oils made from algae for the end goal of making dielectric insulating fluids. These fluids offer higher flash points (fire safety) and increased functionality that will ultimately improve the operating efficiency and extend the useful life of transformers. Apart from Solazyme's green oils, such advantages are unable to be found in traditional products.
Google (NASDAQ:GOOG). It's difficult to picture how an Internet company can make money by going green until one considers the vast amount of electricity data centers use to keep the operations running. Through heavy green investments, the company has calculated its impact to further brand itself. One month of using Google's products now use less energy per user than leaving on a light for 3 hours, and after considering the company's renewable energy offsets the footprint comes down to zero impact on the environment.
Google has been leading the green power charge by installing solar panels, buying green energy for its data centers, and even taking the extra step of investing into green energy concepts. Google Ventures has proudly included several start-up energy investments into its portfolio as the company expands ever further outside of its realm of expertise to capitalize on the branding and potential of social responsibility. For a company built on the premise of "don't be evil," the green practice is already beginning to yield results.
Unilever (NYSE:UL). Unilever is one of the largest consumer goods companies in the world. The company is the owner of prominent brand names across a spectrum of products ranging from skin care, to hair care, to cleaning products, to home products, and even to food products. Yet the company has set forth an ambitious plan to go green. By 2020, the company hopes to reduce the impact of its water, waste, and greenhouse gases by 50%. The company also plants to derive 100% of its agricultural raw materials from sustainable sources by 2020. Yet like Dow, Unilever has recognized that going green doesn't necessitate having to resort to substandard products. It too has turned to Solazyme's uniquely tailored oils, whose benefits can be see in the graphic below. Unilever has teamed up with Solazyme in multiple development agreements. These are expected to conclude in the establishment of multi-year supply agreements in which Unilever would purchase commercial quantities of Solazyme's oils.
Click to enlarge.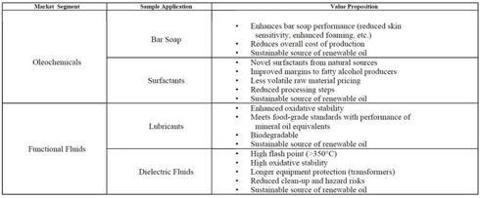 Coca-Cola (NYSE:KO). As one of the largest beverage manufacturers in the world, Coca-Cola has often been an easy target with its environmental impact issues. With well over a billion servings of the company's beverages being consumed every day, plastic bottles and aluminum cans continue to accumulate a vast amount of waste impact on the environment. Even with recycling programs already in place, the company now finds itself in a race against its main competitor, PepsiCo (NYSE:PEP), for the title of a 100% green label. Both companies are pursuing the development of plastic bottles made entirely from plants. While Pepsi isn't talking about its partners, Coca Cola is working with cutting edge companies like Virent, Gevo (NASDAQ:GEVO), and Avantium. In this instance, the pursuit of going green has become a fundamental part of retaining a comparative advantage against the competition.
Disclosure: I am long GOOG, SZYM.