Agency mortgage REITs maintain portfolios made of residential mortgage backed securities that are issued and insured by federal agencies (Fannie (OTCQB:FNMA) and Freddie (OTCQB:FMCC)). Since government agencies underwrite the mortgages and issue the RMBSs, the securities come with an implied U.S. government backing.
In the recent and continuing low-interest rate environment, several investors have sought high-yielding fixed income alternatives to supplement portfolios. While most other residential real estate investments suffered dramatic declines when borrowers defaulted, agency-backed RMBSs performed well due to their agency backing. The government continues to fund these agencies, which are required to take over payments or buy out mortgages when borrowers default, and which often do buy out defaulting paper after several consecutive months of borrower non-payment prompting the agency to pay on their behalf.
Though defaulting has not caused agency backed mortgages to default, the prepayment buying of mortgages will essentially cash RMBS investors out of their positions and requires them to reinvest. Refinancing, which has also been prevalent over the last several quarters, is another type of prepayment and has a similar affect upon mREITs. Such prepayments can have a volatile effect on a mREIT's income, yield, book value and margin between its borrowing costs and investment return.
Generally, in this low interest rate environment, it has often been the case that an agency mREIT is being forced into lower yielding paper when prepayments occur. Nonetheless, prepayment is considerably preferable to an actual default, and many agency mortgage REITs have claimed that recent prepayment rates are either at or below their estimated rates.
Below, I have provided recent performance rates for five reasonably liquid and high yielding Agency Mortgage REITs: American Capital Agency Corp. (NASDAQ:AGNC), Annaly Capital Management, Inc. (NLY), Capstead Mortgage Corp (NYSE:CMO), Cypress Sharpridge Investments (NYSE:CYS), and Hatteras Financial Corp (NYSE:HTS). I have provided one-week, one-month, 2012-to-date and one-year equity performance rates, as well as each REIT's yield.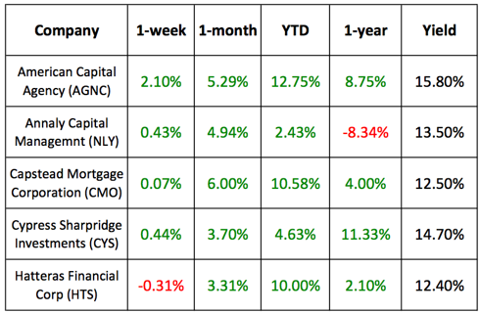 The above-listed performance rates do not include dividends paid. These agency mREITs also have a present average yield of 13.78%, meaning they have also paid out a quarterly dividend of approximately 3.4% so far in 2012. Mortgage REIT dividends are taxed as income, and not at the lower corporate dividend tax rate.
So far this year, shares in these mREITs have appreciated an average of 8.08%. Over the last month, they have appreciated an average of 4.65%, compared to flat performance by the broader market. See a one-month performance comparison chart for these mREITs as well as the Dow Jones Industrial Average, below:
(Click to enlarge)

Over the last two weeks, several agency mortgage REITs reported earnings for the first quarter of 2012. On April 24, HTS reported it earned net income of $69.3 million or $0.89 per share during Q1 of 2012, compared with $70.6 million, or $0.92 per share, during the Q4 of 2011 and $0.96 per share during Q1 of 2011. On April 25, CMO reported Q1 2012 net income of $45.17 million, or $0.44 per share, compared to $41.968 million, or $0.43 per share during Q4 of 2011.
On Wednesday, May 2, 2012, AGNC, reported earnings for the first quarter of 2012. The mortgage REIT Q1 reported net income $641 million, or $2.66 per share, comprehensive income of $587 million, or $2.44 per share. The same day, NLY, the largest publicly traded mortgage REIT, reported its results for the first quarter of 2012. The company reported Q1 GAAP net income of $901.8 million, or $0.92 per share, compared to $445.6 million, or $0.46 per share during Q4 of 2011.
Annaly had also earned $0.92 during Q1 of 2011. Excluding unrealized gains, Q1 net income was $529.3 million, or $0.54 per share, which is identical to Annaly's performance during Q4 of 2011 if unrealized losses were excluded from that quarter.
All in all, agency mREITs reported promising numbers for Q1, though most fortified their results through increased leverage. Further, several instituted secondary offerings during the first quarter. Most mREITs have lowered their dividends compared to last year, due to reduced margins. Despite the risks that may be associated with higher leverage upon tighter interest rate spreads, several mREITs feel more comfortable with the near-term prospects for agency RMBSs due to Federal Reserve comments that rates will be kept low through 2013. Of course, many still feel that rates could increase without the Fed's intent or blessing that they do so.
Currently, U.S. debt is benefiting from European sovereign debt weakness, but many anticipate that America will not be immune to such problems. A growing concern to agency mREITs is that rising interest rates could hurt the value of the value of their assets. The yield on U.S. government debt is once again near its historic low, with yet another debt ceiling debate looming during the second half of this election year.
Because of the risks associated with agency mREIT leverage and potential peaking of Treasury valuations, exposure to the asset class should be limited to a reasonable percentage of a portfolio, based upon your risk profile, time-horizon, income needs and other investments.
Disclaimer: This article is intended to be informative and should not be construed as personalized advice, as it does not take into account your specific situation or objectives.
Disclosure: I am long NLY.