In the wake of the FCC's decision to dismiss Liberty Media's (LMCA) request for "de facto" control of Sirius XM (NASDAQ:SIRI), many individuals thought that the share price would receive a significant boost in Monday's trading.
What was witnessed was anything but a significant boost in share price, as shares ended the day completely flat from Friday's closing price of $2.16. Many investors might be sitting there wondering what in the world just happened? With high volume on Friday and Monday totaling over 180,000,000 shares, the stock price actually declined 5 cents from Thursday's closing price of $2.21.
(Click to enlarge)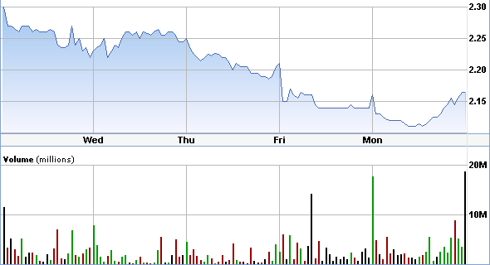 Why, with a conference call that met or beat investor and street expectations on Tuesday, May 1, did the share price taper off and tank all the way down to $2.11? Some claim the call was "priced in." That meets or beats on numbers were already expected as Sirius XM tends to meet or beat guidance and estimates regularly. They claim that with a share price of $2.25, that the call was already factored into the stock.
I'm not convinced of this. The overall market was in very poor shape through the end of last week and even Monday offered a generally flat close among most securities. I attribute Sirius XM's post call decline to, quite simply, the sell on news effect coupled with the overall market's sad state last week. The numbers in the conference call were good. There will always be those who will sell on news regardless of the numbers unless they are absolutely excellent. Some selling is to be expected.
When you couple this with a down market, selling is increased. But the reality of the situation is that on this "news," Sirius XM is in a better position now than as was guided before the call. Churn came in low (regardless of how it was done), used auto partners have increased, some debt was retired and more retiring of debt should be forthcoming this year, and subscriber numbers were beat, as well as guidance raised.
So why is the share price now lower than before the call? What is going on? I'd say myself and other investors like me, are getting some bargain basement prices with shares on the cheap. For those who understand money flow into or out of a stock, you know that even when a stock's share price is down, money can actually be flowing into a security. It's called buying on weakness.
Money flows are one of the many tools which can show investors, roughly, what is going on with a stock. To explain it simply, when shares are bought at the ask, it's considered positive, and when shares are sold at the bid, it's considered negative. The total of all this activity at the end of the day results in a number which is net positive or negative for the entire day. Let's look at money flows into or out of Sirius XM since the conference call on May 1st. Keep in mind that since this call, the share price has steadily declined, touching lows near $2.10 from highs of around $2.30.
| | |
| --- | --- |
| May 1ST | +$ 2.5 Million |
| May 2ND | +$ 2.3 Million |
| May 3RD | +$ 3.1 Million |
| May 4TH | +$ 18.6 Million |
| May 5TH | +$ 65.4 Million |
Total flow in? $91.9 Million. For all the share price depreciation, there has been an awful lot of money flowing into the stock. To see these values for yourself you can visit AVAFIN here. Use the trade flow and block trade links and add them together to see whether the general sentiment has been buying or selling.
With nearly $100 million flowing into the stock since the conference call, I see the activity with the decline in share price as buying on weakness. The overall market presented a wonderful opportunity for those who wished to "get long" in Sirius XM after the conference call and revised guidance.
Considering the FCC's denial of Liberty's request for "de facto" control, it is no surprise to me that investors are taking advantage of the depressed share price. The 30 channel MLB announcement today was merely a nice little bonus. The question now is, when will this money which has flowed into Sirius XM be reflected in the trading price of Sirius XM's stock? It's like coiling a spring, or bending a stick. Eventually the pent up energy (in this case, monetary pressure) that builds, gets unwound. Technically, this should provide share price appreciation.
I continue to maintain that Sirius XM is performing quite well, and should continue to do so for the foreseeable future. Because of this, I am using current weakness in share price, but bullish buying activity based on money flow, to follow the money and buy on weakness myself. Today I purchased at $2.12, and before the conference call I purchased at $2.24. Both, I have confidence, will be excellent buys as the year unfolds.
Disclosure: I am long SIRI, LMCA.
Additional disclosure: I am long SIRI June $2 calls.