The five companies covered in this article have an average Earning Per Share (EPS) growth projection for the next year of over 70%, yet are trading for less than book value. A company's EPS is conceivably the most important statistic to understand before investing in a stock. Each time you consider starting a position in a stock, you should prudently scrutinize its profitability EPS information.
The reason earnings are so vital to investors is that they tell you about the relative profitability of a company. EPS is the most important derivative of profitability for a shareholder. Earnings per share is defined as the net income of a company divided by the shares of common stock outstanding. With the EPS measure, you are looking at the amount of money left over for shareholders. The value is reported after taxes are subtracted.
Moreover, these stocks are trading below their book values. On average, they are trading 35% below book value at .65 of book. This screen is a value investing screen. Value investing is an investment paradigm based on the investment philosophies on of Ben Graham and David Dodd. Graham's most famous student is Warren Buffett. Value investing comprises purchasing securities whose shares seem underpriced fundamentally. Value securities predominately are stocks in public companies that have low price-to-book ratios. Warren was on CNBC's Squawk Box this morning and stated he saw significant value in stocks and was buying on the recent pullbacks.
Finally, our five stocks have share prices trading under $10. Stocks trading for under $10 often tend to have increased volatility. However, as we all know, the higher the risk, the higher the reward. The stocks selected are S&P 500 stocks with market caps of more than $5 billion.
Now, simply screening for S&P 500 stocks with high EPS growth rates, share prices under $10 and trading for less than book value is only the first step to finding winners that may provide alpha. In the following sections, we will take a closer look at these stocks to determine if their prices are justified. I will perform a brief review of the fundamental and technical state of each company. Additionally, we will discern if any upside potential exists based on sector, industry or company specific catalyst. The following table depicts summary statistics and Friday's performance for the stocks.
(Click to enlarge)

Bank of America Corporation (BAC)
(Click to enlarge)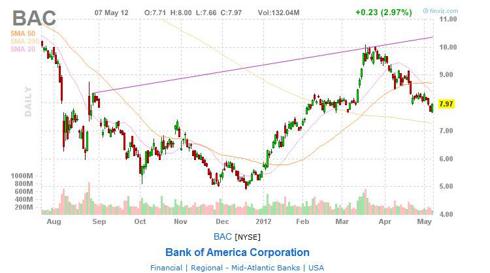 BAC is fundamentally strong. BAC has a price to book ratio of .36 and an EPS growth rate of 72% for next year. BAC has a forward PE ratio of 7.37. BAC has broken through the 50 day SMA which is negative. Nevertheless, BAC is down 20% from its recent high and about 10% above the 200 day SMA which should provide significant support.
BAC was showing strength this morning while the rest of the market was down. Stocks fell at the outset of Monday's session as news from the eurozone appeared grim. France elected Socialist Francois Hollande. Concerns that Hollande may shake up the eurozone prevailed. Greece was back on the front burner. The election over the weekend dealt a blow to austerity measures as the political party that advocated them was soundly defeated. Nevertheless, as trading went on the eurozone fears subsided and buyers came in to pick up shares.
BAC beat earnings estimates in the recent quarter. I see this pullback as normal and healthy for the stock. After such a huge run, the stock needed a period to rest and refresh. I expect the improving U.S. housing market to provide a significant catalyst for the stock moving forward. I started a quarter position here.
Boston Scientific Corporation (BSX)
(Click to enlarge)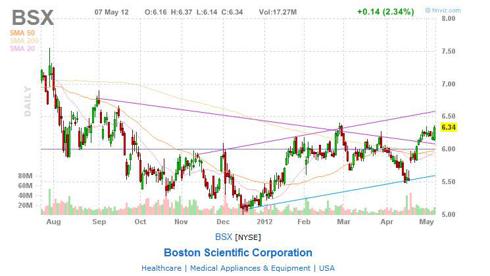 BSX is fundamentally strong. BSX has a price to book ratio of .78 and an EPS growth rate of 11.63% for next year. BSX has a forward PE ratio of 12.90. BSX is in a current uptrend. The stock is trading above the 50 and 200 day SMAs. The 50 day SMA just crossed the 200 day SMA forming the Golden Cross which is a buy signal. Northland Securities initiated coverage on the company in March with an Outperform rating and a $7.50 price target.
BSX recently received FDA approval of its Ingenio and Advantio pacemakers and Invive cardiac resynchronization therapy pacemakers. The Ingenio pacemaker's first U.S. implant was performed on May 3 at the Cleveland Clinic. This is a big positive for the company.
Micron Technology Inc. (MU)
(Click to enlarge)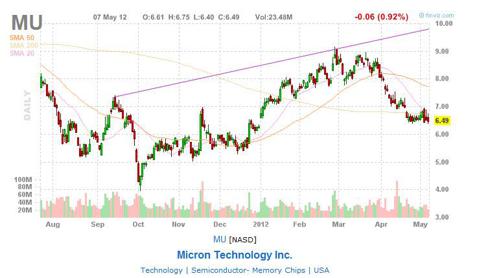 MU is fundamentally strong. MU has a price to book ratio of 0.81 and an EPS growth rate of 207% for next year. MU has a forward PE ratio of 10.56. MU has broken through the 50 day SMA which is negative. Nevertheless, MU is down 27% from its recent high and currently at the 200 day SMA which should provide significant support.
Reuters reported Micron is the likely winner in the bidding for Elpida Memory Inc. Japan's public broadcaster NHK reported on Friday the deal would help the failed Japanese chipmaker sustain operations and repay creditors. Elpida filed for bankruptcy protection in February with 448 billion yen ($5.6 billion) in liabilities - a record for a Japanese manufacturer - after being hit by a strong yen and a slide in prices of DRAM chips for personal computers. Micron is likely interested in the chips Elpida manufactures for smart phones and tablets, analysts have said. In the final round of bidding that closed on Friday, U.S. chipmaker Micron offered around 200 billion yen ($2.5 billion) and pledged to keep the company's main Hiroshima plant and employees, NHK reported without citing sources. With the stock at the 200 day and the positive catalyst of the Elpida deal, the stock looks poised to move higher.
Regions Financial Corp. (RF)
(Click to enlarge)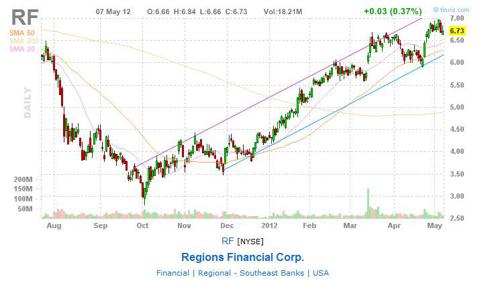 RF is fundamentally strong. RF has a price to book ratio of 0.54 and an EPS growth rate of 32.2% for next year. RF has a forward PE ratio of 8.59. RF has been in a well-defined uptrend for the last six months. The stock has nearly doubled in value.
The stock recently bounced off the 50 day SMA and was moving higher until being hit hard Friday for a 4% loss. Regions shares were on the move up after the bank reported a solid jump in its Q1 earnings due to decreased provisions for loan losses. I see the recent pullback due to macro fears as a buying opportunity.
Sprint Nextel Corp. (S)
(Click to enlarge)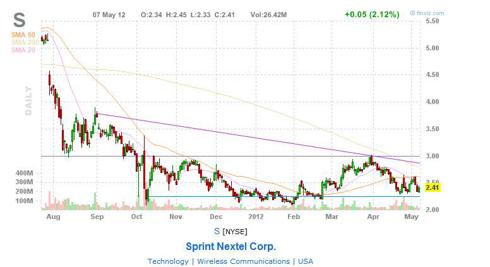 Sprint has a price to book ratio of 0.67 and an EPS growth rate of 30% for next year. Sprint is trading 63% below its 52 week high. This is definitely a buy low, sell high scenario. The stock price has fallen so low it's almost equivalent to buying an option on the company.
This is a speculative contrarian play. Sprint recently announced that the Western States Contracting Alliance (WSCA) has awarded Sprint a four-year; $2 billion contract to serve as one of its wireless products and services providers. The contract with WSCA, a national public sector purchasing consortium, represents one of the largest for Sprint in 2012. Sprint earned the contract based on its innovative product and solutions portfolio, record of strong customer service, superior value, and pricing flexibility, said Kevin Kunkel, Sprint regional sales vice president. This could provide a catalyst for the stock going forward.
Conclusion
All these stocks are trading at less than book value and are projecting positive EPS growth for 2013. Additionally, they have short and long term catalysts which may provide the impetus for the stocks to move higher. You have to buy low to sell high. These companies appear to be at inflection points. I believe they are poised to move higher.
Nevertheless, use this information as a starting point for your own due diligence and research methods before determining whether or not to buy or sell a security. If you choose to start a position in any stock, I suggest layering in a quarter at a time on a weekly basis to reduce risk. If you want to minimize losses even further consider setting a 5% trailing stop loss order as well.
Disclosure: I am long BAC.