Equity markets opened just below Friday's close on Monday morning as parliamentary elections in the debt burdened eurozone over the weekend rattled investors' confidence. On the home front, major indexes oscillated between minor gains and losses for most of the session. The Nasdaq and S&P 500 proved most resilient, gaining 0.05% and 0.04% on the day respectively, while the Dow Jones Industrial Average fared a bit worse, finishing lower by 0.23% as the trading session drew to a close.
Last Friday's employment report put a real strain on investors' confidence, although today's better-than-expected consumer credit data surely helped restore some optimism. U.S. consumers increased debt in March by $21.3 billion, marking a much larger-than-anticipated expansion in the credit market given the previous month's reading of $9.3 billion. Amidst the uneventful trading activity on Wall Street, the price of gold fluctuated throughout the session. Futures prices for the precious yellow metal sank as low as $1,633 an ounce only to settle higher just under the $1,640 mark.
The Vanguard European ETF (NYSEARCA:VGK) was one of the best performers, gaining 1.03% on the day, bolstered by optimism that ongoing elections in the currency block would ultimately lead to better implemenations of austerity. In France, Francois Hollande defeated reigning minister Nicolas Sarkozy, while in Greece a coalition government has yet to be formed. Art Hogan, market strategist at Lazard Capital Markets, commented, "Both the Greek and French elections move us closer to more accommodation from the European Central Bank."
Click to enlarge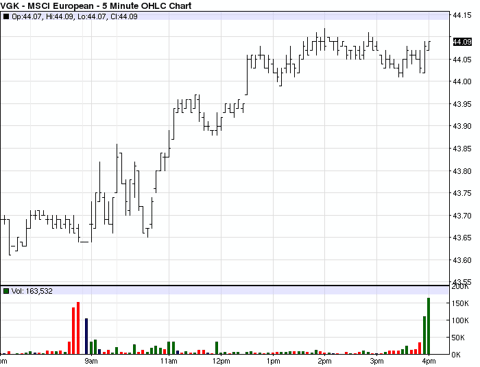 The S&P 500 VIX Short-Term Futures ETN (NYSEARCA:VXX) was one of the worst performers, shedding 1.57% on the day. The Volatility Index (VIX) sank lower throughout the day as concerns stemming from the eurozone seemingly evaporated from the home front. The VIX backed off the 20 mark, failing to close above this technically significant level as it previously did on 4/16 and 4/23/2012, perhaps suggesting that uncertainty levels should ease up gradually over the coming weeks.
Click to enlarge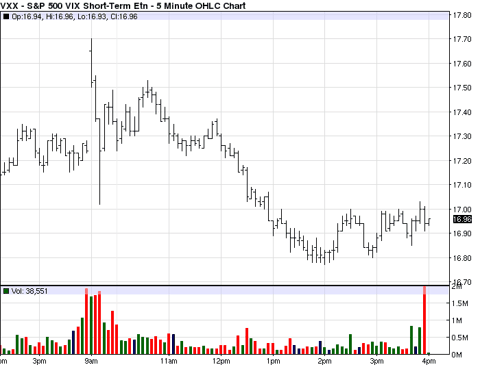 Disclosure: No positions at time of writing.
Disclaimer: ETF Database is not an investment advisor, and any content published by ETF Database does not constitute individual investment advice. The opinions offered herein are not personalized recommendations to buy, sell or hold securities. From time to time, issuers of exchange-traded products mentioned herein may place paid advertisements with ETF Database. All content on ETF Database is produced independently of any advertising relationships.