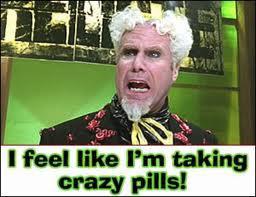 Over the last few years, I've written articles about short ideas regarding Crocs (NASDAQ:CROX) and Netflix (NASDAQ:NFLX). Both were highly valued growth companies, and my articles elicited acerbic reactions from fans of each stock. I appreciate the mantras "never short a rocket ship," or "never short on valuation," but I tend to find my best short ideas begin from a valuation perspective. Mugatu's feelings (right) relate to the situation where obviously overvalued equities continue to trade higher. If you find a highly overvalued stock with many questions supporting its current valuation, I think you have a viable short candidate.
Businesses are very different, and so too are the points of contention raised by supporters of the equity in question. With CROX, the strongest objections to my short thesis came from people who really enjoyed the comfort of these shoes, and apparently believed Crocs was reinventing the shoe market. Granted, this was in October of 2007, while the world was still viewed through rose-colored lenses. Valuation, of course, was never a point of contention.
With Netflix, there were a wide range of objections. Some felt the short thesis overlooked international opportunities, the convenience of the service, and/or truly believed in Reed Hastings's "virtuous cycle." These objections consistently overlooked the fact that NFLX generated nearly no free cash flow, had enormous liabilities residing off its balance sheet, and cash generated went to purchase shares, primarily from selling executives.
Salesforce (NYSE:CRM) is a stock I've very lightly followed over the last year. Articles I skimmed referenced 500+ P/E multiples -- something I assumed came from kitchen sink accounting wherein all the bad things are flushed through the income statement such that by the time you arrive at GAAP EPS, you are so far from the underlying economics of the business that P/E becomes irrelevant.
As I have followed CRM more closely, I began to appreciate the short thesis. Bottom line, you have a company led by a CEO so focused on growth he sacrifices all principles of shareholder value creation. And make no mistake - this is not Amazon, another high growth company also sacrificing current shareholder value creation for future opportunities. Salesforce is a web-based CRM provider. As much as CEO Marc Benioff tries to redefine the company, it's a CRM software company.
Proponents of the stock must defend an operating profit margin that has averaged 1% over the last decade. 1%, for a software company! Anyone hoping for operating leverage resulting from the revenue growth the company has achieved is bound for disappointment. As I will discuss below, Benioff's focus on growth by all means sacrifices the value created by hard working employees in CRM's core business.
What type of company is CRM? In their 2005 annual report (effectively covering calendar year 2004), CRM describes the company as "the leading provider, based on market share, of application services that allow organizations to easily share customer information on demand." I think this concisely describes the common 2012 perception of the business.
Most would describe CRM as a web-based provider of contact management software. For many years during CRM's rapid growth phase, the company referred to itself as a provider of "on-demand" software services. Not once in the company's 2005-2007 annual reports does the word "cloud" appear, even though cloud computing has been in modern vernacular since at least 2006. Then, mysteriously on page 2 of the company's 2008 annual report, comes the word cloud in one single instance:
"The pervasiveness of the Internet, along with the dramatic declines in the pricing of computing technology and network bandwidth, have enabled a new generation of enterprise computing in which substantial components of information technology, or IT, infrastructure can be provisioned and delivered dynamically over the Internet on an outsourced basis. This new computing paradigm is sometimes referred to as utility computing or cloud computing, while the outsourced software applications are referred to as on-demand application services."
Not much changed in CRM's offering between 2007 and 2008. They've always offered web-based software. The change has been the way in which CEO Benioff sells his company to investors.
This 2008 report still effectively describes CRM as an on-demand software provider, using the term "on-demand" 68 times throughout the 10K. Oddly, readers of 2009's annual report were introduced to a new company. "On-demand" became so passé that it was used to describe CRM's business only 7 times. CRM was now a sexy "cloud" computing company, a term now used 64 times in the report.
By CRM's 2012 annual report, investors are led to believe CRM has now magically transformed itself into "a leading provider of enterprise cloud computing and social enterprise solutions…dedicated to helping customers transform themselves into social enterprises." In the 2012 report, "cloud" is used 113 times; "on-demand," only 2. The chart below illustrates this dramatic shift in tone and marketing spin to describe CRM's business. (Click charts to enlarge.)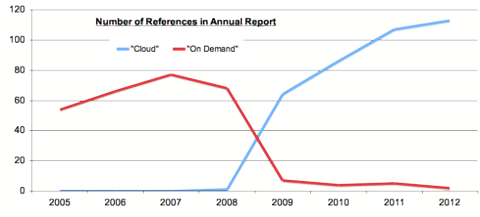 What led to this thorough re-branding? I believe Benioff's unquenchable thirst for growth collided with CRM's consistently decelerating revenue growth, driving the CEO to try to reinvent CRM and sell this new, sexy "cloud-computing" company to investors. The huge marketing makeover in 2009's annual report could not arrest CRM's decelerating annual revenue growth, which in FY2010 reached an all-time low of 21%. Unsuccessful on the softer re-branding effort, Benioff went into an aggressive acquisition spree. As the chart below shows, CRM responded to 2010's stagnating revenue growth with a surge in cash Capex (defined as gross capital expenditures plus cash paid for acquisitions) in FY2011 and FY2012. Throughout CRM's earlier, high growth history, the company's Capex consistently averaged approximately 5% of revenue. In 2011, this jumped to 48% of revenue, and was followed up in 2012 with a 28% clip!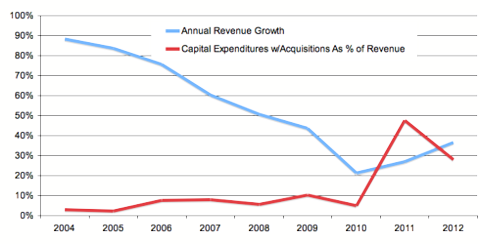 This aggressive Capex campaign helped stunt the decelerating annual revenue growth, which by 2012 had improved to 37%. However, the effects on operating profits and free cash flow have been devastating. As illustrated below, the efforts to revitalize growth have come at an enormous cost to shareholders.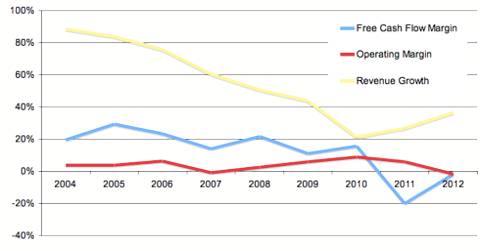 This isn't a new company, heavily investing in growth to generate robust future cash flows. Salesforce.com was founded in 1999. This is a company attempting every measure to produce revenue growth.
Bulls will counter that operating cash flow growth trumps any talk of operating profit (with its restrictive GAAP requirements) or free cash flow. Cash flow is the lifeblood of any company, but using it as a valuation tool requires an understanding of the underlying components. In a perfect world, net income would equal operating cash flow. In the real world, however, numerous assumptions and non-cash issues create differences between these two measures of profitability. CRM's growth in operating cash flow in recent years has become heavily dependent on non-cash stock compensation and growth in deferred revenue - hardly two components of quality earnings. Let's look at each of these drivers of operating cash flow more closely.
Non-cash stock option expense, while not cash by definition, is certainly an economic expense of the company. Although it technically contributes to operating cash flow, it needs to be accounted for in determining value. If one does not deduct this expense from operating cash in determining free cash flow, they must account for the ongoing dilution via growth in shares outstanding in future years. Further, if CRM's share price were to meaningfully decline, you must expect this non-cash expense to either become cash in nature (i.e. employees will no longer accept stock and demand more cash compensation) or dilution to accelerate as more shares are necessary to maintain compensation levels. To consider non-cash stock compensation as a worthwhile contributor to operating cash flow is myopic in regards to measuring long-term shareholder value.
Growth in deferred revenue is also a dubious source of operating cash flow. Just as companies can boost cash flow in the short term by delaying payment to vendors, growing operating liabilities is a fickle and transitory source of cash flow. As CRM matures, these sources of cash will slow and potentially become a use of cash. In fact, CRM's recent accounting games - whereby they changed certain contract terms in order to book more deferred revenue - are a further example of Benioff's focus on growth, regardless of long-term implications to shareholder value. Seeking Alpha contributor Paulo Santos wrote a recent article on this point, which is worthwhile to review.
As the chart below illustrates, after years of decline in their contribution to operating cash flow, stock compensation and deferred revenue growth are reversing trend and growing as a percentage of operating cash flow.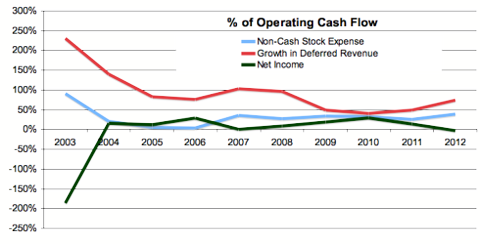 How does this compare to similar companies? The results are striking. Whether comparing to other high-growth companies or stodgy competitors, the quality of CRM's earnings are horrible.
There are a number of other questionable practices concerning CRM's earnings quality. First, the company reduced its accounts receivable reserve at the end of FY2012, even though receivables increased by 60%. As the below chart illustrates, reducing their receivables reserve has become a habitual practice.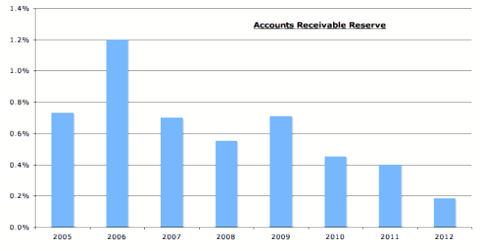 Another concern regarding CRM's earnings relates to its prodigious securities investment portfolio. On-demand software companies probably should not manage corporate and mortgage bond portfolios. However, CRM dabbles in these instruments to such an extent one wonders if this is for GAAP net income management purposes. There is no strategic justification other than generating incremental investment income to drive EPS growth. Of the company's $1.2 billion in securities on its balance sheet at the end of FY2012, 51% were corporate bonds and CMOs. Such an expansive exposure to interest rate risk does not seem like a prudent use of corporate capital, and certainly does not represent a set of strategic investments.
Returning to some of the charts above, CRM has never been a good business. Whether viewing CRM's historical net income as a percentage of operating cash flow or its operating margins, poor earnings quality and low profitability are persistent concerns.
Benioff has a monomaniacal focus on growth. Growth, while typically a good thing, when pursued without regard for the implications on shareholder value can be highly detrimental. 1% operating margins do not create value, regardless of the rate at which revenue grows. In the company's last conference call, Benioff revealed his theories on growth:
"I just delivered a 37% growth year. I think it is a mistake to be delivering 25% growth right now. This is the renaissance! This is the great time of the cloud! We've all changed how we're using computers and there needs to be an enterprise company that can deliver this at scale."
If Benioff truly wants to become a cloud-computing player, more power to him. However, he should review the financials of companies like Rackspace (NYSE:RAX), which are heavily capital intensive as a result of constant server build-outs and upgrades. These certainly aren't asset-light software companies.
My final due diligence relates to the executive team, which can frequently offer valuable signals as to their true commitment to long-term shareholder value. Benioff has not sold shares since 2010, when he was on an aggressive selling campaign that certainly gave him enough cash to retire many times over. His fellow executives, however, have been persistent sellers of shares. As my diligence relates to Benioff himself, I'm wary of CEOs who claim inspiration from swimming amongst dolphins.
To summarize, investors in CRM are exposing themselves to questionable earnings quality, unsustainable operating cash flow growth, and a CEO who does not understand what creates shareholder value. At best, I think this is a $50 stock.
Disclosure: I am short CRM.