With the global commodities boom still intact, worldwide demand for coal, copper, iron ore, coal, copper and other basic materials looking like its not letting up anytime soon, and with the tremendous growth internationally, especially in China and India we have a buy on Bucyrus, ticker BUCY.
Remember who got rich from the California Gold Rush in the 1800's? Was it the gold miners or those who provided the picks and shovels? It was the pick and shovel suppliers. What we consider to be a global commodities super-cycle we are in currently, we think Bucyrus has continued growth with its play in the commodities sectors.
Required resources behind the strong and fast rise of emerging industrial global economies are basic materials. Mining companies have increased production to meet growing demand. More equipment from suppliers is required such as drills, mega shovels and other major excavation equipment and tools. A company that supplies mining companies is Bucyrus International (NASDAQ:BUCY). The company specializes in large scale excavation equipment used in surface mining and more recently high-tech systems for underground coal mining.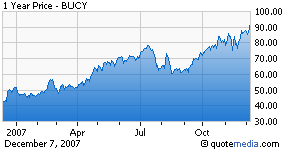 Bucyrus is one of the top two mining suppliers in the world, and based in Milwaukee Wisconsin. Bucyrus has operations that cover the globe. About 60% of its revenue comes from outside the U.S and the international growth that's happening now. Commodity businesses are cyclical and we see the current up cycle -- now in its fourth year -- extending at least another few years, if not for another decade or two possibly.
High commodity prices and capital expansion projects from the mining firms are among the main ingredients behind what will be an extended commodities cycle we believe. After years of losses, income at Bucyrus picked with earnings rising from 48 cents a share that year to $2.25 in 2006. This year we're expecting earnings to rise 31% vs. 2006, to $2.95, and we expect profit to climb 55% in 2008 and 31% in 2009.
Earnings could peak in 2010. Bucyrus CEO Tim Sullivan in a November conference call said that the Bucyrus surface mining shovel business is two-thirds sold out for 2008 and will probably be fully sold out by January at the latest. Bucyrus went into the underground coal mining business when it purchased German mining supplier DBT in May. The underground coal component was more than half of third-quarter revenue. Underground total sales were $263 million vs. $237 million in surface mining. Surface mining was second in sales, but with higher margins which is very nice.
Bucyrus third-quarter results were from surface mining margins which reached 19.7%. Also underground margins were about 14%, well ahead of the forecasted 10%. With the increased revenue from the DBT purchase, total third quarter revenue was 170% higher than last year's figure at $500.3 million. Surface mining sales rose 28% from last year's third quarter also.
Earnings in the quarter were up 43% from last year, to 76 cents a share. The market for underground equipment is not growing as fast as surface mining currently. It's taking a break after a big run, we are expecting a rebound for the next foreseeable quarters. Bucyrus back-log Sept. 30 stands at $1.3 billion, which is down from the second-quarter backlog in both sectors.
Orders for large draglines, multi-million dollar machines dig up rock and dirt should increase into the middle of 2008. Shipping congestion in Australia has been problem for on-time delivery of new orders from major mining customers. Bucyrus has been a leader in powerful dragline drive systems for nearly 30 years. It has almost 400 drag-lines in operation, with income being generated from on parts and services. BHP Billiton (NYSE:BHP) is one of the firm's largest customers. With the recent on and off again merger buyout wars of mining rival giants BHP and Rio Tinto (RTP), we feel Bucyrus will continue to be profitable supplying their growth and the rest of industries growth.
"Bucyrus is building a new dragline for a major Canadian coal mining company, with a contract value of more than $100 million. The sale of this dragline highlights the ongoing demand for our products and services," CEO Sullivan said in a statement. He told analysts his company is talking with producers in Canada's active oil sands "to get a bigger piece of the pie." With high prices, and if they go higher, will make the oil sands a place to be invested in on way or the other.
CFO Craig Mackus said in the conference call that capacity constraints are affecting the surface mining sales. The expansion of the company's headquarters plant should be finished by the first quarter of 2008, he said. "The big issue out in the marketplace right now is not, gee, is there going to be machinery bought," Sullivan said during the conference call.
Based on announced capital expansion plans by major producers of iron ore, copper and gold, "that's a given," he said. "The concern by the producers right now is if they're going to get their equipment when they need it and when they want it." Those words are music to our ears fundamentally as demand is not stopping yet. Technically, and at current new high prices, we think Bucyrus is a great growth story buy with its current price to earning ratio at 34.
Disclosure: Author is long BUCY.