Number of PE deals has risen sharply, and exits will rise too within a year or so. That's when performance of PE funds will come into sharper focus
Private equity's experience in public space may not be all that good sometimes. Blackstone (NYSE:
BX
), the world's largest PE group which listed recently, is having a rough time on the share market. Blackstone listed on 22 June'07 at a price of $35. From there it has been one downhill ride. It currently quotes at around $22, down 37% from the listing price. Blackstone's IPO price was $31; the current share price is around 30% lower. Considering the IPO valuation was around $33.5bn, investor wealth of around $10bn appears to have been wiped off from the IPO price.
Fortress Investment Group (NYSE:
FIG
), the only other significant global PE player which is listed, isn't doing well either. Fortress shares are down 42% from date of listing in Feb'07, though in Fortress case, the shares had shot up sharply on listing day. Its current share is around the same as its IPO price of $18.5 per share.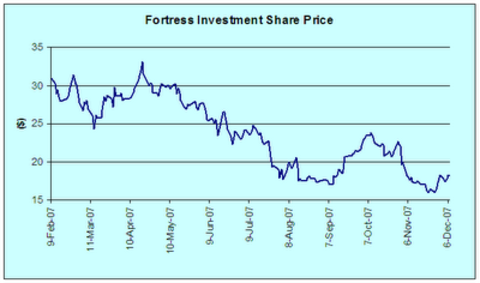 This underperformance in share price may not be connected to company performance. Blackstone has delivered over 20% annual return for around 20 years, which is around twice of US market returns over the same period. But this just goes to show that even companies in the business of creating investor wealth can't get it right every time.
Private equity fund managers will increasingly face this question in India – can they get it right?
Competition is getting intense in PE space now. There are around 350 funds, vying available deals. According to Venture Intelligence, there were around 150 deals in 2005 and 300 in 2006. This year will perhaps see around 400 deals. At the moment, there is only one deal per fund available. Surely, 2008 has to see a sharp rise in number of deals to ensure every fund has work to do.
With frenetic competition, share of bad deals could rise. How many of deals already done are working well – on that there no clear data. In the PIPE sector, where private equity invests in listed companies, the track record of PE investors has been fairly good. With a runaway bull market, it is hard not to make money, particularly when you investing with direct access to inside information.
In the unlisted space, where business risk is also normally higher, information on how deals are doing is hard to come by, since financials are not available. Here exits give some sense of what happened. Exits are bound to pick up in coming months. In the last 4 years, there have been around 700 deals. Assuming a few secondary rounds, there still would have been around 400-500 deals. Since a typical holding period is 3 years or more, the funds would still be invested in most of these deals.
While many of the recent IPOs have PE investors in them, the exit cycle hasn't really begun in a big way in the Indian markets yet. While one may hear of 30 new deals in a month, there is not more than 1-2 exit. In another year or so, there may have to exits at the rate of around 100-200 per year, in another words, 10 or more exits per month. That is when things will get interesting – there could be some sense just how many of the deals are working.
Financial or stock market information is not the only way to figure out if deals are going well. A classic sign is frequent change in business model. A medical services company for example, seems to have changed its focus atleast twice in last two years. The first set of investors has exited, a new set of PEs has come in. While it is trying to get its strategy right, its rollout plans seem to have has been impacted. In this period, its competitor has rapidly expanded, and is now quite a bit larger. In another example, a logistics company is reportedly exiting a major new initiative is less than a year. A foreign PE investor had invested a substantial sum in this company.
The early PE investors in India, like ICICI Ventures, IL&FS, Chrys Capital or even SIDBI Ventures, all have made good money in their early funds. Many of them have shown over 30-40% annualized returns. It will be far more tricky from here on, though an economy growing at 9% surely helps.