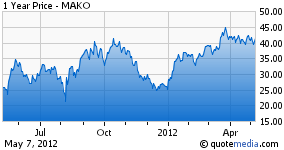 Investors who have followed med-tech for a long time probably knew that this day was coming -- highly-valued MAKO Surgical (NASDAQ:MAKO) disappointed the Street with its quarterly results, and the consequences in the market are going to be severe. Only zealots believed that MAKO would grow with no interruptions or stumbles, and while the valuation is still demanding, this looks like a potential opportunity for aggressive investors.
Q1 Numbers Miss The Mark
MAKO broadly disappointed the Street in terms of its top-line components, which is really the only thing many investors care about right now.
Revenue rose 51% from last year, but dropped about 40% from the fourth quarter and missed consensus by about 20%. Procedure volume rose 76% and procedure revenue increased 79%, but that volume number missed by about 5%. Similarly, system revenue rose just 9% and the company's six system placements missed the average analyst target of nine.
MAKO under-spent a bit on R&D (relative to estimates), but I suspect this was more of a timing artifact. SG&A expenses were slightly higher than forecast, while gross margin did improve nicely - moving about three and a half points and beating estimates.
So, What Went Wrong?
Management claimed that a "few missed orders" played into the shortfall in robot sales, but then they also lowered full-year placement guidance by more units (four) than they missed by this quarter (three). I don't really know how to interrupt "missed orders" in this context, and it doesn't sound like they're coming back in this year.
I believe it would be a mistake to take this result and try to apply it to Intuitive Surgical (NASDAQ:ISRG) or make sweeping comments about the hospital capital equipment market. The fact is that hospital budgets are still tight, but they're finding the money for the devices/equipment that they really want or believe they need. Yes, Stryker (NYSE:SYK) and Hill-Rom (NYSE:HRC) are seeing slowdowns again in the sale of equipment like beds, but Intuitive is going strong and big-ticket equipment vendors like General Electric (NYSE:GE) have seen pretty solid order trends recently.
The utilization numbers trouble me a bit more. Utilization per machine dropped about 8% sequentially. Management mentioned that utilization was hurt by a back end-loaded fourth quarter, and the company did indeed place a lot of systems (18) in that quarter. Still, it represents a slowdown at a time when orthopedic companies like Stryker, Zimmer (ZMH), and Johnson & Johnson (NYSE:JNJ) have all talked about a stable, if not improving, orthopedic procedure market.
I'm also interested in what's going on with the hip business. Hip implant results missed expectation by a wider margin than in knees, backing up my prior stance that expectations on hip uptake were pretty aggressive. The interesting bit, though, is this - ASPs missed, as it seems docs mixed-and-matched MAKO cups with competitor stems. That suggests the upcoming launches and expansion of implant products (developed with Pipeline Orthopedics) is indeed very significant.
A Capital Raise
I got a lot of flak when I suggested that MAKO would likely raise capital in 2012, even though management says they wouldn't need to do so. Apparently management has decided to cover their bases, though, and they entered into a credit facility agreement with Deerfield (DFR).
Under this agreement, Deerfield will make up to $50 million available (in $10 million increments) at an interest rate of 6.75%. Simply for crafting the agreement Deerfield will get 275,000 warrants, with the exercise price being set at a 20% premium to the average closing stock price over the next 20 days. With each $10 million drawdown Deerfield will get another 140,000 warrants, with the price set at a 20% premium to the average price of the following five days.
All things considered, I like this deal. MAKO is locking in funding before it needs it, and is doing so at pretty attractive prices and with modest dilution. If this allows the company to get a little more aggressive on product development, clinical studies, and/or marketing then so much the better.
The Bottom Line
There's no point in soft-peddling the system placement situation - this quarter was a disappointment, whatever the excuse may be. Likewise, the trends in hip utilization do suggest that the bulls need to rein in their expectations a bit. Investors would also do well to pay at least a little attention to the rumors that Stryker has decided to develop their own orthopedic robot system.
MAKO's valuation is still demanding and basically suggests that MAKO will capture 100% of its current addressable market within nine years. I'm also a little concerned about the old wives' tale that med-tech companies tend to miss in threes, suggesting further guidance resets.
Now, that said, MAKO is still an interesting growth stock. The system makes a challenging and demanding procedure (unicondylar knee implants) easier and the per-machine utilization potential is higher than with Intuitive's DaVinci. Moreover, while I think the hip opportunity will develop a little more slowly, I think it will develop. Investors often do well buying into momentary stumbles at strong med-tech growth stories, and aggressive investors should take a long look at these shares in the wake of this quarter.
Disclosure: I have no positions in any stocks mentioned, and no plans to initiate any positions within the next 72 hours.