Back in March 2012, we published a piece that alerted investors about the buying opportunity McDonald's (NYSE:MCD) presented. Well, exactly two months later in May, its deja vu all over again. The stock was on a roll in 2011 but 2012 so far has been hard for McDonald's . We however believe this second pull back is an even greater chance to establish or add to positions.
Bad news for the firm is good news for investors: Today, it was reported that the company's same store sales growth for April rose just slightly. The stock reacted by going down to as low as $93.11 pre market at the time of this writing. People who have been in the market for a long time know and agree with the notion that temporary bad news for a good firm is good in the long run for investors.
RSI: As mentioned in the other McDonald's article, the RSI right now also shows McDonald's is no where close to being overbought and may even soon be under bought, as indicated by the RSI chart below.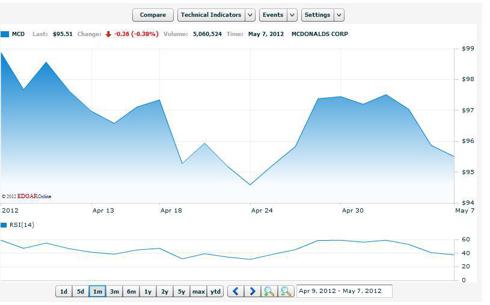 Higher Entry Yield: At current price of $93, the stock yields greater than the psychological 3%. Also, we are almost sure to get a dividend increase in November 2012. So if one gets in at the current price of $93, the upcoming dividend increase will push the yield far more than 3%, based on its dividend growth history.
Disclosure: I have no positions in any stocks mentioned, but may initiate a long position in MCD over the next 72 hours.
Additional disclosure: A limit order is in place at $93.