So Wall Street ended its worst week so far this year on Friday, with a few similarities to last year and the year before. Besides the market pricing in negative outcomes by the European elections, eurozone problems are escalating again, negative stuff keeps creeping up from the Middle East, and economic surprises from China and the U.S. are coming in weaker than expected. As some savvy market strategists have it, this is why the current weakness in the commodity market is a sign of diminishing global economic expansion, especially Europe and China, which accounts for over 40 percent of the global demand for industrial commodities. Even the best the U.S. economy can manage is to eek out the slowest growth since the dirty thirties, despite all this quantitative prime pumping the FED had been engaged in over the past few months. Yet, in spite this appearance of all gloom and doom out there, this is still a bull's game in the market. With most of the sectors having reached 52-week highs recently, this is a good time to take profits and have the market come down to a level where it can find traction and start the rally all over again. With all its fits and starts, this is only the beginning of a long-dated economic recovery, and ditto for a commensurate bull market, which could last out this decade. So this Friday's out of nowhere sell-off was nothing more but another bump in a bumpy road rally, which has many good things going in its favor to keep it on track. Bank loans to business and individuals are rising again after being a no-show for the previous three years. The job market has shown its largest advance during this first quarter, even though the participation level has been shrinking. But that is mainly because the large bulge of the baby-boom generation has reached retirement age. Also, housing activity is showing its greatest expansion since the crash, as all these easy money policies by the global central banks are having a positive effect on the world's economies. But for now, market participants are wondering what to make of Friday's sell-off binge. This coming week should provide the answer. Although this S&P 500 (NYSEARCA:SPY) large-cap index appears to have entered a free-fall mode, this is still only part of a consolidation process. Only if the red, green and yellow MA lines are sliding into a negative configuration, can investors assume that the market is set to decline in a sustainable fashion.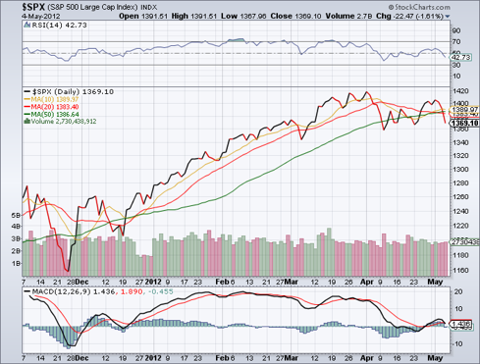 This bull-trend BGU index also suffered a sharp decline during Friday's session and shows that the green, red and yellow MA lines have started a negative configuration. This could spell a pause to the market's trend to higher highs.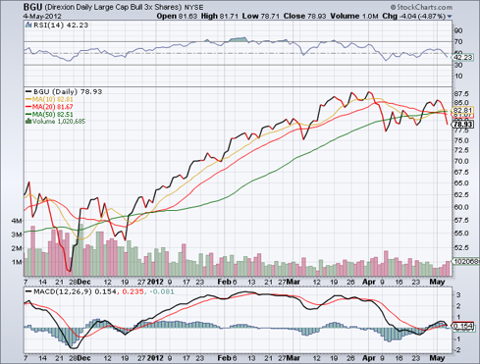 Only if this bear-trend BGZ component of this three index Troika continues to rise steadily from here, is the market in danger of declining sharply. Otherwise the market remains on hold and in a consolidation mode.
While the current weakness in the commodity market is said to be a sign of weakness in the global economies, these two charts show that something else is at work here. The Baltic Dry index (BDI) above is also known as the bulk commodity demand index, the CRB index (CRB) below can be seen as the commodity producers' index. Now note that while commodity demand fell over a cliff last January, the CRB commodity supply just kept piling up until last March, when reality set in, and the rest is history. But since the middle of March the green, red and yellow MA lines of the Baltic have formed a positive configuration again. This together with a bullish MACD Momentum index and a bullish RSI Strength indicator augurs well for a resurgence in the CRB Commodity index and the global economies as well.
But meanwhile, the European political and economic uncertainties are bound to exert downside pressure on the market. So here are some favored leveraged and non-leveraged Bear-ETFs to profit from a temporary slide to the downside.
3xDPK 2xSCO 3xSOXS 3xSQQQ 3xERY 3xSRTY 3xTZA
PSQ REW RWM EUM SH SEF-OLD HDGE
In case the market rallies, try these leveraged Bull-ETFs. The non-leveraged bulls will make an appearance after the market has rallied for a couple of sessions.
3x 2xDDM 3xMWJ 3xTYH 3xURTY 3xUPRO
Disclosure: I have no positions in any stocks mentioned, and no plans to initiate any positions within the next 72 hours.