By: Brendan Gilmartin
Priceline.com (PCLN) is scheduled to report 1Q 2012 earnings after the close of trading on Wednesday, May 9, with a conference call to follow at 4:30 p.m. EST. Priceline shares recently broke out to a fresh all-time high and will likely see volatile action when it delivers results for the recent quarter.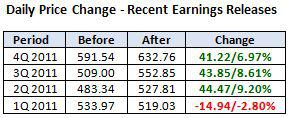 Outliers & Strategy
Key measures for Priceline:
Non-GAAP Earnings Per Share: Priceline previously indicated it sees Non-GAAP net income in the range of $3.80 to $3.90 per share. The current consensus is above the high end of that range at $3.95 (high estimate on the Street is $4.20).
Revenues: In its prior release, Priceline indicated it expects 1Q 2012 revenue increasing 22% to 27% year over year ($809.32 mln). That would equate to about $987.47 mln to $1.028 bln. The estimate is $1.04 bln.
Adjusted Earnings Per Share Guidance (2Q 2012): The forward outlook is critical for Priceline.
Given the recent run-up in Priceline shares, look for Non-GAAP EPS and revenues to come in toward the high end of forecasts. Also note that guidance typically drives the price action in the shares after the results are released.
Sympathy Plays: Expedia (EXPE), Travelzoo (TZOO), TripAdvisor Inc. (TRIP), & Orbitz Worldwide (OWW).
Recent News
· 05/07: JP Morgan raised its price target on Priceline from $730 to $810, according to a post on Benzinga.com. The firm cited an upbeat outlook for the travel industry and favorable trends. Booking.com continues to gain market share in Europe, while the organization is also making strides in the Asia Pacific region and Latin America.
· 05/07: Barclay's maintained an Overweight rating on Priceline with a price target of $800, according to a post on StreetInsider.com. The firm cited share gains in Asia and Latin America, solid execution at Booking.com, and favorable travel trends in Europe and North America.
· 03/22: Piper Jaffray believes Priceline shares could hit $1,000 over a 24-month period, according to a report on Barrons.com. The firm noted that international bookings account for 78% of Priceline's businesses and that only around 40% of travel is booked online in Europe and less than 20% in emerging markets (citing PhoCusWright), reflecting Priceline's growth potential.
· 03/06: Priceline announced its intention to offer up to $875 million principal amount of Convertible Senior Notes. The company plans to use the proceeds for the repurchase of up to $200 million of common stock.
Technical Review
Priceline shares are off the recent all-time high near $775, capping a potentially bearish "Double-Top" formation. The shares are now sitting on support at the 20-Day SMA near $735. Should earnings fail to meet lofty expectations, Priceline faces downside risk to $700 - just above the 50-Day SMA, followed by $675. Should results surprise to the upside, look for resistance at $750, followed by the recent highs near $775. With the shares up 57.7% YTD, however, upside may be limited at these levels. (Chart courtesy of StockCharts.com)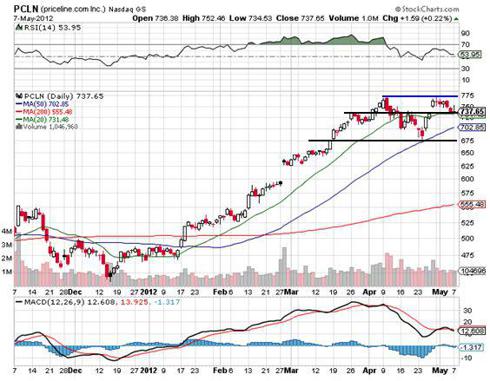 Summary
Priceline is up 60% YTD, benefiting from favorable travel trends in North America & Europe, increased market share for Booking.com, and expansion in emerging markets, particularly Asia-Pacific and Latin America. Recently upbeat numbers from Expedia also bodes well for Priceline headed into the 1Q 2012 results. Technically, however, the shares appear to have established resistance in the $750/$775 area, meaning Priceline must deliver results above the high end of consensus estimates to push above this range. At 35.7x trailing earnings, Priceline is also trading at a premium to its peers, while facing modest forex headwinds and remaining dependent on Europe for growth. With that being said, Priceline is vulnerable to even the slightest misstep.
Disclaimer: By using this report, you acknowledge that Selerity, Inc. is in no way liable for losses or gains arising out of commentary, analysis, and or data in this report. Your investment decisions and recommendations are made entirely at your discretion. Selerity does not own securities in companies that they write about, is not an investment adviser, and the content contained herein is not an endorsement to buy or sell any securities. No content published as part of this report constitutes a recommendation that any particular investment, security, portfolio of securities, transaction or investment strategy is suitable for any specific person.
Disclosure: I have no positions in any stocks mentioned, and no plans to initiate any positions within the next 72 hours.