The broader market has held up well in April, despite less-than-encouraging news.
Stocks shrugged off a spike in Spanish and Italian government bond yields, weakness in some U.S. economic data and increased political uncertainty ahead of the French and U.S. elections.
But there's been good news as well. U.S. retail gasoline prices, while still high, are actually flat to slightly lower on a year-over-year basis. (See "What It Costs to Fill 'Er Up.") U.S. oil demand recently ticked higher, a sign that Americans are growing accustomed to high gasoline prices.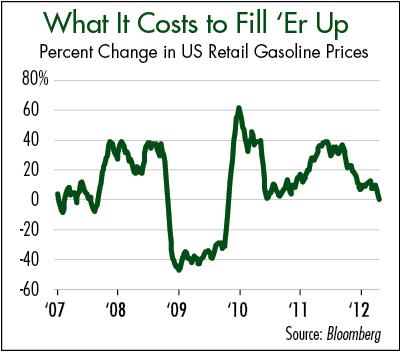 I'm still looking for a deeper correction in the broader markets as summer approaches, with the S&P 500 falling 5 percent to 10 percent from springtime highs.
To insulate your portfolio, focus on safe-haven groups such as consumer staples and health care.
Weatherford International's (NYSE:WFT) first-quarter results fell slightly short of Wall Street expectations, but there was enough good news in the report to prompt a rally in the stock in the days following the release.
North American profit margins weakened across the oil services business, primarily because of a decline in margins in well stimulation, a business line that includes hydraulic fracturing services. Fracturing is crucial in the production of oil and natural gas from unconventional fields such as the Bakken Shale of North Dakota and the Marcellus Shale in Appalachia. (For more on hydraulic fracturing and shale, see my free report, Profits in the Shale Gas Revolution).
Depressed natural gas prices have slowed drilling activity in gas fields, though oil-directed drilling activity remains ultra-strong. In addition, the services industry overbuilt pressure-pumping capacity in recent years, leading to an oversupply of equipment.
Weatherford International is relatively insulated from these issues, because its North American business is heavily leveraged toward artificial lift, a product category that boosts oil production from mature fields.
Meanwhile, the company's international business is finally seeing a real turn in profitability. Several contracts the company signed in the weak commodity price environment of a few years ago expire by the second half of this year, and management expects to sign new contracts that carry higher margins.
Disclosure: I am long WFT.