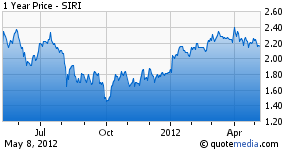 Well it was bound to happen sooner or later and investors finally received the news. Liberty Media (LMCA) has entered into a forward purchase agreement to purchase additional shares in Sirius XM Satellite Radio (NASDAQ:SIRI). Liberty Media announced today it has entered into an agreement that when settled will net an additional 302 million shares of Sirius XM and raise its percentage of ownership to approximately 45.2%. The purchase price will be $2.15 per share, just below current trading levels.
While I have had critics that have said such a deal was not possible, today's news points to the very real possibility of just such an event happening. A forward purchase agreement is something that many analysts and myself have been writing about for weeks now.
For quite some time many investors in Sirius XM have been looking for a premium when Liberty makes its move. Some investors have been expecting a pop to about $3 per share, while many analysts as well as myself saw $2.50 as a real possibility. I have been much more conservative than most investors and even as of yesterday wrote that I could see where Liberty could obtain shares at a price point as low as $2.35. While I probably had the lowest strike price published, Liberty will still see a significant discount to even my estimates.
For Sirius XM investors this news is likely bittersweet. It is great to finally see the Liberty situation addressed in some way, but the price point has to be a disappointment. Certainly the fact that 302 million shares will change hands in Q3 of 2012 will establish a price point precedent somewhere along the way that may be substantially lower than most would like to see. Of course, Liberty will still be 6 percentage points away from de jure control, so that does leave room for more transactions or perhaps even a tender offer of some sort for everyone to consider.
Now more than ever it is important for investors to watch Liberty Media.
Disclosure: I am long SIRI.
Additional disclosure: I have no position in LMCA.