Chipotle Mexican Grill (NYSE:CMG) has provided rapid share price appreciation for momentum traders, but there is significant near-term downward pressure on the stock.
Valuation:
High growth companies deserve a higher P/E ratio than competitors, but how much higher? A simple way to analyze if the market is appropriately valuing a high growth stock is with the Growth Duration Model. This model details how many years the high growth company would have to maintain its high growth to justify the P/E premium it trades at compared to its peers.

For Chipotle to be a fair value relative to its four peers above, it would have to sustain its current long-term growth rate of 22.4% for 15.8 years before slowing down to the growth rate of its peers. The probability that Chipotle will be able to maintain such a high rate of growth for almost 16 years is unlikely.
Another commonly used valuation metric is the PEG ratio, which is a stock's P/E ratio divided by its growth rate. With a PEG ratio of 2.5, Chipotle is significantly more expensive than any of its competitors. McDonald's (NYSE:MCD), Darden (NYSE:DRI) and Yum Brands (NYSE:YUM) all fall within the fairly valued range, while Panera Bread (NASDAQ:PNRA) has an overvalued reading. Only Chipotle has a high enough PEG ratio to justify an extremely overvalued reading.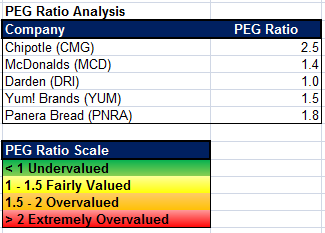 The market cap per restaurant table shows each Chipotle restaurant being valued at over three times its closest competitor, Darden, whose restaurants are much larger and more expensive to build than Chipotle's.

Chipotle's stock pays investors almost nothing in FCF yield, which is only 2%, the same rate investors receive on a 10-year treasury bond, but with more risk.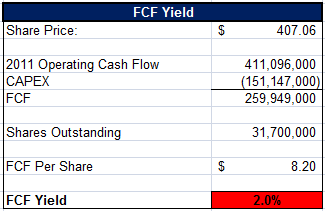 Catalysts:
Technically, shares are breaking down with the stock price below the 20 and 50 day moving-average, neither of which have been broken since 2011.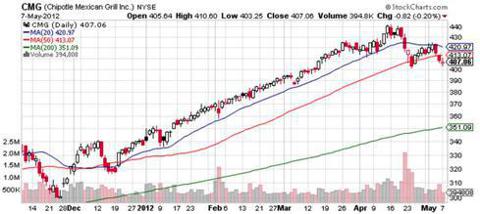 Insiders and institutions have been selling a significant amount of shares, which should weigh heavily on the share price.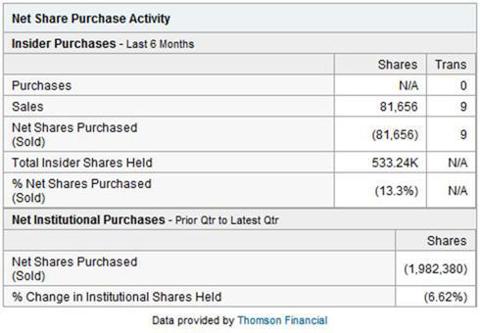 Other Issues:
Although Chipotle reported strong Q1 earnings on April 19th, the stock was unable to rally.
YOY comps will be difficult to beat.
Food inflation is a significant problem for restaurant stocks.
The bar is so high that the slightest weakness could cause a significant drop in share price.
The broad market is showing signs of fatigue, with Europe posing a constant threat to the market.
How To Trade a Drop in Chipotle's Share Price:
The best way to capitalize on a drop in Chipotle's share price, while limiting exposure, is by buying a bear put spread. With a bear put spread risk is defined, but investors have the opportunity to make multiple times their upfront investment. To further manage risk, cautious investors should consider closing out their put spread if Chipotle is able to rise and hold above the 20 day moving average, which is currently at $421.
Disclosure: I am short CMG.
Additional disclosure: I am long a CMG bear put spread.