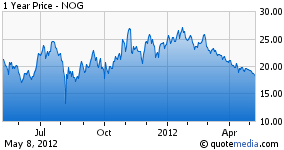 Last week we talked about how the depressed share price of Northern Oil & Gas (NYSEMKT:NOG), along with the value of their underlying assets, oil & gas production and impressive growth, made NOG "The Bargain of the Bakken" and compared their metrics and valuation to that of Oasis Petroleum (NYSE:OAS). I believe Northern's first quarter earnings report Monday only serves to confirm and underline that view. Their asset value and very impressive organic growth makes Northern my preferred choice among all the Bakken centric producers including Continental Resources (NYSE:CLR), Oasis Petroleum , Kodiak (NYSE:KOG) and Triangle (NYSEMKT:TPLM). This is not to say these are not all fine companies, I believe they all are; but I also believe Northern gives investors the most value and best growth for their investment dollars. Since Kodiak also reported their Q1 2012 results on the same day, let's look at a comparison.
For the first quarter of 2012, Northern had production growth of 117% over a year ago and +21% versus the previous quarter. They completed 13.9 net wells during the first quarter and had 16.5 additional wells awaiting completion at quarter end. As of 3/31/12 Northern had 71.8 total net developed wells and controlled 173,000 net acres. Average daily production was 8,517 boepd. Northern's enterprise value is $1.35 billion.
Kodiak reported stunning growth for Q1 2012 with year over year production growth of 449% and average daily production of 10,578 boepd. Growth was aided, however, by 2 relatively large acquisitions that caused the issuance of stock and debt, and resulted in Kodiak's current enterprise value of $3.11 billion. During the first quarter, Kodiak completed only 8.0 net wells and had 12.6 net wells awaiting completion at quarter end. Kodiak has 65.9 net developed wells at 4/30/12 and controls 157,000 net acres.
While you have to be impressed by Kodiak's 449% year over year growth and average daily production of 10,578 boepd, it came at quite a price given their current enterprise value of $3.11 billion. Kodiak has about 2.3 times the enterprise value of Northern, but has just 124% the average daily production and 92% as many developed wells. You also have to wonder about growth going forward since Kodiak completed only 58% as many wells as Northern in Q1 2012, had 76% as many wells awaiting completion and controlled only 91% as much acreage.
In sum, with Kodiak you're paying about 130% more to get only 24% more production, fewer developed wells and less net acreage. It will be very interesting to see Kodiak's growth rate for the rest of the year, given fewer wells completed in Q1 2012 and fewer wells awaiting completion. Granted, not all wells or acreage are created equal, but given Northern's impressive organic growth in wells completed, wells awaiting completion and total production, it's hard to argue that their acreage isn't in the "sweet spot" of the Bakken.
Again, Kodiak is an excellent company with impressive growth, but for my money, I believe Northern represents much better value and upside.
Disclosure: I am long NOG.