Contrarian investors live for the moments when the Wall Street herd becomes homogeneously euphoric or pessimistic. With everyone betting on the same outcome, the market prices these situations for perfection with no "margin of safety" should the dominant view prove to be incorrect. It is precisely these situations that provide incredibly attractive risk/reward opportunities for the independent thinker that can predict when the herd is wrong.
Diamond Foods (NASDAQ:DMND) is a stock that has gone through a rough patch; however, the underlying business continues to be attractive and growing despite the extreme level of pessimism displayed in the stock market. Looking at the price chart you would think Diamond was selling "Herman Cain In 2012" t-shirts, when in reality its brands continue to register strong growth and take market share. Diamond provided a business update in March that showed all of its brands growing year over year, with Emerald registering 29%-plus growth -- yet the stock is at a multiyear low. This situation is one of those unusual instances where the price of the stock meaningfully divorces itself from the underlying business fundamentals.
Company Overview
Diamond Foods is a packaged food company with brands that include Emerald snack nuts, Kettle chips, Pop Secret popcorn, and Diamond of California nuts. The products are distributed into a wide range of stores where snacks are sold. 75% of sales occur at grocery stores, 11% at mass merchants, 9% at wholesale clubs, and 5% other. Diamond primarily sells into domestic markets with 79% of sales in North America, 16% in Western Europe, and 5% in Other.
The company has been on a robust growth trajectory over the past several years including during the Great Recession. Diamond has grown through acquisitions, namely Kettle Chips (March 2010) and Pop Secret (September 2008) and has evolved into a packaged food roll-up story. The strategy is to buy premium brands and then increase manufacturing capacity and improve distribution to get product into more locations. The opportunity for the company is to make the Emerald, Pop Secret, and Kettle pie charts look like the Diamond chart.
Click to enlarge image.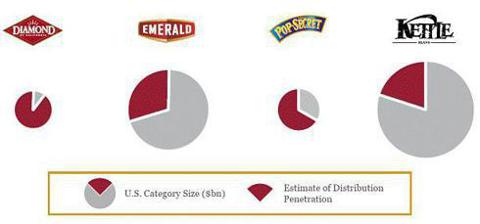 Diamond Foods is also expanding into breakfast snacks (trail mix), healthy snacks (natural, portion control, and reduced-fat options), tortilla chips, and sweet snacks (flavored almonds) that will drive further growth. The snack nuts category has been in a secular growth phase for the past several years as more consumers embrace nuts as a healthier snacking alternative. International demand from China and Hong Kong is also a growth driver for snack nuts.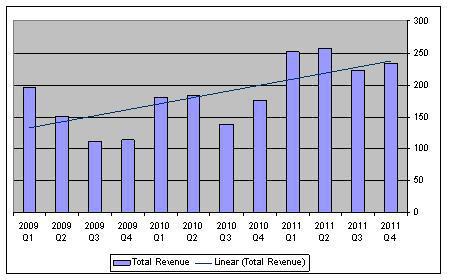 The premium packaged foods industry is an attractive industry with relatively high and defensible profit margins due to brand power. Foreign competition is limited and threat of obsolescence is nonexistent. The industry is also relatively insulated from the macro economic cycle. Diamond has the opportunity to expand profit margins once the various brands complete their expansion roll-out phases. (Note: The chart assumes restated earnings.)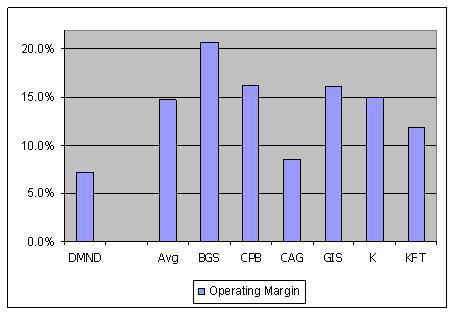 Why is the stock at a multi-year low?
The SEC and DOJ are investigating Diamond over payments made to walnut growers. Diamond has also embarked on its own internal audit and identified material weaknesses in the internal controls over financial reporting. Diamond believes FY 2010 and 2011 financial statements need to be restated by $20 million and $40 million, respectively, due to the timing and accounting treatment of certain payments to walnut growers. As a result of the audit committee findings, both the CEO and CFO were removed and the board of directors named a temporary CEO and CFO as it looks to find a permanent replacement. The audit committee findings resulted in Procter & Gamble (NYSE:PG) terminating the sale of Pringles to Diamond. A lot of investors were excited about the prospects for the combined company, and it was this deal that drove the stock from $60 to $90.
Diamond is also likely to be in violation of its debt covenants for a material lack of financial controls and in violation of debt/EBITDA (must be < 4.25 times) after adjusting for the $40 million payment in 2011. Diamond secured a covenant forbearance agreement with its lending group in late March. The forbearance agreement allows Diamond to have continued access to the revolving credit facility and suspends any loan foreclosure activity until June 18, 2012. The loans do not mature until February 2015, so this is covenant compliance issue and not a refinancing issue. As of March 12, Diamond had approximately $90 million of available borrowing capacity on this line.
Investment Thesis
With the stock trading at a multiyear low, there are obviously a lot of "tensions." The biggest risk is how Diamond addresses the balance sheet improvement that is needed by June 18 per the forbearance agreement. Quick math suggests that Diamond needs a plan to raise approximately $100 million by mid-June. I think the market is pricing in nearly a 100% probability of a very dilutive equity offering; however, this level of pessimism seems overdone. Short interest for the stock is over 60% of the float and there are reports that share-locates are failing for new shorts. In addition, there are reports that short sellers are paying over 25% to borrow shares in order to keep their short positions on.
Despite this lopsided bearish sentiment, it is not a foregone conclusion that Diamond will issue extremely dilutive equity. The recent Pringles deal shows the immense value of branded food businesses, and Diamond has several assets it could monetize. The sell-side estimates the Kettle business alone is worth $800 million-plus, which would be more than enough to pay off all of the debt (approximately $600 million). Diamond could also look to monetize the Pop Secret business or the walnuts business; both of these segments are likely worth $200 million each, which would be enough to put the covenant issues to bed. Another option would be for Diamond to raise subordinated debt in conjunction with its lending group, relaxing the net debt/EBITDA covenant. There are also rumors floating around that KKR might be interested in taking a minority interest in the company, which could potentially be structured as a mix of equity and debt.
Even if Diamond does go the route of a straight equity raise, I think it is reasonable to assume it would be able sell shares at a decent price that is not overly dilutive to shareholders given the health and growth of the business. If we look back to the last time Diamond issued equity (March 2010, issued at $37 per share), we see it sold shares at a -4.5% discount to the prevailing stock price, which shows the company's commitment to not pricing deals at a huge discount. Furthermore, interim CEO Richard Wolford was recently granted stock options with a $21.20 strike price, which incentivizes him to protect the stock price.
I think it is reasonable to assume an equity deal could get done at $20 per share, so the downside from here is $1.28. However, once this issue is resolved I see fair value for the stock at $30, which demonstrates the asymmetric return potential. The bearish herd has effectively offered up odds of nearly 7:1 upside/downside, which is extremely compelling given the fundamental health of Diamond Foods.
Diamond is embarking on what promises to be a very eventful several weeks, which should have numerous catalysts to re-rate the stock. The most important catalyst will be the release of the restated earnings. Current financial results will address the Nasdaq noncompliance notice and will allow Diamond to provide FY 2012 guidance, which the market is clearly hungry for. I expect the restated earnings to be released by June 11. The second most important catalyst is for Diamond to address the balance sheet (net debt covenant). As I discussed above, I think Diamond has the capacity to surprise to the upside with how it chooses to repair the balance sheet. Other potential catalysts are the appointment of a permanent CEO and CFO, and the conclusion of the DOJ/SEC investigation.
From a trading perspective, the stock has a very large short interest, which could potentially result in a squeeze should some of these positive catalysts develop. The sell side is also bearish on Diamond, which could provide fuel for the stock as sentiment improves. It is worth noting that someone put on a very large position of the June $29 call options last Friday. As we approach the mid-June deadline I see a high likelihood for some sort of short squeeze, with the potential for a much larger one once the path forward is clear.
Risks
The restated financial statements show greater accounting discrepancies than what has already been disclosed. Diamond appointed two new independent members to the board of directors in March. Both members are joining the audit committee and come from respectable backgrounds (Nigel Rees, controller of McKesson, and Alison Davis, former CFO of Barclays Global Investors). It's tough to imagine these people entering into a hopeless situation.
Another possible risk: if Diamond is forced to raise equity at a significant discount to the current stock price.
Disclosure: I am long DMND.