The harnessing of solar energy for the power generation industry is in both the embryonic and growth stages. The transition is marked by reduced costs, improving profitability and rapidly increasing demand. The industry was relatively high risk (embryonic stage) in the late 2000s and valuations have since declined substantially.
A major contributing factor to the decline in valuation of clean energy firms is indecisive fiscal policy. The U.S. government is hurting the industry's ability to compete and turn U.S.-led innovation into manufacturing, deployment and export opportunities. In addition, Europe, the largest solar market, is cutting subsidies. Subsidies in Europe are shifting from open field to roof top, which favors SunPower's panels (NASDAQ:SPWR).
SunPower sales increased in every year since 2007. Although, the recent pace of sales growth has slowed. In the fourth quarter of 2011 sales fell roughly 40 percent compared with the year-ago quarter. In the first-quarter revenue increased a reported 9 percent, however, the loss was bigger than a year before.
For 2011, SunPower reported a loss of $603 million. The firm has $700 million in cash remaining. Book value-share declined in 2011.
First Solar's (NASDAQ:FSLR) revenue growth slowed to near zero in 2011. In the current reported quarter revenue growth declined compared to the year-ago quarter. However, the firm raised EPS and operating cash flow projections for the current year.
That being said, First Solar is a company moving toward bankruptcy. The firm has $663 million in cash and reported a first quarter loss of $450 million, according to the firm's first quarter financial statements. The company won't meet this years EPS estimates or next year's. The competitive environment and supply-demand balance will work against them.
First Solar's value on a price-sales & price-book value basis is declining as revenue-share and book value-share has declined.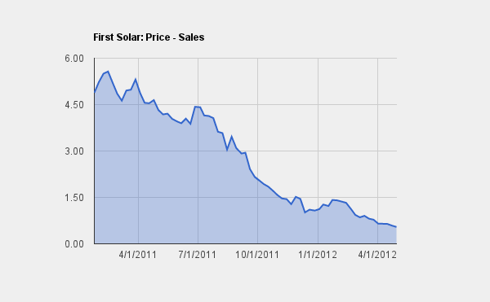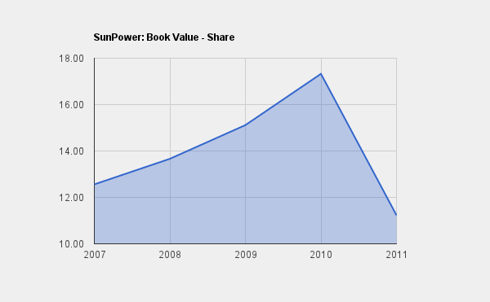 While the solar power industry has a bright future, that is exactly what it is, a future. It isn't the present. First Solar & SunPower got the timing wrong. In 10-20 years the solar energy industry will be the industry to invest in.
Right now, consumers aren't taking enough pain paying the electric bill. As unemployment declines and capacity utilization increases there will be inflation; energy prices will increase. As energy prices increase faster than wages grow consumers will be more willing and able to purchase solar panels. We are several years away from the shift, unemployment is declining gradually, thus, inflation is years away.
Additionally, the solar power clean energy industry is dependent on government subsidies. While there may be long-term value in the industry, there are short-term road blocks in the path of unlocking value. Professional traders should look into short-selling solar power shares.
Disclosure: I have no positions in any stocks mentioned, and no plans to initiate any positions within the next 72 hours.