We now have access to more information in the last three decades than has been accessible in the previous 5000 years. In some areas of the developed world there are more televisions than households. The internet has become our main source of information. Smartphones allow us access to all forms of mass media and information anytime and anyplace we want. Clearly we are bombarded by information and messages, though few are relevant. We filter messages effectively, though often we lack engagement. Smartphones integrate mass media with the ability to pay in an instant. The next big move in smartphones will be further integration, in an attempt to grow Mobile Commerce (M-Commerce).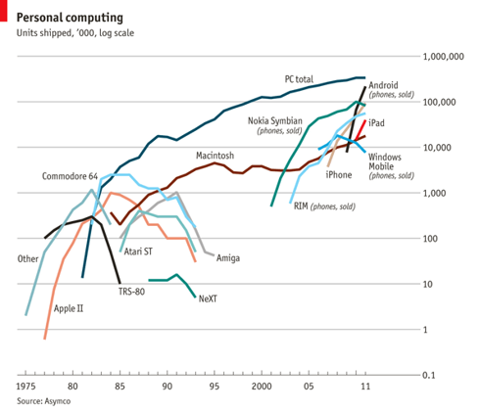 We are now about five years into the rise of smartphones. They've been with us longer than that, but arguably Apple's iPhone ushered in an explosion of growth and demand amongst consumers for what was once a business tool. According to Gartner Group and IDC studies, smartphone growth should move forward at 15% to 18% annually through 2015 or 2016, and then level off. Recent reports from Apple (NASDAQ:AAPL), Samsung (OTC:SSNLF), and carriers in North America, suggests that growth will now move more towards emerging markets. There appears to be a slowdown in growth in the U.S. smartphone market to barely 5% though a roll-out of 4G might provide increased sales in 2013 or 2014. This could be the trend over the next few years, due to nearly 46% market saturation, high smartphone monthly fees, two year contracts, or people waiting for greater 4G system implementation.
Note: Other than Pink Sheets, it is possible to invest in Samsung through the iShares MSCI South Korea Index Fund (NYSEARCA:EWY) which currently shows just over one fifth of their holdings in Samsung Electronics.
According to Royal Pingdom and ITC there are currently 6 billion mobile phones in use world-wide, though only a small fraction of those are smartphones. About 6 out of 10 adults in the U.S. go on-line wirelessly, though the choice of device used is shifting slightly. Nearly every adult in the U.S. has a mobile phone, so it makes sense that more will switch to smartphones in the future.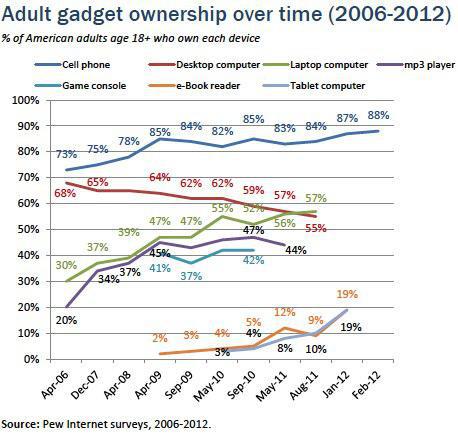 What is even more interesting is what we are doing on-line. According to Pew Research about 90% of us are sending or reading e-mail, 88% of us are using a search engine, 86% of us are looking at a map or driving directions, 83% are researching medical information, 76% of us are checking the weather, 75% of us are buying something, 72% of us are reading the news, and around 57% of us are doing our banking. This suggests that mobile commerce is becoming increasingly important, with some room still to grow. In the U.S. in 2009 mobile commerce represented about $600 million and grew to $2 billion by 2010.
The form factor of smartphones has been largely dictated by the Apple iPhone, basically a slab screen with a virtual keyboard. Materials and screen sizes may vary, screen resolutions are likely to increase to near 300dpi or more, some phones will have removable batteries, and all smartphones will have at least one camera with video capability. One of the biggest new trends is video chatting, which will dictate a front facing camera as a must have item on future smartphones. Image and video sharing capabilities will continue to pressure sales in compact camera markets. Voice interaction and voice navigation will become increasingly popular, replacing some touch and gesture based actions. We should also expect more use of Near Field Communications, or NFC, in future smartphones, partially for payment ease, but also for syncing, sharing and interaction. Eventually NFC technology may replace Bluetooth in some smartphones, if accessory makers embrace the protocol. Interactive cameras or live view capability are very likely to become more common.
One tool we will see more of will be Augmented Reality, such as Monocle on Yelp, or apps like Golfscape and WikiTude, enabling greater location based data overlays of information in real-time. The only limitations now are a lack of standards for creating and implementing augmented reality. Companies that fail to embrace Augmented Reality in some form will increasingly lose out in the market.
Given the run-up in sales volume of the Apple iPhone, some might wonder if Apple will be able to continue innovating. We can expect a larger screen and 4G capability, though beyond that we will need to wait until the World Wide Developer Conference in June to get a look at iOS 6. There has been some speculation of an all glass or ceramic iPhone 5, or perhaps a liquid metal housing, but these would be more design changes than innovation. Future iPhone versions will not make nor break Apple, but company revenue growth is heavily reliant upon continued iPhone sales increases. Apple will become more dependent upon smartphone growth in China. Availability of apps are likely to attract some new users, though it is slightly worrying that most app developers are having trouble monetizing their apps.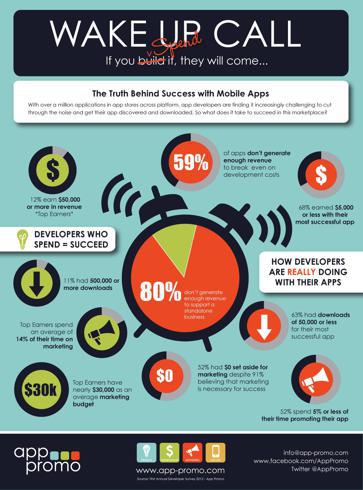 We can reasonably expect monetization troubles for app developers for Google (NASDAQ:GOOG) Android, and the upcoming Microsoft (NASDAQ:MSFT) Windows 8 and RiM's (RIMM) BlackBerry 10. Trends at Apple with apps should point the direction for other platforms, with gaming leading the way. The desire for exclusive apps or exclusive content might drive some interesting company acquisitions in the future. Windows Phone continues to struggle in attracting app developers, though they seem to be slightly ahead of BlackBerry App World. Eventually HTML5 leveraged content will become more important on future smartphones, with a great example of the recent move by the Financial Times to optimize content for smartphones, forgoing their iOS app, but that transition at other content providers is likely to be slow. In the next two years apps will remain the dominant choice for consuming mass media on smartphones.
Recently Research In Motion previewed their next BlackBerry operating system, called BB10, at BlackBerry World. To lure developers RiM will give them a $10000 incentive to launch certified apps for BB10. Given the difficulty of monetizing apps, this may attract some developers. The Verge has a video report on the upcoming BB10 keyboard, a camera operating a bit like the new Nikon 1 system Smart Photo selector, multi-tasking features, video chat, and wireless video streaming. One interesting innovation for BlackBerry is layering multi-tasking as shown in this video. It remains to be seen how many users will want to multi-task on their smartphones, or if the current one-app-at-a-time preference will continue to dominate. We can see this in the admission from the company that a BlackBerry is not for everyone, and that they are not trying to compete with Apple. If the developer alpha BB10 smartphone is any indication, it appears that the final release phone will have a 1280 by 720 high resolution screen about 4.2" diagonal, with front and rear facing cameras, but not much idea of a final hardware design style.
LG Display (NYSE:LPL) could have an advantage in manufacturing, though so far tablets are 5% of their product mix, and smartphones are 12%, meaning that their future success is not heavily dependent upon smartphones. What they lack so far is brand recognition, despite a marketing push to showcase their products. They are expecting some pick-up through the 2012 Olympics due to heavy promotion, but I expect them to remain one of the smaller players in the smartphone market. It's important to point them out, because some investors imply that they expect only Samsung and Apple to control the market, or at the very least be the only profitable choices. If that situation does play out over the next few years, you would likely see LG be the first company to leave, though they may continue making parts for other companies. Personally I expect them to stick around, along with numerous other companies.
Motorola (NYSE:MMI) looks to be in trouble in this sector, despite the take-over by Google . They have a strong recognizable brand, yet they struggled to generate profits with their move to Android. Google largely seem to want the patents over the brand, which suggests that they may give up smartphones in the future. Much like LG, I would look for a halt of Motorola smartphone production in a few years to be a signal that profits in the smartphone sector have become illusive. Again, I don't expect them to disappear, but it would not surprise me. Google's push to litigate with Motorola's patents appears to have hit a snag, as a U.S. District Judge made a ruling that could change the structure of future smartphone technology litigation.
Nokia (NYSE:NOK) seem to be the first smartphone maker in serious trouble. After S&P cut their credit rating to junk level, the company tried to defend their recent change to Windows Phone. I admit I was impressed with the Lumia 900 when I checked it out, though that is more a testament to the prowess of Microsoft than Nokia. The hardware has a neat design, though seems a bit behind the curve. Nokia will need to upgrade the screen resolution, and very likely slim their future Windows 8 Lumia. Despite the prominent brand and history, Nokia offer little different than Samsung, who are also producing a Windows 8 phone. They may get some traction leveraging their relationship with Zeiss and produce a compelling camera, though I don't think that will be unique enough to attract many future customers. Microsoft has invested in Nokia directly, and the phones are heavily promoted in the Microsoft Store, but I think it's a tough sell for many consumers. If they manage half the sales volume of BlackBerry phones over the next few years, I will be surprised. Nokia need large sales volume gains to convince investors they can survive and then thrive in smartphones.
Samsung has been the surprise growth story in the smartphone market, having recently surpassed Apple in smartphone sales volume, and surpassed Nokia in overall phone shipments. They are a giant company not heavily dependent upon smartphones, and their manufacturing capabilities are difficult for other companies to match, especially that they make components for many of their competitors. I expect Samsung Electronics to continue to be the largest success story in smartphones, mostly on the basis of the range of products they can offer, and partially on their quality and well respected brand. A great example of this is the 5" screen size on their Galaxy Note with a sales volume of 5 million, selling well despite being heavily criticized as being too large, some writers even calling it the "Phablet". Samsung previewed an upcoming Galaxy S III smartphone with a 4.8" diagonal screen and a proprietary overlay to their Android software, including a voice command feature dubbed S Voice. While I expect future smartphones to fall within a 4" to 4.5" screen size, Samsung are likely to continue to see large sales volumes on their big screen phones. They have become the growth success in the smartphone market over the last couple quarters and are likely to maintain that position in the near term. The moves to watch here are whether Samsung increases their involvement in Windows Phone, and how much they push their more proprietary Bada software, and exclusivity in Android based Samsung Apps. Eventually a shift to more HTML5 based content would favor Samsung, but content developers and content production tools will need to change to reduce development expenses.
Microsoft would seem to have the toughest job growing in the smartphone market. We can see a few different ideas in Windows 8 emerging, with an emphasis on multi-tasking, and a move away from fields of icons strewn about the desktop. Many smartphone users are now use to icons, which are not really too far removed from the desktop or laptop experience. The next version of BlackBerry phone technology, BB10, is a bit of a hybrid system, with some app centric user interface, and some panes (or tiles) for actively updated apps. The home screen of BB10 seems a bit like Windows Phone, though Windows Phone extends the user interface across all apps. Both approaches seem targeted towards end users who desire to more heavily control, organize, and manage their content. If Apple moves towards some of this functionality, or embraces more effective multi-tasking with iOS 6 (or a later variation), then these strategies may prove to have been the right direction. Timing is also important, in that users may not be ready for such a shift. I personally like the ideas behind Windows 8 and BB10 with their promise of content management and multi-tasking, but I think most consumers will want the simplicity of fields of icons.
Based upon several research reports, I expect Android to maintain a 45% to 50% share of the smartphone market in a few years, due to a wide range of smartphone choices available to end users, with Samsung leading that group, and HTC of Taiwan and ZTE carving a significant market share in Asia. I think Apple's later iPhones will continue to capture at least a fourth of the overall market, though projections range from 17% to 20% of the overall world-wide market, based mostly upon a high average selling price and a focus on the high end of the market. Windows Phone is expected to capture 15% to 18% and Samsung Bada around 8%. BlackBerry projections range from 5% to 14% world-wide, though to add some perspective even 1% of the future smartphone market implies a greater sales volume than they had in 2011. It helps to look at where we are now, care of this chart from IDC. Depending upon research group, we have projections through 2014 to 2016 of reaching a top of the smartphone sales volume. Using one set of research from Sinergyst we might expect a billion smartphones sold world-wide in 2015. Credit Suisse analysts expect a billion smartphone sales by 2014. China will become the primary growth market quickly as the U.S. and European markets mature sooner.
Disclosure: I am long RIMM.
Additional disclosure: I may initiate a long position in MSFT this summer.