Online shopping has plenty of perks: instantaneous price comparisons, customer reviews on everything from HDTVs to milk; communities focused entirely on finding deals. Ironically one of greatest benefits of online shopping - the ability to avoid crowds - has managed to take a lot of the holiday cheer out of recent Amazon (AMZN) promotions.
For the last two years Amazon.com built a "Customer Vote" promotion allowing registered Amazon.com users to vote for enticing offers, and offered limited quantities of the winning deal. Last year, a horde of deal hunters pounded a $100 Xbox 360 page until the entire site crashed. Learning from this, the 2007 Customer Vote promotion was more "democratic". Instead of offering the winning deal on a first-come-first-serve basis, Amazon randomly selected winners from the pool of voters, and forced those participants to check the site on 6 consecutive days to see if they were eligible for any round of deals.
And here is where crowds could have been an incredible help…by setting realistic expectations.
Just like the Xbox fiasco last year, Amazon Customer Vote 2007 participants had no clue what the competition looked like. And this year, amazingly, over 1.3 million people visited the Amazon Customer Vote promotion in November. Certainly not all of these visitors participated, but for the sake of argument, let's say they did, and they all voted on every item. The table below shows the promotion items for all 6 rounds, and the likelihood of winning each item.

The odds of being able to pick up that $400 Laptop or HDTV were both over 1 in 3000. For context, that's around the same likelihood of hitting 21 in a game of Blackjack…four times in a row.
Without knowing these odds, it was extremely easy for participants to drastically overestimate their likelihood of success, and inevitably set themselves up for disappointment. The Customer Vote Forum conversations suggest this was a widespread phenomenon. Being able to physically see the volume of other "voters" would have allowed these people to adjust their expectations accordingly.
So, what did Amazon get out of all this, besides the joy of sticking it to 1.3 million people, selling a bunch of inventory below cost, and getting to write fantastic thank you letters? Apparently incremental shopping.
While the average visitor to Amazon browsed about 13 pages per day during the promotional period, Amazon Customer Voters went through about 68% more pages, far more than necessary to interact exclusively with the Customer Vote section. The chart below compares this shopping behavior from the 16th through the 30th of November. It's interesting to note how Customer Voters behaved throughout the period, and even more so on days where promotion items weren't available.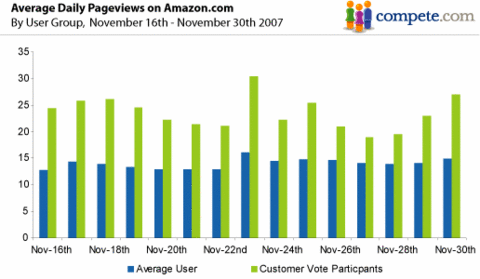 Amazon does a lot of things right, and I would assume that the Customer Vote promotions makes sense from a business prospective. But certain elements of this year's promotion have the potential to make (increasingly web-savvy) customers realize who really benefits from this type of promotion. The fact that users had to physically check the site, given Amazon's level of sophistication, is an obvious attempt to drive repeat usage. Given the odds of a participant actually capitalizing on the promotion, its only a few lines of AJAX away from a "WIN A FREE iPHONE" email, at least from a customer value perspective.