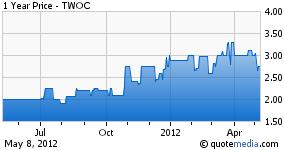 Trans World Corporation (OTCPK:TWOC), an operator of gaming and hotel operations in Europe, may not be as large as MGM Resorts International (NYSE:MGM) or Las Vegas Sands (NYSE:LVS), but it may be worth a second look for investors. Despite its niche properties and aggressive growth, the company's stock trades at a discount to its intrinsic value and growth potential.
Carving Out a Niche in Europe
Trans World operates niche casinos and hotels in strategically located areas throughout Europe that ensure a steady stream of visitors and a beneficial tax status for the company. For instance, the majority of the company's properties are located in the Czech Republic along the German and Austrian border, which offers the best of both worlds to investors.
The company's casinos are also very unique, operating under the brand name American Chance Casinos, or ACC. With themes ranging from New Orleans to Chicago in the roaring 1920s, the casino chain offers a unique experience that isn't found at many nearby casinos and hotels. And this advantage shows in its outperformance of more traditional casinos in the areas it competes.
Aggressive Growth Strategy
Trans World plans to grow its operations in two ways. First, the company has entered the hotel business, which management believes complements its casino operations. With the first of these hotels, Hotel Savannah, already operational, the company is well on its way to aggressively expanding through additional hotels near its other ACC casino properties.
Management has also announced plans to expand its casino and hotel chain by 20 to 30 units during the next five years. Most of these acquisitions are planned in emerging Eastern European nations where opportunities exist for the company's niche product. Combined, these strategies should boost the company's top and bottom line moving forward.
Potentially Undervalued
Trans World may be undervalued on both growth and intrinsic levels. Last quarter, the company's EBITDA from continuing operations rose 27.2%, driven by higher live game hold percentages, slot attendance and room occupancy rates. Meanwhile, the firm trades with a price-earnings ratio of just 8.1x, according to Yahoo Finance.
Meanwhile, the company reported $40.5 million in shareholders' equity on its balance sheet last quarter, according to its 10-Q filing. With a market capitalization of just $23.5 million, and soon-to-be profitable operations (it's divesting an unprofitable casino that signifies its "discontinued operations"), this significantly undervalues the company on an intrinsic level.
Solid Investment Opportunity
Trans World represents a great investment opportunity, given its aggressive growth and undervaluation. Over the past 52 weeks, the stock is already trading up nearly 40%, while a recent dip in the share price could provide an attractive entry point now.
Despite these positive aspects, investors should remember that it trades on the OTC Markets with limited liquidity. Investors may also have to hold the stock over a long time frame in order for its undervaluation to be realized by the larger market. But in the end, this is a stock that investors may want to consider for any value portfolio.
Disclosure: I have no positions in any stocks mentioned, and no plans to initiate any positions within the next 72 hours.