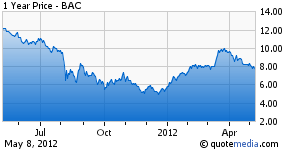 In gold old contrarian fashion, Warren Buffett delivered a lecture on August 25th, 2011, by disclosing a $5 billion investment in beleaguered banking giant Bank of America (NYSE:BAC).
As the sentiment swings from panic buying to panic selling and back again, the most extreme events, investors that are able to detach themselves from such wildly mood swings should be able to capitalize on the concept of mean reversion. Basically, this concepts asserts that any security will revert to a historical, long-term average valuation metric against which the security is measured. This could e.g. be based on a relative valuation approach (average P/E or average P/B) or fundamentals themselves (EPS per share, average ROE ...). I am convinced that neither the current investment climate nor the extraordinary legacy challenges reflect the true earnings power of BAC (or any other financial institution for that matter). Since BAC is good enough for Warren Buffett, BAC should be good enough for other investors as well. I initially bought BAC in 2010 and added to my position throughout 2011 as prices unreasonably declined. BAC faced mortgage-related setbacks that overshadowed the progress the company made in working through its issues. Essentially, BAC is a screaming buy for me (both common stock as well as long-term warrants):
1. Warren Buffettt cast a clear confidence vote in BAC's business model and management leadership by committing $5 billion at a time in which most investors would not even want to look at the company. Given his practical business sense and his success, buying into BAC at depressingly low prices of $5-7 dollars are a no-brainer.
2. Legacy issues, namely bad loans made at Countrywide, are significant. No use in denying that. The investor, however, can chose whether he sees these temporary issues as a problem or an opportunity. The company went to great length in solving those issues with loan modifications, settlements, and ultimately, charge-offs and foreclosures.
3. There is an unreal amount of concentration on bad news than on good news. In fact, the media coverage is overwhelmingly negative and destructive about BAC and its prospects. Lets not forget that BAC is one of the biggest financial institutions in the world. There will be no US financial system without BAC. Negative coverage drives stock prices down as shaky investors are influenced by emotions, not facts. An opportunity for value investors.
4. I predict that BAC can earn $2 per share in 2015. This is not an unreasonable assumption if the economy improves. Depending on the multiple, the company could be worth between $20 or $30.
5. BAC is just plain cheap as so much negativity is priced in the stock. The forward P/E is 7.30 and P/B only 0.4 showing that the market still assumes large balance sheet holes resulting from not yet quantifiable mortgage losses.
Conclusion
The markets view on BAC is way too negative, and the stock price reflects that. Sentiment-driven mispricing makes BAC one of the most hated and most lucrative investments in the financial peer group [Citigroup (NYSE:C), Goldman Sachs (NYSE:GS), Morgan Stanley (NYSE:MS) and JP Morgan (NYSE:JPM)]. Patient investors should do very well with BAC over the next years. Whats good enough for Warren Buffett, is surely good enough for me.