The following report by by Shaun Rein originally appeared in JPMorgan's Hands-On China Series:
As China's economy roars ahead, Chinese consumers are seeking new brands and products to spend their wealth on. However, many marketing executives complain that the task of marketing to Chinese consumers is daunting and fraught with missteps that are dangerously easy to make because consumers are not brand loyal and their tastes and behaviors shift rapidly.
When considering how to tap in to China's growth, companies first need to consider how they want to relate to the Chinese consumer. They then need to answer the key question of how they can target that market effectively and how they want to position their brand to reap long-term benefits.
China Market Research Group [CMR], has conducted over 2500 in-depth interviews in the past year in 7 cities throughout China from 1st tier cities like Beijing in the north to 2nd tier Chengdu in the west. Our findings show that Chinese consumers are brand loyal when companies like Apple or Belle International carve out well their core markets and launch effective marketing communication strategies that taps into their aspirations and needs. In light of our findings, it has become apparent that companies need to be proactive in shaping the markets towards their brands and value propositions rather than being reactive and opportunistic in how to position their brands. Companies need to take a strategic view of how to position themselves and not sacrifice long-term positioning for short-term gains to satisfy quarterly expectations.
Marketing to Chinese is not that different from marketing to consumers in other markets, though many companies fail to plot a firm strategy in China at their own long-term peril.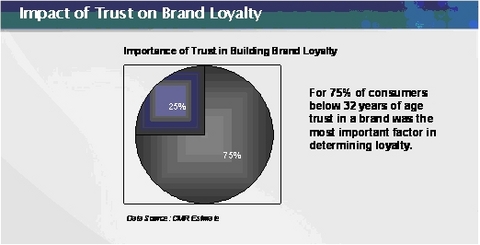 Identifying the Core Market
The first thing that companies entering China need to do is determine how they want to be seen by consumers and how they want core target markets to understand the value of the brand. Do they plan to be seen as a mass market item like a Coke? Do they want to target China's emerging 250 million strong middle class with Li Ning athletic wear? Or do they instead want to focus on a niche like luxury in a country where Chinese consumers buy over $6 billion USD a year of luxury items from companies like Gucci and Louis Vuitton? It is important that companies choose how to position themselves and then continue to reaffirm that positioning. It is difficult to play several roles as witnessed by Buick's experience in China without destroying sales, so companies need to stay true to one strategy.
A few years ago when General Motors (NYSE:GM) revived the Buick brand in China it sought to offer Buicks as cars for senior executives and the elite. Marketers tried to show that China's last emperor, Pu Yi, had a Buick in the 1920s as did former Chinese leaders like Sun Yat-sen and Zhou Enlai. Several models eclipsed Mercedes and BMWs in price and were favored amongst business executives and well-heeled Chinese who wished to remain low profile and fly under the radar. GM went on to sell more Buicks in China than in the U.S., topping 665,000 about five years after the first Buick assembly plant in China opened in the late 1990s.
Today China is the world's second-largest auto market, driven by the emerging middle class wanting to live the dream of owning a car. After buying a home, the vast majority of respondents to our interviews said that buying a car was their "2nd biggest dream" when it came to buying items, followed by a "mobile phone".

To ride this trend towards buying personal automobiles, Buick changed its strategy from selling only premium products like the Lacrosse. They decided to go after the low-end mass-market too, offering cars like the Excelle in the $12,000 USD price range to compete with domestic companies like Chery and Geely as well as low-end models from Volkswagen and Ford.
Initially this strategy seemed sound as sales boomed as they were now able to sell to 2 distinct segments with the same label – the affluent and the middle class. Unfortunately, diluting Buick's image has created an identity crisis for the brand after the initial honeymoon period. No one knows what the Buick logo stands for anymore. Is it still the fine driving machine for the elite or is it now the bastion of the middle classes? Business tycoons no longer want to be seen driving the same car as their secretaries. As one tycoon said to us, "I do not want to drive a car that every 25 year old just out of college can buy. I want to buy the best. Clearly, Buick is no longer the best."
Middle-class buyers feel slighted too and have not had the expectations met because they are receiving a product with quality below their expectations for a luxury brand. As one 27 year old male in Shanghai said, "I bought a Buick for my wife. She was so excited at first. But now, we realize it does not live up to our expectations. We thought we were buying a better, more luxurious car. I will never buy a Buick again."
Market share in the first half of 2007 plummeted, forcing GM to offer heavy discounts to win over price-sensitive customers and revive lagging sales as companies with sharper focus such as Toyota and Ford carved out clear niches in the market. In fact, Toyota has been increasing its prices on its Camry model in China as consumers have clamored for it regardless of price hikes.
Buick will not be saved by offering discounts but by developing a cohesive brand image and targeting one set of core consumers, rather than trying to offer something for everyone.
GM is not the only multinational that has made the mistake of failing to identify its core market.
Motorola made a similar mistake with its mobile phone line. When the Razr was first released in China, it was an instant hit which helped to revive a brand image that in recent years had come to be identified with old people. The sleek design was pivotal in recapturing the coveted youth market in a country with more than 500 million mobile phone users, more than 50% of the world total. Chinese youth change cell phones every 9-12 months, as opposed to consumers in other countries who upgrade every 18-24 months.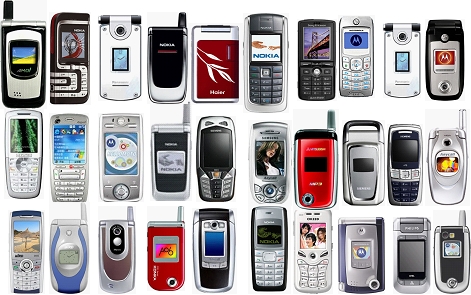 Chinese consumers switch phones so often in part due to the heavy weight placed on the mobile phone as a symbol of status in China. More than in the US and elsewhere-for Chinese who cannot afford to purchase a house or a car, a fashionable cell phone is the next best opportunity to showcase one's status. Motorola had created an opportunity by tapping in to the importance that Chinese youth place on design and by positioning itself as an aspiration buy.
To take advantage of its newfound popularity, Motorola introduced much lower cost phones that had clear design influences from the Razr, which cannibalized sales of the original. As one 18 year old college girl said to us, "Why spend more for a Razr when this model looks exactly the same and costs half the price?" When people looked around and saw that everyone else was sporting a Razr-like phone they moved on to slick new designs like the Chocolate from LG.
Motorola's mistake was that it did not maintain its premium image. It became confused as to what the brand meant to consumers and it relied too heavily on one successful design to build a company. Companies are not built on one product -- they are built on a group of products that live up to the brand image seared in the minds of consumers.
As a counterpoint to Motorola and Buick, a company like German auto manufacturer BMW sacrificed short-term sales by not going after the mass market, choosing instead to maintain its premium positioning for affluent consumers. BMW is now seeing booming sales, with growth of 50% in 2006. China is now the second-largest market for its high-end 7 Series and has some of the brand's most loyal consumers. Long term, BMW will continue to grow as Chinese get more and more affluent and aspire to the life and sense of success associated with owning a BMW.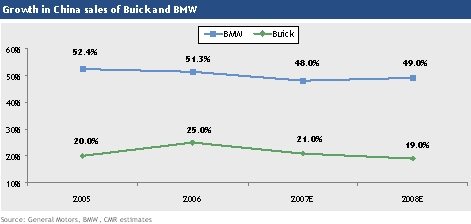 BMW was patient and continued to reaffirm its brand image in the mind of consumers and shape the market towards the premium segment while Buick and Motorola both went after short-term sales which destroyed their brand image and long-term sales.
In addition to determining who they want to target, companies also need to clearly define the most effective way to relate to their target consumer group. All too often companies enter China and launch marketing campaigns better suited for the US than China. They often advertise with imagery that has no place in the collective imagination of China's consumers.
Relating to Your Core Target Market
In addition to determining who they want to target, companies also need to clearly define the most effective way to relate to their target consumer group. All too often companies enter China and launch marketing campaigns better suited for the US than China. They often advertise with imagery that has no place in the collective imagination of China's consumers.
Clarins cosmetics company is a company that has struggled to connect with Chinese male consumers. More and more Chinese men have been looking at purchasing grooming products like aftershave or cologne in recent years, goaded on by their girlfriends. Clarins saw this opportunity and tried to leverage their worldwide success in male products.
The mistake that Clarins has made in entering the market is to use models for their advertising campaigns to whom the typical Chinese male cannot relate. Already nervous that caring about their appearance means that they are not manly enough, Chinese males have been put off by Clarins' advertising campaigns. To advertise male grooming products, Clarins chose ethnically diverse, metrosexual models. When viewing ads, potential buyers were confused as to why and how they would want to look like the models using Clarins products. As one 22 year old recent college graduate in Shanghai said to us, " I do not want to look like that model. He is not manly enough."
This is not a question of a consumer base that is not ready for a product—it is not that Chinese men will not use cosmetic products, it is a question of misdirected marketing resulting from inadequate understanding of the consumer base, and subsequent unsuccessful brand positioning. Chinese men just could not relate to the image that Clarins presented.
In contrast, L'Oréal is a cosmetics company that has done well recently through its choice of Korean movie stars for the men's line of its Biotherm brand. These Korean stars exhibit a look, style, and personality that Chinese men aspire to and that Chinese women wish their boyfriends would exhibit. As one 33 year old female giggled longingly to us, "I bought this face cream for my husband because I want him to look like that movie star."
Belle International is another example of a company that displays the ability to understand and relate to their consumer base successfully, leading it to increase revenues seven fold from 870.5 million RMB in 2004 to 6238.6 million RMB in 2006.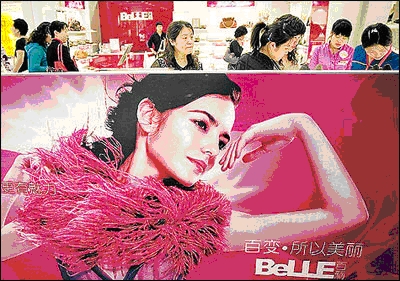 A popular leader in high-end domestic footwear, Belle has grown quite large by catering to Chinese' females increasing demand for style and fashion. Belle had opened up 3828 retail outlets in 150 cities across 30 provinces, autonomous regions, and municipalities by the end of 2006 . Belle has recognized that as the income of Chinese women rises, they are spending more and more on fashion and luxury items.
The company has successfully marketed itself as an attractive alternative for those women who cannot afford Prada or Gucci. They have defined their image well as an affordable but stylish alternative to the designer shoe for Chinese fashionable women. Video clip advertisements on their website feature glamorous and sexy Chinese models at a photo shoot, suggesting fashion shows and high couture. But shoes in the 300-500 RMB range remain accessible to China's middle class women. It has become an affordable yet aspirational brand.
Belle's choice of Asian models is an important way to connect with the target consumer. Too many brands launch advertising campaigns centered around preppie blond models lounging on sailboats. In a country where sailboats and the Hamptons are not in the popular imagination this advertising tack does not work.
Building Brand Loyalty
Marketers looking at ways to increase sales in China often bemoan the lack of brand loyalty amongst Chinese consumers. In reality Chinese consumers are no more mercenary than other consumers, they are just in a different stage of economic development in China than in the U.S. or Europe.
In the U.S., children develop affinities for Tide, Tylenol or Colgate because their parents and grandparents used those brands. China has seen so much development and change in the last 30 years that very few brands have maintained a steady image in the popular consciousness. However, brands do have the opportunity to build brand loyalty.
Tencent, developer of QQ, a popular portal and instant messaging platform has done an excellent job of maintaining a pivotal position in the lives of Chinese internet users. It calls its business model "Online Living"—their various products and services range from e-commerce to blog space and cater effectively to the increasing number of young Chinese who spend more and more time at the computer and thus have an increasing demand for online services.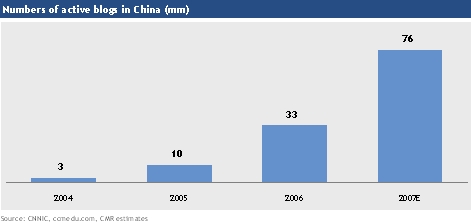 By adapting to shifting needs and staying abreast of consumer demands Tencent has remained relevant in a market with 172 million internet users and has developed loyalty and revenue as a result. Tencent revenues reached 2.8 billion RMB at the end of 2006.
Another industry where companies have done well in establishing loyalty is the restaurant industry. As China shifts to a service economy, dining out is gaining popularity. Consumers seeking convenience and cleanliness from a restaurant in addition to good value have flocked to Pizza Hut, McDonalds, and KFC making them household names. Over 2000 KFC outlets have been opened in China.
Chinese brands are also finding success. Ajisen and Kung Fu Chicken have seen remarkable success in capturing the attention of this audience. One need only attempt to get into an Ajisen in Shanghai during lunch to see its popularity. White collar workers willingly wait 45 minutes for its combination of nice atmosphere and low prices. Ajisen has seen revenues rise from 133.8 million RMB in 2003 to 598.4 million RMB in 2006. One 38 year old male in Beijing told us, "I just love Ajisen. The noodles are so good." Kung Fu chicken success has caught the eyes of venture capitalists like China Capital Today which just invested tens of millions in the company.
China's Baby Boomers
The key for multinationals in China is to develop a following among Chinese baby boomers. People from the generation born after the one-child policy in 1978 was implemented, and after the chaos of the Cultural Revolution came to an end, are coming of age and having children of their own. They have grown up using different brands and are very different from older generations, who tend to be more conservative as they grew up under hardship.
Chinese youth are extremely optimistic about their career prospects as they have only seen booming economic times. They have an effective savings rate of 0 as they buy on credit and want to live the good life now.
While still susceptible to the machinations of Madison Avenue's reach in China, many of these Chinese youth have begun settling on what they like and are teaching their own children what to buy. Companies must understand what motivates Chinese youth and what are the most effective methods and ways of targeting them.
The Road Ahead
Finally, Chinese consumers are every bit as concerned about safety as consumers in the U.S. The recent quality control scandals of Chinese products like lead in paint on toys to carcinogens in toothpaste also worry Chinese consumers. They are crying out for safe products that will not harm their health or that of their families. Brands like Midea, Haier, Johnson & Johnson and Unilever (NYSE:UN) have been successful in establishing themselves as providing the level of quality and trustworthiness that Chinese consumers demand. The companies' bottom lines in China tell the story of their success.
To develop a brand successfully in China, it is not enough to take a short-term outlook and try to sell into every available market as Buick has done. This risks eroding long-term prospects. It is better to first define what your brand is supposed to embody and then work to support that image as BMW has. Multinationals must understand that Chinese consumers in the first-tier cities of Shanghai, Beijing, and Guangzhou will soon be as brand savvy as any in New York, London, or Paris. And consumers in the second- and third-tier cities like Chengdu and Dalian will move with lightning speed to catch up with international trends.
CMR Analysts Ben Cavender, Charlotte MacAusland contributed to this report.