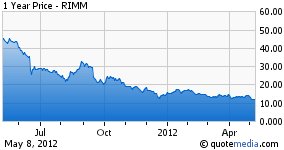 Research In Motion (RIMM) has had a very difficult week in the media following the kickoff of their Blackberry World conference in Orlando. What should have been a positive event for the company triggered an unusually harsh response from the media, despite the positive impact it likely had with the developer community. For the most part, the media and analysts were unimpressed, or at least reported that they were, with the BB10 software that was previewed there. The comments were mostly the same: BB10 isn't offering much more than what the IOS, Android, or Windows phones are offering. They reverted to their "too little, too late" declarations, which were amazingly enough the same comments many were making prior to ever having seen the BB10 prototype. And they maintained that this phone would have had to come out one or two years ago for it to have had a meaningful impact on RIM's market share. Blackberry is simply not relevant enough anymore for a "me too" product to be successful in their portfolio.
This might be true if your frame of reference is the U.S. market only ... maybe. But outside of this market these remarks are simply untrue. Let's have a look at RIM's overall business and some of these other markets and see why this isn't the case.
RIM had 2011 sales of 51.1 million smartphones according to IDC. If we assume another 5 million of the 11 million they shipped in Q4 took place in the first two months of this year (Q4 runs December to February), that would mean that 56 million or so of their 77 million subscriber base have a phone that was purchased in the last 14 months. Regardless of where these sales took place, it is reasonable to assume that many of these subscribers will not be in the market for an upgrade prior to the release of BB10 phones. From a completely macro view, aside from delaying any additional growth potential from the new phones versus the old, their current subscriber base is relatively unaffected by the delays in these phones. The risk is limited to the 20 million or so that may or may not be in the market for a new phone prior to the BB10 release. And even then, RIM had 43% of their customers who purchased a phone in 2011 stay with Blackberry, so that 20 million or so has even less risk of completely disappearing from the Blackberry subscriber base. Given this reality, I fail to see how the "too little too late" judgment makes sense from a macro view. RIM has a decent business that made over $1.1B in net income in 2011 ($2.1B adjusted), and is continuing to grow its subscriber base even without the new BB10 phones, and nothing about the BB10 preview demonstrated that RIM was going in the wrong direction. Macro view aside, reviewing the markets more closely shows an even clearer picture. Here's a snapshot of some of the other markets RIM is competing in, in comparison with one of the worldwide smartphone market leaders - Apple (NASDAQ:AAPL):
In Latin America, RIM sold 10.6M smartphones in 2011. For comparison purposes, Apple sold 2.1M.
In the Middle East and Africa, RIM sold 8.3M smartphones in 2011, versus only 2.5M for Apple.
Indonesia, the world's fourth most populous nation with 237M people, RIM is estimated to have 50% of the market share of smart phones, and approximately 7M Blackberry users.
In Canada, RIM's home market - much fanfare has occurred around Apple recently passing them for top spot in the smart phone market. Although this is true from a new sales perspective - RIM sold 2.08M smartphones in 2011 versus Apple's 2.85M smartphones - a recent Ipsos Reid survey showed Blackberry had 33% of the smartphone market penetration as of Jan. 2012 versus Apple's 28%, equivalent to just under 4M users. There are still more Blackberry users in Canada than Iphone users, they just didn't all buy those phones in 2011. The difference in any case is meaningless. The importance is that RIM is still a dominant player in this market. This is underscored by the fact that the survey also found that 40% of respondents intended to purchase a Blackberry over the next year - the highest of any manufacturer.
In India, RIM held only 15% market share in 2011, good enough for the third position but still significantly ahead of Apple. That market share is equivalent to about 1.7M in sales. The Blackberry brand is still in a favourable view in India. In a survey of the most aspirational brands for Indians, Blackberry came in second and tied with Apple (which includes Macs and all other Apple products). It was ahead of iconic brands like BMW and Mercedes, and behind only Samsung.
In the U.K., RIM claims to have 8.5M subscribers, and research from GFK shows that RIM had a 26% share of smartphones in December. RIM is thus still a dominant player in this market as well.
There too are numerous other markets where RIM is performing extremely well. But what is the significance of all this? Clearly RIM can't be too late in these markets for the launch of their consumer-friendly BB10 products. RIM has been lambasted endlessly for its failure to address the growing threat of Apple's IOS and phones using Android operating systems earlier than it has. To these analysts and media, RIM would be in much better shape in North America and its brand stronger had it addressed this and launched phones that would better compete against these two operating systems years ago. And to this point they are correct.
However, if ever there was such thing as a corporate mulligan, RIM is about to use it. The situation it is in in most of its other markets is similar to where it was in the U.S. years ago. In many markets, it is just as dominate today as it once was in the U.S., and the Blackberry brand just as strong. In many of the developing nations, their carrier networks are mostly 2G and in transition to 3G - reminiscent of years past in North America - before there was an iPhone or an Android operating system. In those markets, even with the availability of iPhone or Android phones today, the user experience on these phones is impacted by the speed of the networks they run on, and the high cost of data packages that allow a fraction of the downloads that North American packages offer. With the data compression of the proprietary RIM servers, you can do much more and do it faster with Blackberry than you can with most other phones, and that is a very different reality than what exists in North America. Doesn't mean this isn't going to change. But RIM is only months away from launching their own user-friendly touch-screen devices that will have the ever popular BBM, secure e-mail and data compression, on a brand that is still cool and widely loved in many markets around the world. This will give it the chance to see first-hand what could have been had it had these phones in North America several years ago. But this reality is virtually ignored when the "too little too late judgments" are being delivered. This is surprising, because if you really believed RIM could have done something to stem the tide in the U.S., wouldn't it make sense that it could do something to hold its ground in other markets (that represent the majority of their business) where they still have a successful brand? It isn't too late in those markets, and we'll need to wait and see if it is in fact too late in the U.S..
The comparisons to Apple are for context only. I don't believe RIM will outperform Apple worldwide and I don't believe it needs to in order to remain viable. I'm merely illustrating that even against a brand as powerful as Apple and with a product as great as Apple's iPhone, RIM has been able to hold its own in many markets around the world. And if they come out with a "me too" product in those markets, with the brand presence they have and the proprietary advantages of their network, RIM may do more than just hold its ground. BB10 phones are likely to help explode the smartphone market in these areas much like Apple did in North America. Building the brand in these markets may well have been what's saved this company from bankruptcy ... and given it the badly needed mulligan it will be using for its BB10 launch later this year.
Disclosure: I am long AAPL, RIMM.