Most people would agree that an 8% return on your money over 16 years is a raw deal. That is what the S&P 500 returned over a 16 year period starting in 1966 and ending in 1982 – the last really long drought in the stock market.
Looking at a shorter period within that drought, we can see a prolonged bear market that started in January of 1973. The highs of that first month were not permanently surpassed until September 1982. That is over 9 ½ years.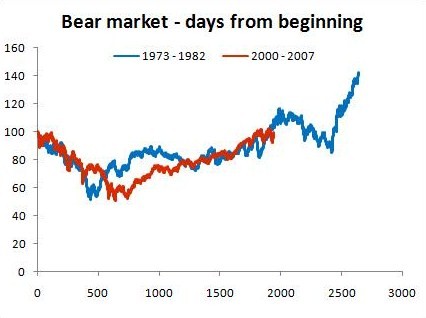 Closing at 1,477.65 points on Tuesday (December 11), the S&P 500 is a little shy of its 1,527.46 point close on March 24, 2000. That peak (mildly surpassed on October 9 of this year with a close of 1,565.15) will soon be eight years old, leaving investors in US large-cap stocks flat over that time period.
Not time for bullishness yet
There is no reason to expect an exact repetition of a cycle from thirty years ago, but I can imagine it being similar this time around. Now, as in 1981, we are likely heading into a recession, or low growth at best. The bull market that started in the second half of 1982 coinsided with the beginning of a strong economic recovery. It is not unreasonable to expect the next major bull market to start as things begin to improve – not as they are turning sour, as now seems to be the case.